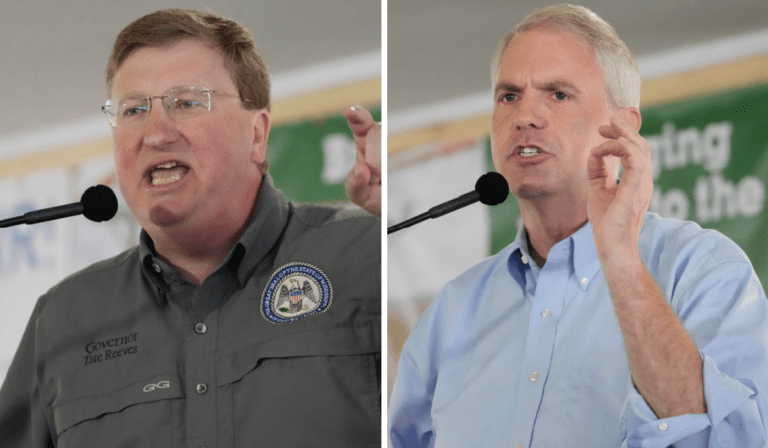 (AP Photos/Rogelio V. Solis)
Incumbent Republican Governor Tate Reeves congratulates the two "lifelong Democrats" for coming together.
Independent Candidate for Governor Gwendolyn Gray announced on Monday that she was withdrawing from the race and endorsing Democratic gubernatorial nominee Brandon Presley.
"I am proud to endorse Brandon Presley because he will be a governor who takes action for our people — including making sure our families have access to affordable healthcare by expanding Medicaid on day one, making sure government is in the hands of the people, and investing in public education so we can create opportunities here at home," said Gray in a release in conjunction with Presley's campaign. "I trust Brandon Presley because he knows where so many Mississippians are, and he will always fight so people who work for a living can have a chance to reach their fullest potential. I would encourage all of my supporters to vote for Brandon, and I plan to withdraw from the race."
However, according to the Secretary of State's office, Mississippi law states that once ballots have been printed, candidates' names cannot be removed from the ballot, meaning Gray will still appear as a choice for voters. 
In a statement, Presley said he was honored to earn the support of Gray "because our campaign is focused on earning the support of Republicans, Democrats, and Independents who are ready to expand Medicaid on day one, cut the highest tax on food in the country, and clean up corruption once and for all."
Reeves' campaign wasted little time in responding to the news, congratulating the two "lifelong Democrats" for coming together.
"I would like to congratulate these lifelong Democrats for coming together and making it clear that there is only one option for conservative leadership in this race," the Republican incumbent Governor Reeves said in a statement. "All the DNC money flooding into Mississippi to flip this state blue is not going to make a difference because the people of Mississippi believe in conservative values."
About the Author(s)
Frank Corder
Frank Corder is a native of Pascagoula. For nearly two decades, he has reported and offered analysis on government, public policy, business and matters of faith. Frank's interviews, articles, and columns have been shared throughout Mississippi as well as in national publications such as the Daily Caller. He is a frequent guest on radio and television, providing insight and commentary on the inner workings of the Magnolia State. Frank has served his community in both elected and appointed public office, hosted his own local radio and television programs, and managed private businesses all while being an engaged husband and father. Email Frank: frank@magnoliatribune.com
More From This Author
Previous Story
Next Story