(Photo from Brandon Presley's X/Twitter)
MDHS did not renew the contract of outside attorney Brad Pigott in 2022, choosing instead to engage a larger law firm to pursue litigation related to the TANF scandal. Democratic gubernational candidate Brandon Presley alleges that led to incumbent Governor Tate Reeves seeing a boost in campaign donations from USM donors. Reeves calls the claim "mental gymnastics."
On Monday, Democratic gubernatorial candidate Brandon Presley stood outside of the Mississippi Governor's Mansion in Jackson to continue his well-worn campaign narrative that attempts to tie incumbent Governor Tate Reeves, a Republican, to the state's welfare scandal despite no verifiable legal effort by authorities to that end.
However, this time, Presley took a different approach to nip at Reeves' heels by seeking to lump in people affiliated with the University of Southern Mississippi who have donated to the Governor's campaign.
Presley, flanked by a Reeves campaign sign with a "For Sale" sticker stuck on it hung on the residence's fence, alleged that when the Mississippi Department of Human Services did not renew the contract of outside attorney Brad Pigott, the attorney hired by MDHS to begin the civil lawsuit against those persons and entities who benefitted from the TANF scandal, Reeves' campaign donations from Southern Miss affiliates rose. Presley claimed in a handout that Reeves has received $1.2 million from USM donors, namely lobbyists, benefactors and USM Athletic Foundation members – none of which have been implicated in the welfare scandal.
Reeves promptly responded to Presley's latest campaign attack, calling his line of thought "mental gymnastics" and "ridiculous."
"Today, Brandon Presley held a press conference outside my home to call on me to disavow anyone who has donated to the University of Southern Mississippi. All because a few bad actors, sued by my administration, who were associated with the college had been wrapped up in the TANF Scandal. He now says all Southern Miss supporters are corrupt," Governor Reeves wrote on X (formerly Twitter). "These are the mental gymnastics he has to do to tie me to a scandal that happened before my time in office where I'm suing the people who got the money. This is ridiculous, but it's exactly what you expect from a campaign run by out of state DNC operatives not Mississippians."
Reeves ended his comments with a friendly Southern Miss hashtag #SMTTT, meaning Southern Miss To The Top.
Presley shot back on the social media platform, saying Reeves "fired the investigator when he subpoenaed the USM athletic foundation."
However, despite Presley and media reports claiming Pigott, the contract attorney, was fired, that is not accurate.
In late July 2022, MDHS confirmed that the agency entered into a one-year contract with Pigott to represent its interest in efforts to recover millions of dollars in TANF funds. That contract was set to end on July 30, 2022, and was not up for automatic renewal.
"Pigott was retained because of his extensive experience in handling False Claims Act and related fraud matters. He and I were former colleagues in the United States Attorney's Office and we litigated cases together in which we recovered millions of dollars for the taxpayers. That is what we expect to do in this litigation," explained Robert G. "Bob" Anderson, MDHS Executive Director, at the time.
MDHS said that over the course of that year, Pigott drafted the initial complaint and made a solid start at moving the litigation forward. But along the way, Anderson said on at least one occasion, Pigott made decisions about the litigation and filed pleadings without any prior dialogue with officials at MDHS. Such it was concerning the USM Athletic Foundation.
Although the USM Athletic Foundation was not a party in the case, Pigott had issued an extensive subpoena to the entity without any prior discussion of the matter with MDHS while he was on contract, according to Anderson in July 2022.
"Attorneys represent clients, and MDHS is the client in this case. I hope I don't need to explain that an attorney needs to remain in close communication with his client at all times. Any review of complaints filed with the Mississippi Bar will reveal that communication – or lack thereof – is at the center of many of those complaints," Anderson said of Pigott's non-renewal. "When it becomes apparent that the client and the lawyer are not on the same page, the client has every right to find another attorney."
While Pigott, a solo practitioner, was able to adequately represent the agency to their satisfaction at the outset, as the litigation progressed, in order to vigorously pursue the case, the agency sought a full-service law firm with substantially more legal resources.
The non-renewal led to Pigott providing an interview to Mississippi Today, claiming that the move to not renew his contract was politically motivated, telling the media outlet, "I am sure they can find a loyal Republican lawyer to do the work."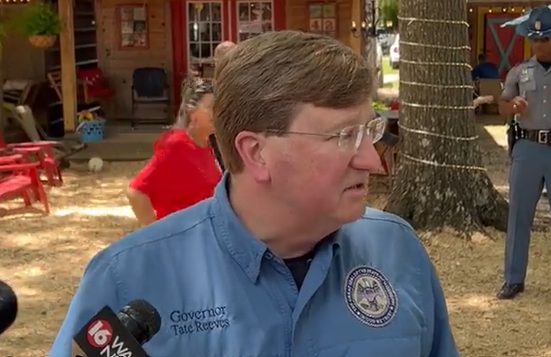 The comments by Pigott and the subsequent media reports swirling around the change in legal representation at MDHS resulted in Governor Reeves being asked about it in a press gaggle at the 2022 Neshoba County Fair.
Governor Reeves went on to say that some media outlets have "made stuff up" about Pigott's non-renewal, adding that the state doesn't need legal representation that is focused on trying to be an informant for a "left-wing blog," a label he has repeatedly used to describe Mississippi Today.
Reeves told reporters at the time that the way in which Pigott acted since his non-renewal proved he was more interested in chasing a political angle and getting his name in the press than properly representing the State.
"There are outlets that have just made stuff up about why he was not renewed. Just made it up and he's quoted in every article," Reeves told reporters at Neshoba in July 2022. "We don't need a lawyer that focused on trying to be a confidential informant or a source for a left-wing blog. We need a lawyer that's focused on protecting Mississippi's taxpayers' interest. Period."
Governor Reeves said then that he was firmly committed to seeing the case through no matter where it leads in an effort to recover any and all funds that were improperly spent through MDHS. He has repeated that sentiment multiple times over the last year.
MDHS went on to contract with the Jones Walker, a law firm of some 370 attorneys with offices and professionals in eight states and the District of Columbia, to continue with the litigation.
"After talking with a number of firms, many of whom had conflicts with taking on this work, we selected Jones Walker because they are, in our view, the firm best suited to handle this matter and move it forward by continuing to evaluate claims against additional parties, written discovery, depositions, trial, and appeal, if necessary," Anderson said in August 2022.
Presley, the Democratic nominee, and Reeves, the Republican nominee, will meet in the November General Election to vie for Mississippi Governor along with Independent candidate Gwendolyn Gray.
About the Author(s)
Frank Corder
Frank Corder is a native of Pascagoula. For nearly two decades, he has reported and offered analysis on government, public policy, business and matters of faith. Frank's interviews, articles, and columns have been shared throughout Mississippi as well as in national publications such as the Daily Caller. He is a frequent guest on radio and television, providing insight and commentary on the inner workings of the Magnolia State. Frank has served his community in both elected and appointed public office, hosted his own local radio and television programs, and managed private businesses all while being an engaged husband and father. Email Frank: frank@magnoliatribune.com
More From This Author