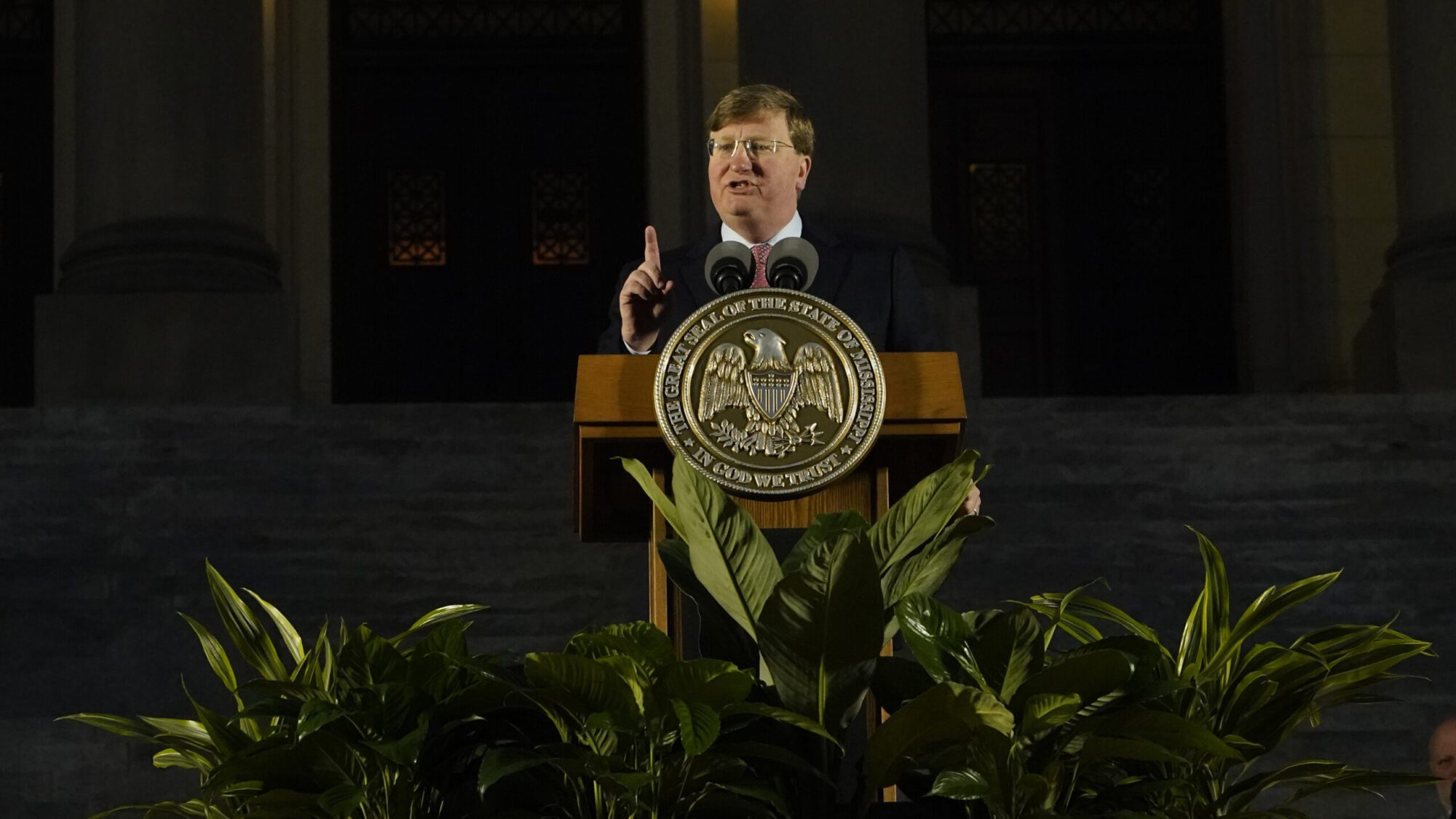 Republican Gov. Tate Reeves outlines his priorities during his State of the State address before a joint session of the Mississippi Legislature on the steps of the State Capitol in Jackson, Miss., Monday, Jan. 30, 2023. (AP Photo/Rogelio V. Solis - Copyright 2023 The Associated Press. All rights reserved.)
Northern District Public Service Commissioner and gubernatorial candidate Brandon Presley gives the Democratic Response.
Mississippi Governor Tate Reeves delivered his annual State of the State address Monday evening at the State Capitol.
During his speech, Reeves, a Republican, discussed the state's successes over the last couple of years as well as his priorities for the remainder of his term. He said 2022 was perhaps the best year in Mississippi's history because the state has the incredible capacity to work together and accomplish great things for constituents.
"The sense that our state is one big, small town binds us and it furthers a sense of optimism that we can still work together here and deliver results on behalf of our people," Reeves said. "The people of Mississippi are our state's strength. It is because of your hard work that our state is primed and ready to face the challenges of tomorrow. It is because of your work ethic and your commitment to excellence that more and more companies are choosing to do business in Mississippi and that our state's brightest days lie in front of us."
Governor Reeves said it's a cold-hard-fact that really good things are happening in Mississippi, saying the state of our state is stronger than ever.
"As you've heard me say before, the way we measure success is in the wages of our workers, the success of our students, and winning the war on our values," Reeves said. "Mississippi is hitting the target on all three of these fronts."
The Governor noted several of the state's accomplishments over the last couple of years, including Mississippi's graduation rate reaching an all-time high and historic achievements in the state's economy.
Regarding wage gains, Reeves noted the state's investment in workforce development which has helped Mississippi see the lowest unemployment rate in state history.
"Since 2019, we've raised per capita personal income in Mississippi by approximately $7,000 or almost 18%," Reeves said. "We are boosting the money that Mississippi families are bringing home – especially right now, as we combat rising inflation from wasteful spending in Washington, D.C."
Governor Reeves said when it comes to setting up Mississippians for more economic prosperity, he wants to go even further by fully eliminating the state income tax.
"Our state is in the best fiscal shape we've ever been in, and our state is in the best financial shape in history and our residents deserve to get a bigger piece of the pie," Reeves continued. "We can and should do more to put additional dollars into the pockets of Mississippians. We will do this, by eliminating our state's income tax once and for all."
He said it can be done without raising other taxes.
"To build the best possible environment for entrepreneurs, to combat President Biden's runaway inflation, to compete with the likes of Florida, Tennessee and Texas, to continue making it easier for Mississippians to support their families, we must eliminate Mississippi's income tax," Reeves said.
Governor Reeves then spoke about the achievements being made in Mississippi classrooms. A little over a week ago, it was reported that Mississippi's high school graduation rate hit an all-time high and continues to be better than the national average.
"I want to personally thank all the legislators that played a role in helping to pass those education reforms. I also want to thank all the involved parents and dedicated teachers across Mississippi. We couldn't have accomplished these goals without you," Reeves said. "Our state – unlike some others that have been in the news – recognizes that we have a duty to both. We should ensure that parents continue to play an active role in their kids' education, and we should ensure that teachers are paid what they deserve."
Reeves said when it comes to education, Mississippi should protect parents' voices and their right to be involved in the classroom, which is why he is calling on lawmakers to pass a Parents' Bill of Rights this session.
The Governor went on to address crime, particularly in the City of Jackson. Reeves said he ran for governor to fix Mississippi's problems, not to hide them. 
"That's why I've become increasingly concerned that, for three consecutive years now, homicides have numbered in the triple digits here in our capital city. We can and must do better," Reeves said. "In Mississippi we choose to fund the police. We choose to back the blue. We choose to celebrate the brave men and women who put on the badge every day and run towards danger. That's exactly what Mississippi has done, and that's exactly what Mississippi will continue to do."
Last year, the Mississippi Department of Public Safety conducted two major surges of law enforcement personnel – one in Jackson and one along our Gulf Coast. 
"We flexed law enforcement in the areas and helped to shut down criminal elements in the regions. And while those surges proved to be successful, we still have more work to do," Reeves said.
This session, Reeves said, he is calling on the legislature to make further investments into Mississippi's Capitol Police by giving them the 150 officers and equipment they need to continue fulfilling their mission and pushing back on lawlessness in Jackson.
Reeves also mentioned the ongoing investigation and litigation regarding the misuse of Temporary Assistance for Needy Families (TANF) funds, saying his administration is committed to seeking justice and recouping every possible dollar.
"And let me say this as well, my administration will go after all crime within our jurisdiction. Regardless of the crime committed, regardless of who did it, regardless if it happened on the street or in an office building, my administration is and will continue to hold criminals accountable," Reeves said. "That's why my administration remains committed to delivering justice and recouping every dollar possible from those who stole from Mississippians through the theft of TANF dollars."
Governor Reeves then addressed the state's healthcare system, saying Mississippi is not immune to the struggles facing the industry across the country.  He called on lawmakers to "root out anti-competitive behavior" by reforming the state's Certificate of Need laws.
"Together, we should keep working to improve Mississippians' access to quality healthcare, and together, we should keep working to ensure Mississippi's healthcare system meets the needs of our people," Reeves said. "Most people do not know that it is illegal to open a new health care facility that competes with other institutions. We are all frustrated and worried by the threats that some hospitals may close. The first step should be allowing new ones to open. By reforming Mississippi's Certificate of Need laws, we can root out anti-competitive behavior that blocks the formation of medical facilities and prevents the delivery of lifesaving healthcare to Mississippians." 
Reeves added that Mississippi should continue to strengthen the pipeline of medical professionals by doubling down on improved workforce development strategies. He implored lawmakers to pass legislation that levels the playing field for hospitals with expanded residency programs but spoke against expanding Medicaid.
"This legislative session, I urge the legislature to think outside the box when it comes to improving Mississippi's healthcare system. Don't simply cave under the pressure of Democrats and their allies in the media who are pushing for the expansion of Obamacare, welfare, and socialized medicine," Reeves said. "Instead, seek innovative free market solutions that disrupt traditional healthcare delivery models, increase competition, and lead to better health outcomes for Mississippians."
Governor Reeves noted that last year, Mississippi led the nation in the fight to overturn Roe v. Wade.
"But the fact is that being pro-life is about more than just being anti-abortion. We don't just want to eliminate the taking of unborn children's lives, we want to make it easier for parents to raise children and for mothers to give birth to happy and healthy kids," Reeves said.
Reeves is calling on the legislature to establish a New Pro-Life Agenda that helps make Mississippi the easiest place in the nation to raise a family. The Governor would like to see lawmakers tackle the following this session: 
Establish a childcare tax credit to allow Mississippi families to write off childcare supplies on state tax returns.
Increase support for pregnancy resource centers and help to care for expectant and new mothers, especially those who are struggling with poverty or isolation.
Expand childcare opportunities by cutting red tape.
Expand safe haven laws so parents have every available opportunity to choose life.
Reduce the existing adoption backlogs and make it easier and less expensive for parents to adopt kids into a loving forever home.
Update our child support laws so that fathers must support their children from the moment their life begins – at conception.
"My fellow Mississippians, it's been quite the year for our state. We've had moments of triumph and moments of anguish. But through it all, we've emerged stronger, together," Reeves added. "We know where Mississippi has been, and we know where Mississippi is going. Regardless of the unfair stereotypes placed upon our state and her people, we know good things are happening here."
Governor Reeves ended his 2023 State of the State address saying he has no doubt that the future is brighter than ever before and that, together, the state will continue to build upwards.
Following Governor Reeves' address, Northern District Public Service Commissioner and Democrat gubernatorial candidate Brandon Presley gave the Democratic Response. His outlook wasn't as rosy as what Reeves presented, using his time to differentiate himself and the Democratic Party's agenda from the Governor and Republicans.
In his video message, Presley opened using a similar script taken from his gubernatorial campaign announcement video. He then challenged Governor Reeves directly.
"Tonight, I listened to Governor Reeves' State of the State address. I watched his leadership over the years, and I know and see what you know and see," Presley said. "Mississippi is full of good people, but we're led by horrible politicians and it's time for that to change. The reality is, under Tate Reeves' leadership, we're moving in the wrong direction. Nothing makes that clearer than where I'm standing tonight."
Presley conducted his speech at what once was the Pioneer Community Hospital in Newton that employed over 200 people.
"Now it's shut down for good," Presley said. "Right now, there are 38 more hospitals just like the one I'm standing in, and they're on the brink of shutting their doors. If hospitals continue to close, the impact will be catastrophic."
Even though the Newton hospital was marked for closure in 2015 due to an Obama-era regulation change that impacted its funding, as reported by the Meridian Star, Presley attempted to pin its closure on Reeves and the reluctance to back Medicaid expansion by Republican lawmakers.
"This is the reality that Tate Reeves has chosen to put us in," Presley said. "Make no mistake, he has made this choice. We have a solution. By extending Medicaid for the working people of our state, we can keep hospitals across Mississippi from experiencing the same fate as this one. All Tate Reeves has to do is lift his hand, take an ink pen, and sign on the line. Instead, he lacks the backbone, and he will sit on his hands while people lose their jobs, some lose their lives, and our hospitals close."
Presley said that Mississippi is at the bottom in the nation when it comes to economic growth, one of only three states that has lost population, and had zero job growth in the state according to a recent report. He also said that Mississippi is just one of seven states in the country that taxes groceries. Additionally, he said in the Mississippi Delta, there's only one pediatrician for every 4,000 kids.
"What does all of that tell you? That Tate Reeves is only pro-life until you're born and then he's done caring about you," Presley continued. "While he brags about budget surpluses, family budgets are running out."
Presley attempted to tie in Reeves to the TANF scandal, saying, "He's been caught in the middle of the largest public corruption scandal in our state's history." However, Reeves, who was Lt. Governor, not Governor, during the time has not been named as part of any civil or criminal litigation.
Even still, Presley said as governor, he would offer "a strong ethics package that roots out corruption and ensures that our politicians are serving us rather than being sold off to the highest bidder."
Presley broke from the far left in his party by saying the state should fund the police but then said the state should increase health care, invest more in education, and end this "insane tax" on groceries.
You can watch the full speeches by both Reeves and Presley above.
About the Author(s)
Anne Summerhays
Anne Summerhays is a recent graduate of Millsaps College where she majored in Political Science, with minors in Sociology and American Studies. In 2021, she joined Y'all Politics as a Capitol Correspondent. Prior to making that move, she interned for a congressional office in Washington, D.C. and a multi-state government relations and public affairs firm in Jackson, Mississippi. While at Millsaps, Summerhays received a Legislative Fellowship with the Women's Foundation of Mississippi where she worked with an active member of the Mississippi Legislature for the length of session. She has quickly established trust in the Capitol as a fair, honest, and hardworking young reporter. Her background in political science helps her cut through the noise to find and explain the truth. Email Anne: anne@magnoliatribune.com
More From This Author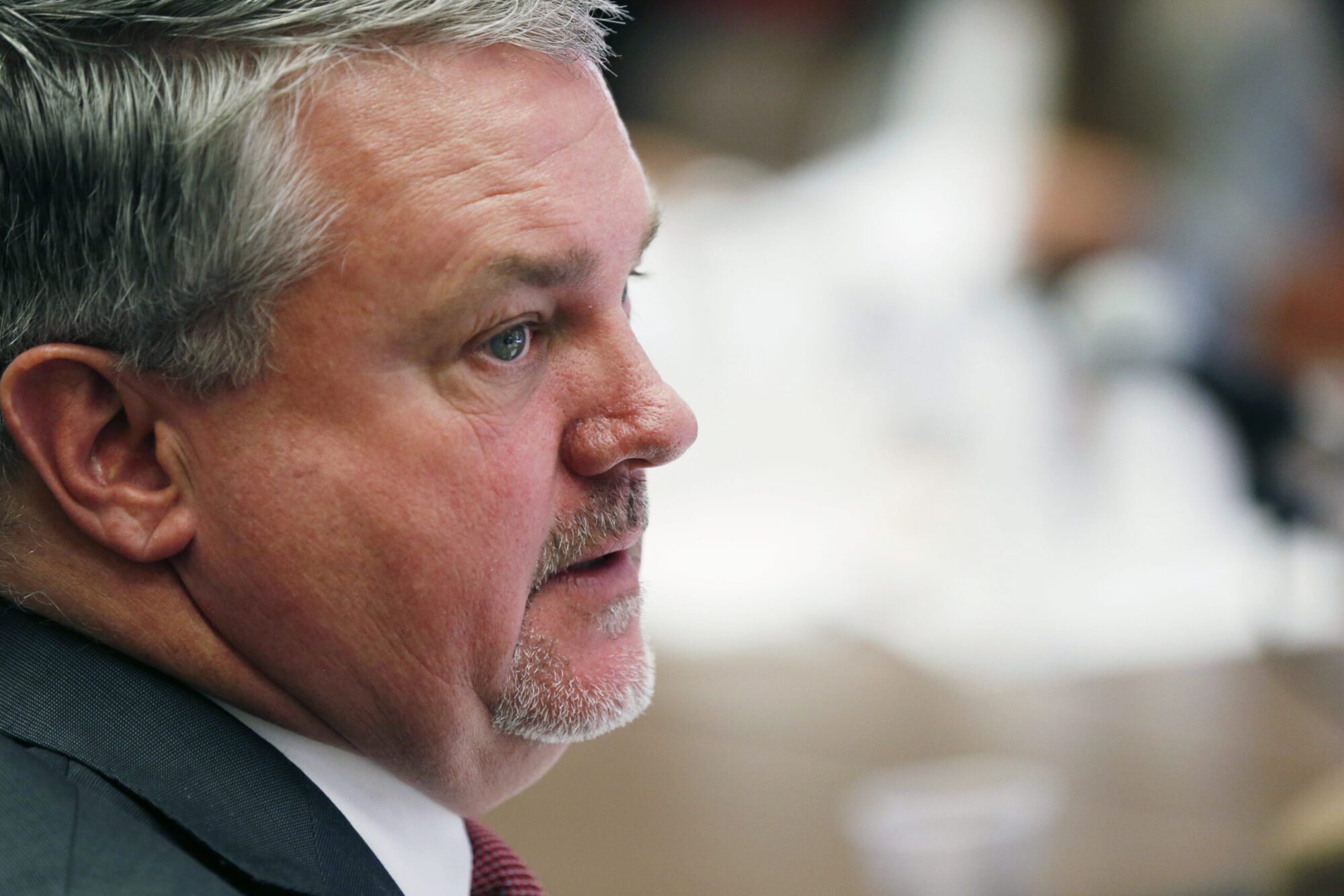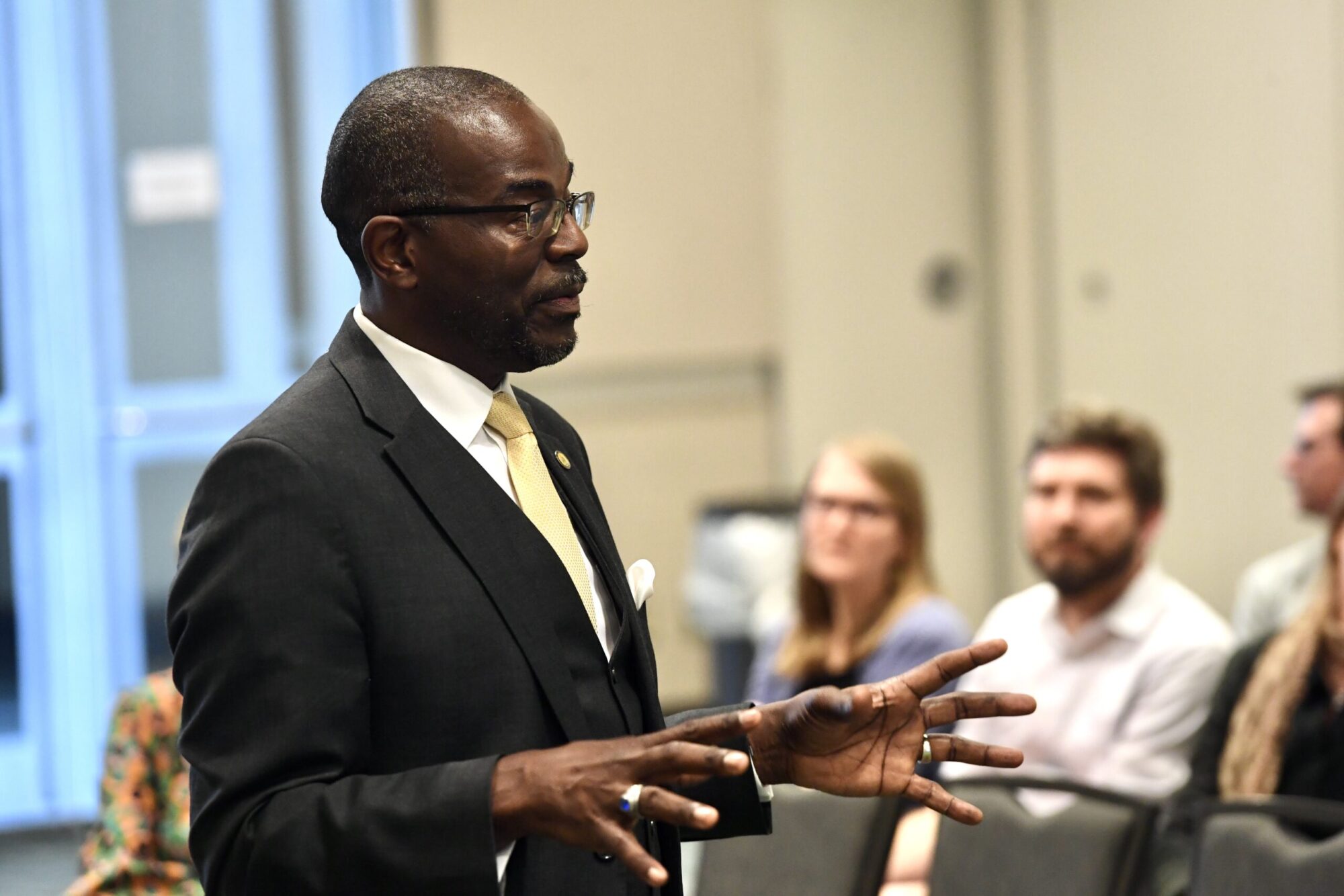 Next Story