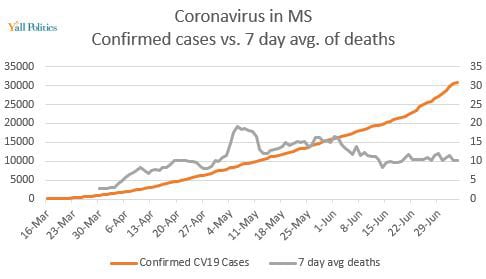 Here's the latest on Mississippi's coronavirus cases through July 4.   Confirmed COVID19 cases are 30,674 and deaths resulting from the disease is 1,111.
Y'all Politics has been tracking the daily case rate as well as the 3 day average rate of new case diagnosis.  Additionally, it has been tracking the death rates related to COVID19 and the rolling 7 day average death rates.   That statistic peaked at 18 in mid-may and has steadily trended down to about 10.
Here's all of the data tracking back to mid March.
| | | | | | | | |
| --- | --- | --- | --- | --- | --- | --- | --- |
| Date | Cases | Daily Growth | 3 Day Avg. Growth | New Cases | 7day avg | Total Deaths | 7 Day Avg |
| | | | | | | | |
| 16-Mar | 12 | | | | | | |
| 17-Mar | 34 | 183.33% | | 22 | | | |
| 18-Mar | 50 | 47.06% | | 16 | | | |
| 19-Mar | 80 | 60.00% | 96.80% | 30 | | | |
| 20-Mar | 140 | 75.00% | 60.69% | 60 | | | |
| 21-Mar | 207 | 47.86% | 60.95% | 67 | | | |
| 22-Mar | 249 | 20.29% | 47.72% | 42 | | | |
| 23-Mar | 320 | 28.51% | 32.22% | 71 | 44 | 1 | |
| 24-Mar | 377 | 17.81% | 22.21% | 57 | 49 | 2 | |
| 25-Mar | 485 | 28.65% | 24.99% | 108 | 62 | 6 | |
| 26-Mar | 579 | 19.38% | 21.95% | 94 | 71 | 8 | |
| 27-Mar | 663 | 14.51% | 20.85% | 84 | 75 | 13 | |
| 28-Mar | 758 | 14.33% | 16.07% | 95 | 79 | 14 | |
| 29-Mar | 847 | 11.74% | 13.53% | 89 | 85 | 16 | |
| 30-Mar | 937 | 10.63% | 12.23% | 90 | 88 | 20 | 3 |
| 31-Mar | 1073 | 14.51% | 12.29% | 136 | 99 | 22 | 3 |
| 1-Apr | 1177 | 9.69% | 11.61% | 104 | 99 | 26 | 3 |
| 2-Apr | 1358 | 15.38% | 13.19% | 181 | 111 | 29 | 3 |
| 3-Apr | 1455 | 7.14% | 10.74% | 97 | 113 | 35 | 3 |
| 4-Apr | 1638 | 12.58% | 11.70% | 183 | 126 | 43 | 4 |
| 5-Apr | 1738 | 6.11% | 8.61% | 100 | 127 | 51 | 5 |
| 6-Apr | 1915 | 10.18% | 9.62% | 177 | 140 | 59 | 6 |
| 7-Apr | 2003 | 4.60% | 6.96% | 88 | 133 | 67 | 6 |
| 8-Apr | 2260 | 12.83% | 9.20% | 257 | 155 | 76 | 7 |
| 9-Apr | 2469 | 9.25% | 8.89% | 209 | 159 | 82 | 8 |
| 10-Apr | 2642 | 7.01% | 9.70% | 173 | 170 | 93 | 8 |
| 11-Apr | 2781 | 5.26% | 7.17% | 139 | 163 | 96 | 8 |
| 12-Apr | 2942 | 5.79% | 6.02% | 161 | 172 | 98 | 7 |
| 13-Apr | 3087 | 4.93% | 5.33% | 145 | 167 | 111 | 7 |
| 14-Apr | 3360 | 8.84% | 6.52% | 273 | 194 | 122 | 8 |
| 15-Apr | 3624 | 7.86% | 7.21% | 264 | 195 | 129 | 8 |
| 16-Apr | 3793 | 4.66% | 7.12% | 169 | 189 | 140 | 8 |
| 17-Apr | 3974 | 4.77% | 5.76% | 181 | 190 | 152 | 8 |
| 18-Apr | 4274 | 7.55% | 5.66% | 300 | 213 | 159 | 9 |
| 19-Apr | 4512 | 5.57% | 5.96% | 238 | 224 | 169 | 10 |
| 20-Apr | 4716 | 4.52% | 5.88% | 204 | 233 | 183 | 10 |
| 21-Apr | 4894 | 3.77% | 4.62% | 178 | 219 | 193 | 10 |
| 22-Apr | 5153 | 5.29% | 4.53% | 259 | 218 | 201 | 10 |
| 23-Apr | 5434 | 5.45% | 4.84% | 281 | 234 | 209 | 10 |
| 24-Apr | 5718 | 5.23% | 5.32% | 284 | 249 | 221 | 10 |
| 25-Apr | 5911 | 3.38% | 4.68% | 193 | 234 | 227 | 10 |
| 26-Apr | 6094 | 3.10% | 3.90% | 183 | 226 | 229 | 9 |
| 27-Apr | 6342 | 4.07% | 3.51% | 248 | 232 | 239 | 8 |
| 28-Apr | 6552 | 3.31% | 3.49% | 210 | 237 | 250 | 8 |
| 29-Apr | 6815 | 4.01% | 3.80% | 263 | 237 | 261 | 9 |
| 30-Apr | 7212 | 5.83% | 4.38% | 397 | 254 | 281 | 10 |
| 1-May | 7441 | 3.18% | 4.34% | 229 | 246 | 291 | 10 |
| 2-May | 7550 | 1.46% | 3.49% | 109 | 234 | 303 | 11 |
| 3-May | 7877 | 4.33% | 2.99% | 327 | 255 | 310 | 12 |
| 4-May | 8207 | 4.19% | 3.33% | 330 | 266 | 342 | 15 |
| 5-May | 8424 | 2.64% | 3.72% | 217 | 267 | 374 | 18 |
| 6-May | 8686 | 3.11% | 3.31% | 262 | 267 | 396 | 19 |
| 7-May | 9090 | 4.65% | 3.47% | 404 | 268 | 409 | 18 |
| 8-May | 9378 | 3.17% | 3.64% | 288 | 277 | 421 | 19 |
| 9-May | 9501 | 1.31% | 3.04% | 123 | 279 | 430 | 18 |
| 10-May | 9674 | 1.82% | 2.10% | 173 | 257 | 435 | 18 |
| 11-May | 9908 | 2.42% | 1.85% | 234 | 243 | 457 | 16 |
| 12-May | 10090 | 1.84% | 2.03% | 182 | 238 | 465 | 13 |
| 13-May | 10483 | 3.89% | 2.72% | 393 | 257 | 480 | 12 |
| 14-May | 10801 | 3.03% | 2.92% | 318 | 244 | 493 | 12 |
| 15-May | 11123 | 2.98% | 3.30% | 322 | 249 | 510 | 13 |
| 16-May | 11296 | 1.56% | 2.52% | 173 | 256 | 521 | 13 |
| 17-May | 11432 | 1.20% | 1.91% | 136 | 251 | 528 | 13 |
| 18-May | 11704 | 2.38% | 1.71% | 272 | 257 | 554 | 14 |
| 19-May | 11967 | 2.25% | 1.94% | 263 | 268 | 570 | 15 |
| 20-May | 12222 | 2.13% | 2.25% | 255 | 248 | 580 | 14 |
| 21-May | 12624 | 3.29% | 2.56% | 402 | 260 | 596 | 15 |
| 22-May | 13005 | 3.02% | 2.81% | 381 | 269 | 616 | 15 |
| 23-May | 13252 | 1.90% | 2.74% | 247 | 279 | 625 | 15 |
| 24-May | 13458 | 1.55% | 2.16% | 206 | 289 | 635 | 15 |
| 25-May | 13731 | 2.03% | 1.83% | 273 | 290 | 652 | 14 |
| 26-May | 14044 | 2.28% | 1.95% | 313 | 297 | 670 | 14 |
| 27-May | 14372 | 2.34% | 2.21% | 328 | 307 | 693 | 16 |
| 28-May | 14790 | 2.91% | 2.51% | 418 | 309 | 710 | 16 |
| 29-May | 15229 | 2.97% | 2.74% | 439 | 318 | 723 | 15 |
| 30-May | 15501 | 1.79% | 2.55% | 272 | 321 | 734 | 16 |
| 31-May | 15752 | 1.62% | 2.12% | 251 | 328 | 739 | 15 |
| 1-Jun | 16020 | 1.70% | 1.70% | 268 | 327 | 767 | 16 |
| 2-Jun | 16322 | 1.89% | 1.74% | 302 | 325 | 782 | 16 |
| 3-Jun | 16560 | 1.46% | 1.68% | 238 | 313 | 794 | 14 |
| 4-Jun | 16769 | 1.26% | 1.54% | 209 | 283 | 803 | 13 |
| 5-Jun | 17034 | 1.58% | 1.43% | 265 | 258 | 811 | 13 |
| 6-Jun | 17270 | 1.39% | 1.41% | 236 | 253 | 817 | 12 |
| 7-Jun | 17768 | 2.88% | 1.95% | 498 | 288 | 837 | 14 |
| 8-Jun | 18109 | 1.92% | 2.06% | 341 | 298 | 847 | 11 |
| 9-Jun | 18483 | 2.07% | 2.29% | 374 | 309 | 868 | 12 |
| 10-Jun | 18787 | 1.64% | 1.88% | 304 | 318 | 875 | 12 |
| 11-Jun | 19091 | 1.62% | 1.78% | 304 | 332 | 881 | 11 |
| 12-Jun | 19348 | 1.35% | 1.54% | 257 | 331 | 889 | 11 |
| 13-Jun | 19516 | 0.87% | 1.28% | 168 | 321 | 891 | 11 |
| 14-Jun | 19799 | 1.45% | 1.22% | 283 | 290 | 895 | 8 |
| 15-Jun | 20152 | 1.78% | 1.37% | 353 | 292 | 915 | 10 |
| 16-Jun | 20641 | 2.43% | 1.89% | 489 | 308 | 938 | 10 |
| 17-Jun | 20971 | 1.60% | 1.94% | 330 | 312 | 943 | 10 |
| 18-Jun | 21300 | 1.57% | 1.86% | 329 | 316 | 948 | 10 |
| 19-Jun | 21629 | 1.54% | 1.57% | 329 | 326 | 958 | 10 |
| 20-Jun | 21958 | 1.52% | 1.54% | 329 | 349 | 968 | 11 |
| 21-Jun | 22287 | 1.50% | 1.52% | 329 | 355 | 978 | 12 |
| 22-Jun | 22898 | 2.74% | 1.92% | 611 | 392 | 989 | 11 |
| 23-Jun | 23424 | 2.30% | 2.18% | 526 | 398 | 1011 | 10 |
| 24-Jun | 24516 | 4.66% | 3.23% | 1092 | 506 | 1016 | 10 |
| 25-Jun | 25066 | 2.24% | 3.07% | 550 | 538 | 1022 | 11 |
| 26-Jun | 25531 | 1.86% | 2.92% | 465 | 557 | 1035 | 11 |
| 27-Jun | 25892 | 1.41% | 1.84% | 361 | 562 | 1039 | 10 |
| 28-Jun | 26567 | 2.61% | 1.96% | 675 | 611 | 1059 | 12 |
| 29-Jun | 27247 | 2.56% | 2.19% | 680 | 621 | 1073 | 12 |
| 30-Jun | 27900 | 2.40% | 2.52% | 653 | 639 | 1082 | 10 |
| 1-Jul | 28770 | 3.12% | 2.69% | 870 | 608 | 1092 | 11 |
| 2-Jul | 29684 | 3.18% | 2.90% | 914 | 660 | 1103 | 12 |
| 3-Jul | 30674 | 3.34% | 3.21% | 990 | 735 | 1107 | 10 |
| 4-Jul | 30900 | 0.74% | 2.42% | 226 | 715 | 1111 | 10 |
More From This Author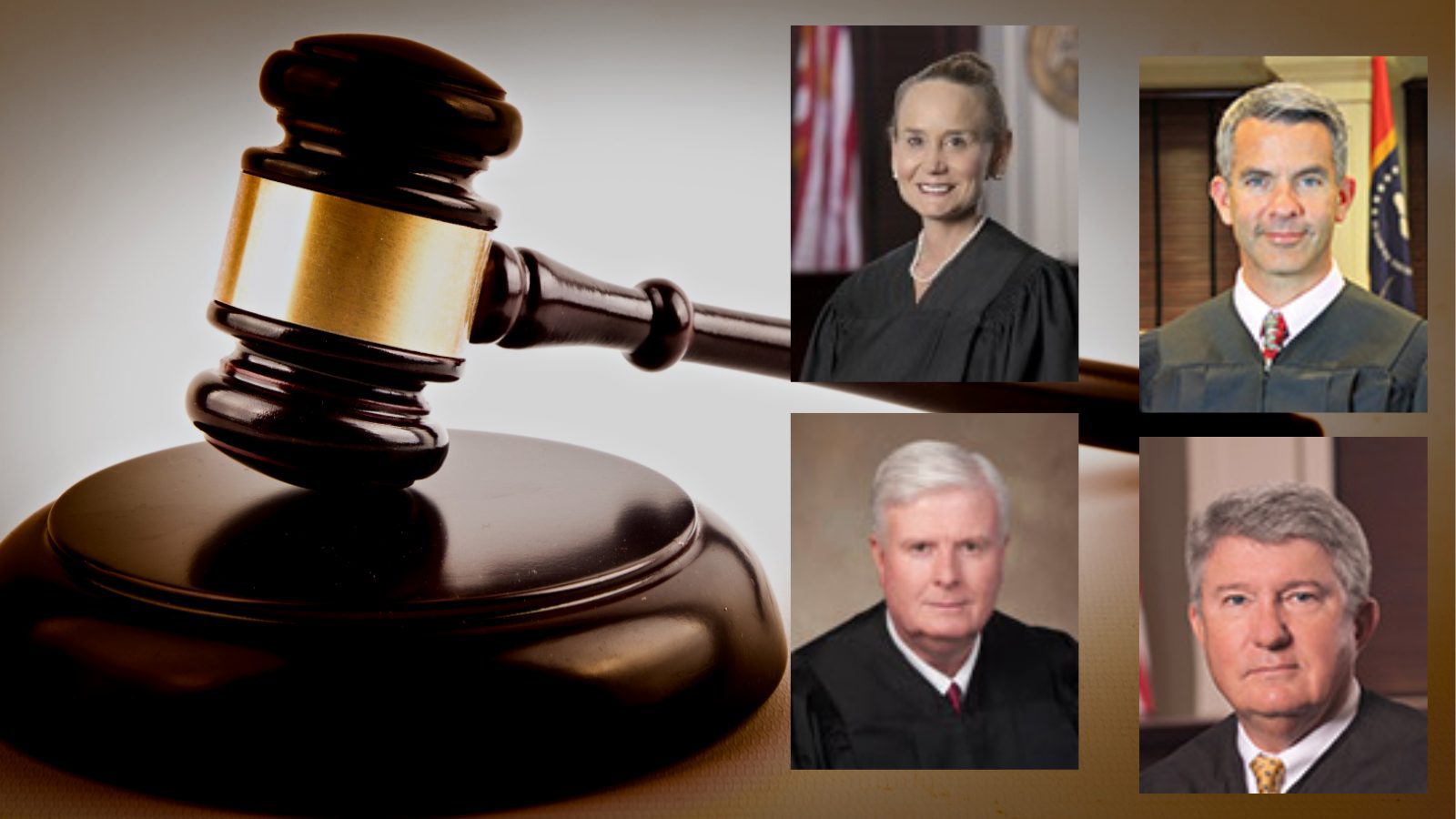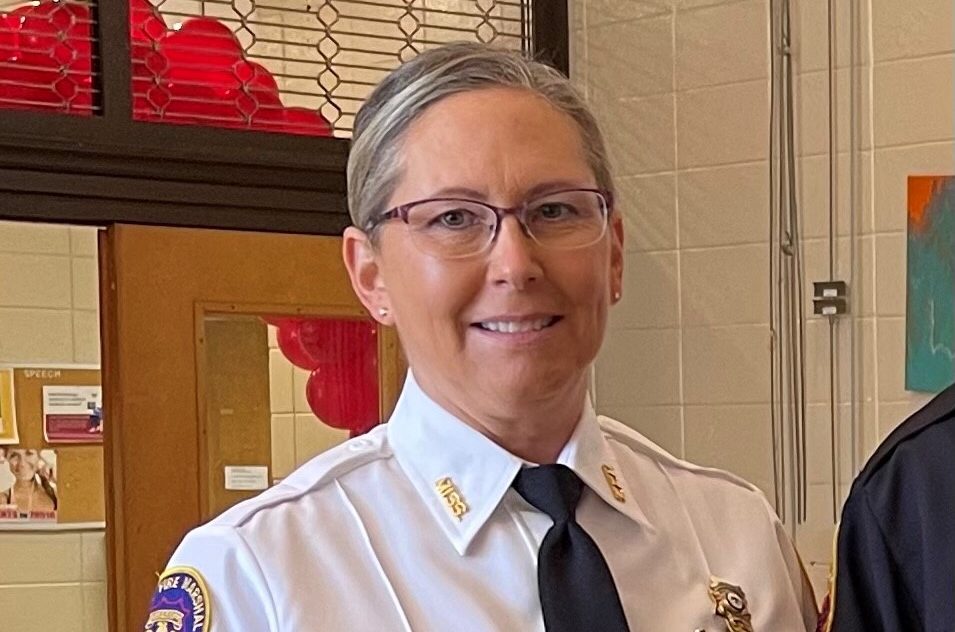 Previous Story
Next Story