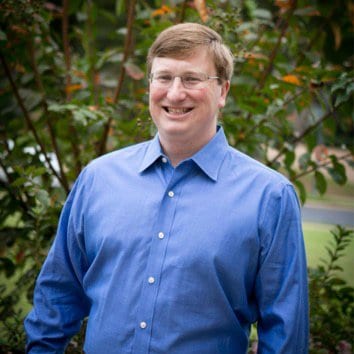 Today, 108 local elected officials announced that they are endorsing Tate Reeves for governor of Mississippi. Sheriffs, Mayors, Aldermen, and more all signed on to publicly support the campaign. The Mississippi leaders who are closest to their constituents have joined Governor Phil Bryant and conservatives across the state to endorse Tate Reeves.
"Tate Reeves has done great things for this state, and he's going to make an excellent Governor. He's fought for lower taxes, less spending, and better government. We're proud to support him," said Sheriff Steve Rushing, Lincoln County
Local Elected Officials
Sheriff Greg Pollan, Calhoun County
Gerald Steen, Supervisor Madison County
William Dugger, Alderman, Batesville
Nathan Barrett, Councilman, Biloxi
Kenny Glavin, Councilman, Biloxi
Mayor Butch Lee, Brandon
Lu Coker, Alderman, Brandon
James Morris, Alderman, Brandon
Harry Williams, Alderman, Brandon
Dwight Middleton, Alderman, Brandon
Cris Vinson, Alderman, Brandon
Tahya Dobbs, Alderman, Brandon
Mayor Joe Cox, Brookhaven
Fletcher Grice, Alderman, Brookhaven
Sheriff Chris Dickerson, Itawamba County
Steve Nelson, Alderman, Bruce
Sheriff Mike Ezell Jackson County
Janice Moser, Alderman, Byram
Richard Cook, Alderman, Byram
Jan Cossitt, Alderman, Clinton
Mike Cashion, Alderman, Clinton
Mayor Justin McKenzie, Columbia
Steve Singleton, Alderman, Crystal Springs
Mayor Sally Garland, Crystal Springs
Henry Toncrey, Councilman, D'iberville
Craig "Boots"Diaz, Councilman, D'iberville
Dr. Robby Ellis, Councilman, D'iberville
Mayor Rusty Quave, D'iberville
Mayor Tommy Schafer, Diamondhead
Mayor Dale Fortenberry, Farmington
Johnny Potts, Alderman, Farmington
Mayor Bob Morris, Florence
Mayor Gary Rhoads, Flowood
Kathy Smith, Alderman, Flowood
Donald Flint, Alderman, Flowood
Deron Harmon, Alderman, Flowood
Kirk McDaniel, Alderman, Flowood
Dusty Rhoades, Alderman, Flowood
Chip Mills, County Attorney, Fulton
Carolyn Weathers, Alderman, Greenville
Rusty Walker, Councilman, Gulfport
Ron Rolland, Councilman, Gulfport
R. Lee Flowers, Councilman, Gulfport
Myles Sharp, Councilman, Gulfport
Cara Pucheu, Councilwoman, Gulfport
Carter Carol, Councilman, Hattiesburg
Frank Thomas, Alderman, Houston
Phillip Carlisle, Supervisor, Lamar County
Josh Todd, Supervisor, Lauderdale County
Harry Sanders, Supervisor, Lowndes County
Ronny Lott, Chancery Clerk, Madison County
Trey Baxter, Supervisor, Madison County
Sheila Jones, Supervisor, Madison County
Tawanna Tatum, Alderman, Madison
Mayor Dale Berry, Magee
Will Tucker, Alderman, New Albany
Mayor Ken Strachan, North Carrollton
Casey Foy, Alderman, Pearl
Mayor Jake Windham, Pearl
David Luckett, Alderman, Pearl
Kevin Shows, Supervisor, Perry County
Gary Honea, Supervisor, Pike County
Mayor Russ Espiritu, Puckett
Jay Bishop, Supervisor, Rankin County
Steve Gaines, Supervisor, Rankin County
Jared Morrison, Supervisor, Rankin County
Daniel Cross, Supervisor, Rankin County
Bob Morrows, Supervisor, Rankin County
Larry Swales, Chancery Clerk, Rankin County
Sheriff Bryan Bailey, Rankin County
John Sullivan, Tax Assessor, Rankin County
David Bishop, Supervisor, Rankin County
Brad Partridge, Constable, Rankin County
Pat and Cynthia Sullivan, Mayor, Richland
Chuck Gautier, Alderman, Ridgeland
Brian Ramsey, Alderman, Ridgeland
Bill Lee, Alderman, Ridgeland
Mayor Chris Marsalis, Ripley
Mayor Rick Hux, Seminary
David Little, Alderman, Starkville
Lynn Bryan, Councilman, Tupelo
Markell Whittington, Councilman, Tupelo
Buddy Palmer, Councilman, Tupelo
Mike Bryan, Councilman, Tupelo
Travis Beard, Councilman, Tupelo
Mayor George Flaggs, Vicksburg
Mayor Brian Gomillion, Walnut Grove
Ken Craft, Former Supervisor, Walthal County
Mayor Alton Shaw, Wesson
Charlie Campbell, Alderman, Byram
Judy Fortenberry, Tax Collector, Rankin County
Robert Hancock, Constable, Rankin County
Mayor Scott Phillips, Olive Branch
Mayor Dane Maxwell, Pascagoula
Sheriff Steve Rushing, Lincoln County
Mary Martin, Councilwoman at Large, Gautier
Mark Huelse, Alderman, Oxford
Tony Greer, Former Supervisor, Hinds County
Alex Monsour, Alderman, Vicksburg
Andrew "Bubba" Labas, Former Alderman, Corinth
Mayor James Casey, Vardaman
Mayor John Henry Berry, D'lo
Mayor Cindy Bryan, New Hebron
Cindy Jones, Alderman, Walnut Grove
Randy Peoples, Alderman, Sebastopol
Barry Cumbest, Supervisor, Jackson County
Billy Karolyi, Alderman, Seminary
Jill Gilbert, Chancery Clerk, Franklin
Press Release
Tate Reeves for Governor
2/22/2019
About the Author(s)
Courtney Ingle
Courtney Ingle is a freelance writer from Brandon, Mississippi. She has years of journalism experience writing for radio, print, and the web. She and her husband Jeremy have two children, Taylor and Jacob and they are members of Park Place Baptist Church in Pearl, Mississippi.
More From This Author
Previous Story
Next Story