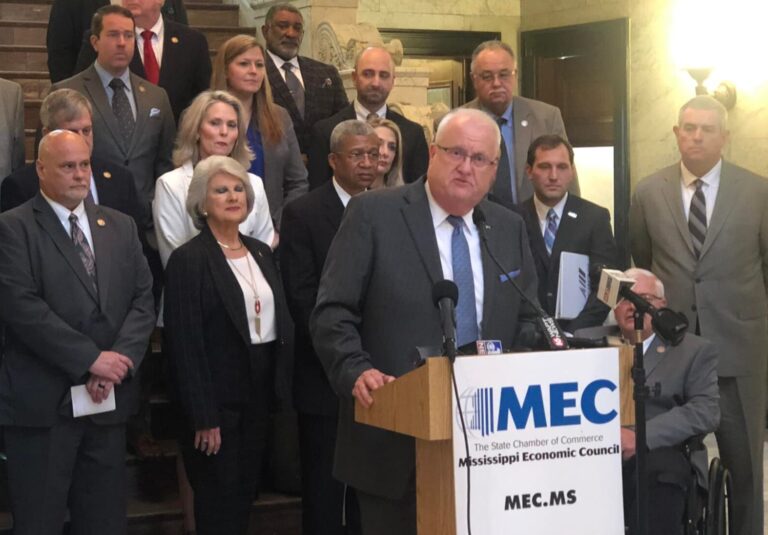 Scott Waller speaks at the state Capitol (Photo: MEC Facebook 2022)
MEC's Scott Waller has seen momentum build for improving our state's economic competitiveness. He says working together, we can "Secure Mississippi's Future."
Mississippi's focus on education, workforce, economic growth, and capital investment has put the state on an upward trajectory. 
Working closely with the state's elected leaders, the Mississippi Economic Council – the State Chamber of Commerce – has seen momentum build for improving our state's economic competitiveness. Great strides are being made in accomplishing many of the goals outlined in the 2022 strategic action plan, "Securing Mississippi's Future – Vision for Economic Growth." There is measurable progress on several recommendations thanks to the commitment of our legislature and state leadership.
Most notable are the efforts taking place in workforce development and education. In the last four years alone, ACT WorkKeys career readiness assessments are now available to all high school students. Career coaches are now in place and are expanding in high schools across the state. Mississippi is also making sure the Career-Technical programs offered in high school and community college are providing a return on investment by being aligned with in-demand jobs.
However, it is our educational improvements that are gaining the most attention across the country. In the last 10 years, Mississippi's fourth-grade reading scores have improved from 49th to 21st. The same improvements are seen in math, as Mississippi's fourth grade has risen from 50th to 23rd in the same timeframe.
Improving the state's infrastructure continues to be a significant priority for MEC and our state's leadership. There has been record investment over the past five years, including recurring revenue of more than $200 million annually, more than $500 million in emergency road and bridge projects, and a five-year commitment for state-match funding to bring $1.2 billion to the state through the federal Infrastructure Jobs Act.
MEC continues working with the legislature to create tax savings for businesses and protect Mississippi companies from overreaching regulatory practices.
These efforts are paying dividends in a variety of ways. Mississippi's per capita income continues to rise, unemployment remains at an all-time low, and the state GPD outpaced the national average in the first quarter of 2023. There is tremendous capital investment being made in the state, with more than $6 billion in the past three years, creating almost 14,000 jobs. It is also important to note that 61% of MDA-assisted projects were for expansion of existing businesses.
This progress has led to an overall positive feeling from business leaders throughout Mississippi. During the recent MEC tour, more than 80% of participants said Mississippi is on the right track. More importantly, over 60% say they are looking to hire additional employees in the next year, while only 3% are expecting to have fewer employees.
To keep the momentum rolling, we must build on this progress. Continued improvement in education, workforce, and talent is essential to long-term, sustainable growth.
At Hobnob Mississippi last week, MEC unveiled an important new initiative, AIM – Alignment Initiatives for Mississippi. This initiative will build momentum, provide coordination of programs, improve educational outcomes, develop a skilled workforce, and create a talent pipeline to meet the needs of Mississippi businesses.
The effort will focus on three vital objectives:
Balancing the Mississippi K-12 Accountability Model by creating a student-centered approach that leads to individual success after graduation.
Accelerating the "Ascent to 55%" education attainment program by increasing the number of working-age Mississippians with measurable education or training beyond high school.
Using the Mississippi Talent Initiative to provide new opportunities for retaining and attracting young professionals to the state.
The goal of the Balancing the K-12 Accountability Model is for the Mississippi Department of Education to emphasize students' competencies to ensure college and career readiness, while aligning the model with the expectations of businesses. This will provide a balance between academic degrees with collegiate-level career education and workforce credentialing.
Through the Ascent to 55% program, Mississippi has already seen our attainment number increase several percentage points in just two years. Currently, 48.5% of adults in Mississippi hold one or more of the following – a bachelor's degree or higher, an associate degree, or a valuable industry credential.
Research is underway through the Mississippi Talent Initiative to look at the imbalances between demand and supply of talent. The goal is to develop innovative solutions to encourage young professionals to remain in Mississippi or return to the state.
AIM will allow these three initiatives to work in concert to drive meaningful public policy, provide Mississippians pathways to life-changing productive careers, spur job growth, and further strengthen our economy.
MEC is excited to have been a part of the tremendous momentum that is taking place in our state, and now we are going to AIM higher to foster a new level of prosperity throughout Mississippi. Working together, we can "Secure Mississippi's Future."
About the Author(s)
Scott Waller
Scott Waller, IOM, is President and CEO of the Mississippi Economic Council – the State Chamber of Commerce. He previously served as Executive Vice President and Chief Operating Officer at MEC. Prior to joining MEC, Scott spent more than 20 years as a newspaper journalist, including four years as Business Editor of The Clarion-Ledger. He is also the former owner and editor of the Madison County Journal.