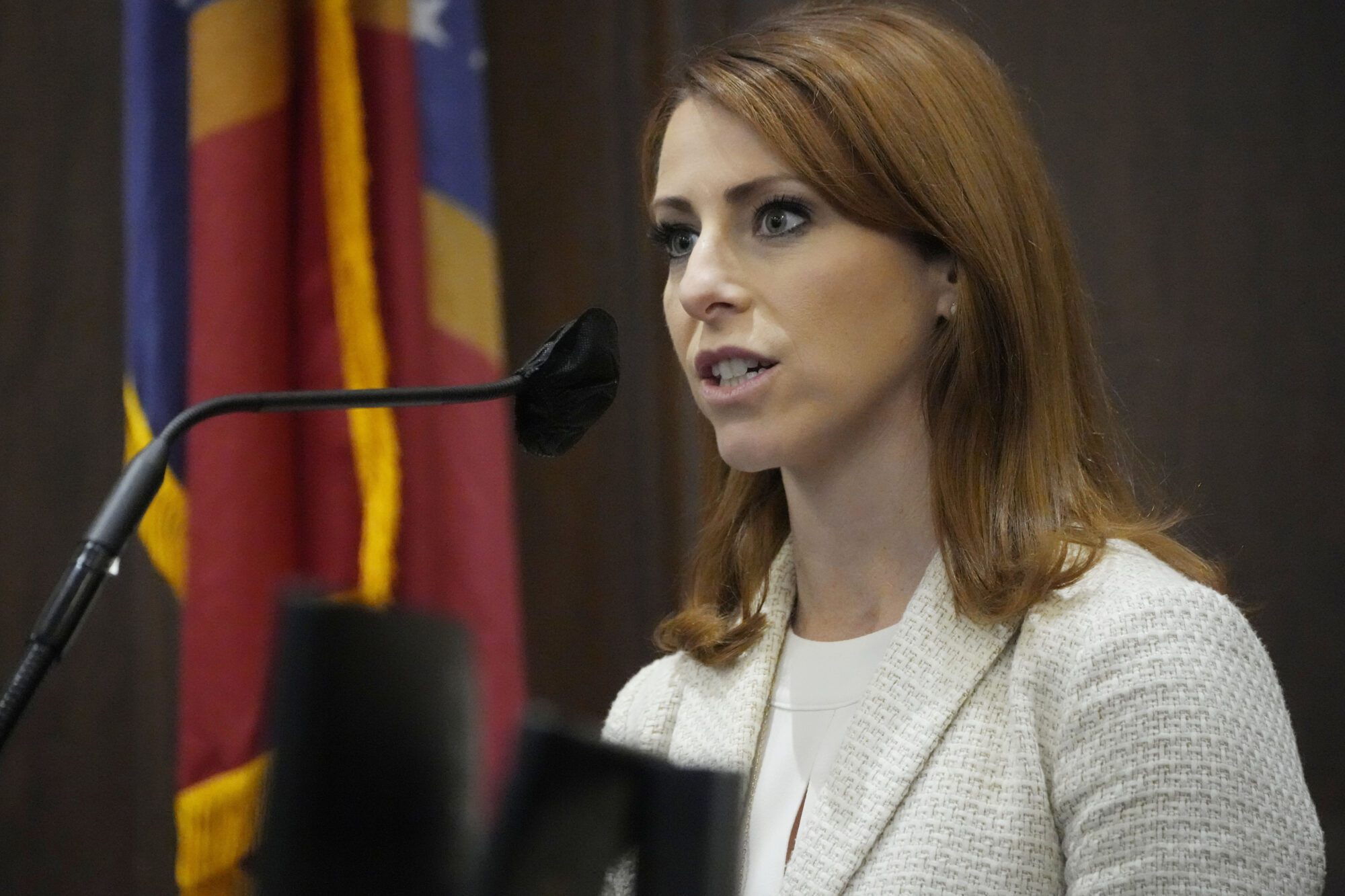 Mandy Gunasekara, a Republican candidate on the primary ballot for the Northern District Public Service Commissioner post, answers questions regarding a residency challenge in Hinds County Circuit Court, Wednesday, March 22, 2023, in Jackson, Miss. (AP Photo/Rogelio V. Solis - Copyright 2023 The Associated Press. All rights reserved.)
Both candidates were disqualified by the state Supreme Court on Thursday.
On Thursday, the Mississippi Supreme Court handed down two rulings that have effectively removed candidates from the ballot this election cycle.
Mandy Gunasekara, a Republican seeking the Northern District Public Service Commissioner seat, had appealed the ruling in Hinds County that deemed her ineligible based on a five-year residency requirement.  Today's ruling will remove her from the ballot. 
Gunasekara says she is exploring her options.
"I'm a fighter and a constitutional conservative. I'm assessing all my legal options. The Mississippi Supreme Court acknowledged the potential unconstitutionality of this provision, yet found a convenient, procedural mechanism to avoid a decision on the merits," Gunasekara told Magnolia Tribune. "I believe the voters of Mississippi deserve a ruling on the merits."
Gunasekara served as a Senior Advisor and then the Chief of Staff in the U.S. Environmental Protection Agency (EPA) in Washington D.C. during the Trump Administration.
DeSoto County resident Matthew Barton, a candidate for District Attorney, first brought the challenge before the Republican State Executive Committee where it was dismissed. Barton then filed an appeal and the case was heard in Hinds County.
Two candidates remain in the Northern District PSC race – Chris Brown and Tanner Newman.
The other ruling today from the state Supreme Court dealt with a House race in District 64.
Two Democrats filed to challenge State Rep. Shanda Yates, now an Independent. They were Angela Grayson and Kia Jones. Both candidates were certified to run by the Mississippi Democratic Party despite questions about their residency raised by Yates to the Democratic Party State Executive Committee.
After the party certified both to run, Yates filed action in Hinds County.  Jones, Yates claimed, was not registered to vote at her current address, or any address within House District 64, on the February 1st candidate filing deadline date. The trial rules Jones ineligible and she later appealed.
The court today ruled that Jones did not meet the residency requirement to run and is to be disqualified.
Grayson chose to voluntarily drop out of the race in late March after the petition was made by Yates. This leave Yates to face one challenger in the November General Election, Republican Amile Wilson.
About the Author(s)
Frank Corder
Frank Corder is a native of Pascagoula. For nearly two decades, he has reported and offered analysis on government, public policy, business and matters of faith. Frank's interviews, articles, and columns have been shared throughout Mississippi as well as in national publications such as the Daily Caller. He is a frequent guest on radio and television, providing insight and commentary on the inner workings of the Magnolia State. Frank has served his community in both elected and appointed public office, hosted his own local radio and television programs, and managed private businesses all while being an engaged husband and father. Email Frank: frank@magnoliatribune.com
More From This Author