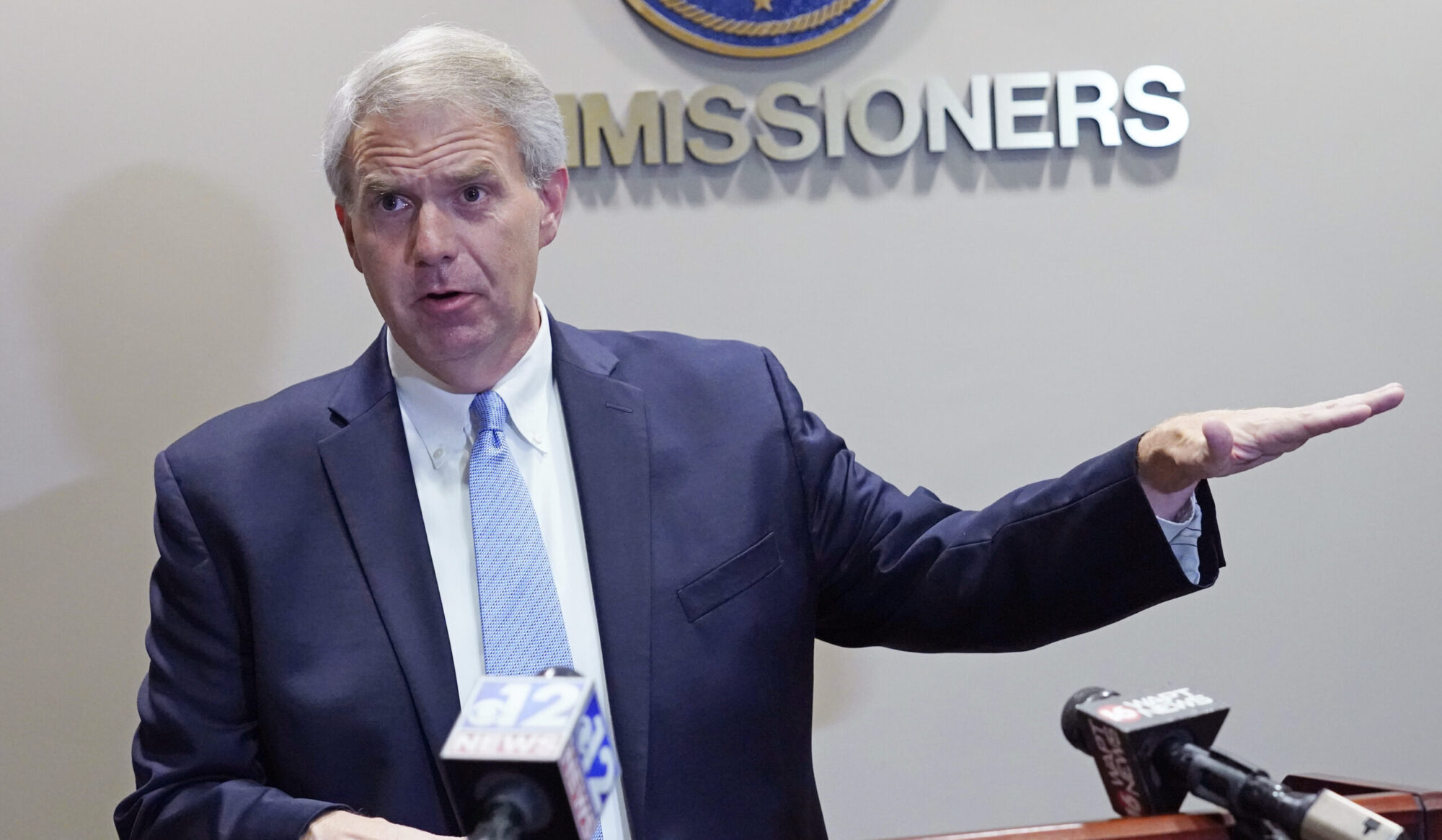 Northern District Public Service Commissioner Brandon Presley, speaks about the Mississippi Public Service Commission settlement with Entergy Mississippi, Thursday, June 23, 2022, in Jackson, Miss. (AP Photo/Rogelio V. Solis - Copyright 2022 The Associated Press. All rights reserved.)
The Democratic gubernatorial candidate has assembled a team of veteran national operatives who have worked to elect progressive candidates across America.
This week, Brandon Presley announced his new campaign staff, headed by Ron Owens. Owens, a Michigander who boasts helping to elect Democratic Governor Gretchen Whitmer and flip the legislature from Republican to Democrat in his native-state last year, is joined by a series of other national operatives with experience on high-level Democratic campaigns.
Those campaigns include the failed efforts of Congressman Tim Ryan (D) to win a U.S. Senate seat in Ohio against populist author J.D. Vance (R), and Stacey Abram's (D) unsuccessful attempt to unseat Gov. Brian Kemp (R) in Georgia. They also include successful efforts to elect Democratic governors in places like Louisiana and Kentucky, where Jon Bel Edwards and Andy Beshear were both successful in bucking the state's partisan demographics.
In announcing the new hires, Presley said that "with my record and these talented and battle-tested individuals, our campaign is in an even stronger position to shock the world this November so we can build a Mississippi that serves working families, not the special interests."
The hires, though, serve to highlight the tightrope act that Presley will have to perform to become viable. As Northern Public Service Commissioner, he has always evaded his district's shift toward the Republican Party by convincing people that he is not that different from them. His persona as a centrist "Blue Dog" Democrat that is pro-life and pro-gun will be tested by who he surrounds himself with in this campaign and by his need to pull down national Democratic dollars that lean progressive.
RELATED: Presley's Path to Governor's Mansion is Narrow
How Do the Hires Reflect on the Candidate?
Henry Barbour, political strategist and National Republican Committeeman for Mississippi, told Magnolia Tribune voters need to look no further than Presley's hiring of Owens and his connection to Whitmer to see how the Democratic candidate would run Mississippi.
"COVID showed Americans that it certainly matters who serves as governor. Democrats such as Gretchen Whitmer advanced their elitist, government-knows-best agenda that restricted Americans' liberty," Barbour said. "And Brandon Presley hired her top political operative. Don't believe him for a minute when he tries to persuade you he's not of the same political persuasion."
Whitmer's handling of the COVID-19 pandemic thrust her into the national spotlight with critics calling her actions draconian. Nonetheless, in a highly publicized campaign, Whitmer defeated Republican challenger Tudor Dixon last fall by a comfortable ten-point margin.
The aftermath of Michigan's elections last year have been significant. Gov. Whitmer has already signed into law a bill that will repeal Michigan's "right-to-work" law, which gives workers the freedom to work without being forced to join a union. Whitmer's also proposed a series of tax increases on individuals and businesses, even as Michigan stood atop a $9 billion surplus. Michigan has repealed a law that restricted abortion and passed a constitutional amendment enshrining a right to abortion, including abortions post-viability.
Owens himself is pro-abortion. In a tweet following the U.S. Supreme Court's decision in Mississippi's Dobbs case, which overturned Roe v. Wade, Owens said, "I am so sorry for all the women feeling devastated today. Although I don't know exactly what you're going through or how you're feeling, just know that I stand with you and will do everything I can to protect a woman's right to choose."
Barbour believes that the Presley staff's deep roots in high-profile progressive campaigns strips away the dividing line between the North Mississippi Democrat and the national Democratic Party.
"Presley is showing his cards with these hires. He could have hired a Mississippi team, but he hired campaign stars from the likes of Stacey Abrams and Gretchen Whitmer. This will help set the tone for Presley's campaign. Their liberal leanings on policy will show up in statements, ads, and Presley's agenda," Barbour said.
Caution of Reading Too Much into Staff Hirings
Dr. Nathan Schrader, a former professor of political science at Millsaps and a longtime political commentator in Mississippi, sees things differently. In an interview with Magnolia Tribune, Dr. Shrader cautioned against reading too much into the hiring of campaign staff. He told Magnolia Tribune very few voters care who is on a campaign staff and even fewer know who those people are.
"I don't know of anyone in the political arena, me included, who has ever run a campaign for a candidate with whom they agree on 100% of the issues in a race," Dr. Shrader said.
Dr. Shrader said staff who are brought in to run a campaign are generally there to determine how to best sell the candidate, raise funds, and develop strategy.
"In other words, the candidate's attributes like his biography, issue positions, and ideological commitments are what they are and not created by the campaign team," Dr. Shrader told Magnolia Tribune. "However, the campaign team has the challenge of determining how to best market the candidate given these preexisting factors."
Shrader said Brandon Presley could hire Karl Rove or Roger Stone to run his gubernatorial campaign and it still would not prevent his opposition from accusing him of being on the far left or a progressive.
"This may allow the Reeves campaign or political action committees associated with it to run some ads accusing Presley of being a 'progressive' because of his hirings, but they were going to do that no matter who he hired to run the campaign operation," Shrader said.
Could the Staffing Decisions Aid Fundraising
Given the Public Service Commissioner's lack of name ID and inexperience in statewide politics, Presley's hires could be more of a reflection of his need to tap into national Democratic donors than they are his policy positions.
Fundraising staffers bring their own rolodex of donors to a campaign. Democrats in Mississippi have had a tough time raising any significant campaign cash in-state since tort reform was passed in the state 20 years ago.
Barbour said it's a bold move by Presley to align himself with national Democrats, even if it does help him raise money.
"I am sure he hopes it will help him raise big money from California and New York liberals, and it probably will, because now they know they will be able to count on him if he can only snooker Mississippians into believing he's not really a liberal," Barbour said.
Dr. Shrader said that it is indeed possible for these Presley hires to play a role in much needed fundraising for the Democrat. But he emphasized that the Mississippi gubernatorial race is one of three such off-year elections, meaning it is already near the top of donor considerations regardless of staffing decisions.
"Brandon Presley is going to be the Democratic Party nominee in Mississippi in an election cycle with very few gubernatorial races happening around the country. This immediately helps to place his race on the radar of Democratic donors in other parts of the United States because there are simply fewer gubernatorial contests to invest in. We also must keep in mind that Governor Reeves is the favorite given the state's electoral history and Reeves' own impressive history of winning statewide races," Dr. Shrader opined. "It is certainly possible that Presley's campaign staff will be able to tap into contacts they bring with them from other races in other places, but this is the nature of politics and simply how the process works."
Presley Campaign Focused on Attacking Opponent Reeves
Magnolia Tribune questioned the Presley campaign about whether the issue positions of its staff were emblematic of the positions of the candidate. Communications Director Michael Beyer pivoted from answering those questions. Instead, he offered what has become a common refrain, attempting to link Governor Reeves to the ongoing welfare investigation.
"Unlike Tate Reeves, no Brandon Presley staffer could face questions in a federal investigation for funneling millions of taxpayer dollars meant for working families to his personal trainer and celebrities and then trying to cover it up by helping fire the lead attorney investigating the scandal because it was getting too close to his buddies," Beyer's email response stated.
To date, there has been no evidence of any impropriety on the part of Reeves in connection with the welfare investigation, and no indication that Reeves is at all implicated in, or a target of, the investigation. This has not stopped Presley's campaign from striking that chord as often as possible. Questions asked about a new economic ranking showing improvements in Mississippi, drew a similar response. Not on topic, but at a minimum, it evinces messaging discipline.
RELATED: Mississippi Moves Up 5 Spots in "Rich States, Poor States" Economic Rankings
"Presley hired the top Democrat operative in last year's Ohio U.S. Senate race when it comes to attacking the Republican," Barbour said, referring to Beyer. "This same staffer has worked for the [Democratic Governors Association] helping elect Democrats across the country."
Beyer worked as a Senior Communications Advisor at the Ohio Democratic Party, where he worked on behalf of Democrat Tim Ryan in his unsuccessful bid against U.S. Sen. J.D. Vance, a Republican.
The Full Announced Team
The full team announced by the Presley campaign, presented verbatim from the announcement:
Ron Owens, Campaign Manager: Ron is a veteran of targeted campaigns who knows what it takes to win tough races. Most recently, he served as Political Director for Governor Gretchen Whitmer's campaign and helped drive the governor to a historic 11-point victory and flipped the Michigan state legislature. Prior to Whitmer's reelection campaign, Ron served in her executive office and on her 2018 campaign, in the Democratic Leader's office in the State House of Representatives, and on several Michigan campaigns.

Jared Turner, Senior Advisor: Jared is a native of Tupelo, MS, and a graduate of the University of Mississippi who got his start working as a Political and Field Director and Fundraiser and since has worked on several municipal, federal, and judicial races. He opened a political consulting firm and worked across the state and country, fighting for working families. Jared lives in Jackson, MS, with his wife and two kids, where he is active through his church, social and civic engagement organizations, and family.

Greta Presley, Operations Director: Greta, Brandon's sister, is a 30-year career professional in administrative management, most recently with an extensive career in the healthcare industry, where she oversaw and managed scheduling, event logistics, vendor relationships, and various communications. She is returning home to her and Brandon's hometown of Nettleton to serve as Operations Director for the campaign.

Shalonda Spencer, Political Director: Shalonda has over a decade of experience in public service, having worked on several campaigns in Mississippi and in non-profits focusing on public and foreign policy issues as a government relations and national security professional. Shalonda is a two-time graduate student at Jackson State University and a native of Columbus, Mississippi.

Michael Beyer, Communications Director: Michael most recently worked as a Senior Communications Advisor at the Ohio Democratic Party, where he led GOP Senate primary response and served as the on-the-record spokesman for anti-Vance communications. He has worked on several gubernatorial races in New Hampshire and at the Democratic Governors Association, helping to re-elect Gov. John Bel Edwards and elect Gov. Andy Beshear.

Abby O'Keefe, Organizing Director: Abby most recently worked as a Deputy Organizing Director at the Michigan Democratic Party and previously held organizing positions in Georgia, Ohio, Iowa, and Oklahoma.

Isaac Lampner, Finance Director: Isaac has worked as a fundraiser in Ohio and an organizer in Michigan, most recently serving as the call time manager for Tim Ryan's fundraising program, which raised a record-breaking $58M, the most of any U.S. Senate campaign in Ohio.

Jake Laves, Digital Director: Jake most recently worked as a Deputy Digital Fundraising Director on Stacey Abrams' 2022 gubernatorial campaign, which raised a record-breaking $38 million online, more than any gubernatorial campaign in Georgia history. Before that, he held positions at New Blue Interactive, the DLCC, and the Texas Democratic Party.

Shawn Patterson, Research Director: Shawn worked at the West Virginia Democratic Party, where he helped to re-elect Senator Joe Manchin in an R+42 state. He most recently worked as a Regional Research Director at the DCCC, where he led research on congressional races in frontline races in Nevada, Washington, Oregon, Kansas, and Nebraska. Shawn previously held research positions at the DSCC, where he worked on races in Arizona, Georgia, and New Hampshire that were critical to flipping the Senate in 2020.
About the Author(s)
Frank Corder
Frank Corder is a native of Pascagoula. For nearly two decades, he has reported and offered analysis on government, public policy, business and matters of faith. Frank's interviews, articles, and columns have been shared throughout Mississippi as well as in national publications such as the Daily Caller. He is a frequent guest on radio and television, providing insight and commentary on the inner workings of the Magnolia State. Frank has served his community in both elected and appointed public office, hosted his own local radio and television programs, and managed private businesses all while being an engaged husband and father. Email Frank: frank@magnoliatribune.com
Russ Latino
Russ is a proud Mississippian and the founder of Magnolia Tribune Institute. His research and writing have been published across the country in newspapers such as The Wall Street Journal, National Review, USA Today, The Hill, and The Washington Examiner, among other prominent publications. Russ has served as a national spokesman with outlets like Politico and Bloomberg. He has frequently been called on by both the media and decisionmakers to provide public policy analysis and testimony. In founding Magnolia Tribune Institute, he seeks to build on more than a decade of organizational leadership and communications experience to ensure Mississippians have access to news they can trust and opinion that makes them think deeply. Prior to beginning his non-profit career, Russ practiced business and constitutional law for a decade. Email Russ: russ@magnoliatribune.com
More From This Author