FILE – California Gov. Gavin Newsom speaks at a news conference in Sacramento, Calif., Thursday, March 16, 2023. On Thursday, March 30, 2023, Newsom announced a new political action committee he says will boost Democrats in Republican-led states. (AP Photo/Rich Pedroncelli,File)
Newsom's visit and his message shine a light on the difficulty for a candidate like Brandon Presley. The national Democratic Party, led by people like the California Governor, is aggressively progressive. Association with the brand can become a political millstone.
Just two days after President Joe Biden toured tornado damage in Rolling Fork, California Gov. Gavin Newsom jetted into Jackson to promote his new PAC aimed at taking on red state leaders. Newsom tweeted that he spent the day with embattled Jackson Mayor Chokwe Antar Lumumba.
Jennifer Siebel Newsom, who swapped the traditional moniker of "First Lady" for "First Partner" in California, tweeted that their family had attended church and visited the Mississippi Civil Rights Museum with Lumumba's family.
Magnolia Tribune reached out to Democratic candidate for governor Brandon Presley to determine if he met with Newsom or President Biden during their visits.
Commissioner Presley's campaign said he participated in an event with President Biden during his visit. Presley expressed gratitude for the federal support. As to Newsom's visit, the campaign said Commissioner Presley was at home in Nettleton attending Palm Sunday services yesterday and did not meet with the California Governor.
Reached for comment, Governor Tate Reeves said, "tourism helps drive Mississippi's economy and I am glad to welcome Governor Newsom to our state. I disagree strongly with his extreme COVID lockdowns, his insistence on letting boys play girl sports, his advocacy for abortion all the way up until birth, his enthusiasm for gun control, and his love of high income taxes, among other things." Reeves continued, "his policy views are everything that's wrong with the national Democratic Party."
"Campaign for Democracy"
Re-elected to a new four-year term as governor last fall, Newsom claims his interest in running for president is "sub-zero." His nationally-focused political activity suggests otherwise.
On the same day that Manhattan District Attorney Alvin Bragg announced charges against former President Donald Trump, Newsom announced the formation of the "Campaign for Democracy" PAC. The PAC pledged to spend money in "states where freedom is most under attack."
Newsom funneled $10 million of leftover campaign funds to launch the effort. The initial salvo was a slick ad that took aim at governors in red states that Newsom labels as "authoritarian." Included in a montage of leaders that features Govs. Ron DeSantis (R-FL), Sarah Huckabee Sanders (R-AR), and Gregg Abbott (R-TX), is Mississippi Gov. Tate Reeves.
In the ad, Newsom defends access to abortions and restrictions on the Second Amendment. The video criticizes Republican efforts to curb undocumented immigration, protect children from pornographic content, and prevent doctors from performing sex change procedures on minors.
This is not Newsom's first foray intervening in red states. During the 2022 election cycle, he ran ads in Florida against Gov. Ron DeSantis. But that seemed one off. This appears to be the start of something far more organized.
Newsom's backing includes deep pockets. 19 billionaires have donated to his political campaigns. Contributors include Netflix's Reed Hastings, former Google CEO Eric Schmidt, DoorDash cofounders Andy Fang and Stanley Tang, and New York hedge fund tycoons George Soros and Jim Simons.
California Values
Newsom's approach is somewhat novel. Instead of trying to appeal to the interest of conservative voters in places like Mississippi, he's engaged in a full frontal assault on their predominant values. In many ways, the push is reflective of where California is.
In the aftermath of the Dobbs decision allowing states the freedom to determine their own abortion policy, Newsom bought billboards in South Dakota, Indiana, Michigan, Ohio, South Carolina, Oklahoma, and Texas. The billboards slammed those states' restrictions on abortion. They promoted access to abortion in California, complete with a government website. The site offers financial assistance for people wishing to travel to California for the procedure.
Last fall, California voters amended the state constitution to enshrine a permanent right to abortion. The amendment, which contained no time restrictions, has been panned by critics who contend that it permits unfettered abortions up to a minute before live birth.
Similar to its positioning on abortion, California acted last fall to create "legal refuge" for transgender minors who are prevented in their own states from accessing sex change treatments.
The divergence in values between the Golden State and the Magnolia State is not limited to questions on abortion or gender identity, though. California frequently leads the nation in testing the limits of the Second Amendment.
A 2013 act passed in California required every new handgun manufactured for sale be equipped with "microstamping" technology. The technology, theoretically, stamps each bullet fired from a handgun with a unique identifier. The problem? There are no handguns with that technology, meaning California effectively banned the sale of handguns manufactured after 2013.
A judge recently entered a preliminary injunction against the law, the latest in a string of California gun laws that have been overturned or are presently being challenged.
California Problems
Newsom's new ad argues that red state voters don't know what they are missing and touts success in California. But California carries its own baggage. For three years running, the state has lost population.
It's not just citizens leaving, either. A report by the Hoover Institution at Stanford University found that 352 businesses moved their headquarters out of California between 2018 and 2021. Included among those leaving were twelve Fortune 1000 companies. Six of those companies relocated to Texas.
Hoover sites high tax rates, punitive regulations, high labor costs, and a high cost of living as reasons for the exodus.
And cost of living is not limited to high home prices. California maintains the highest energy costs in the nation. Its electric grid is already stretched, but a significant push toward banning fossil fuels in favor of renewables, threatens to dramatically compound the problem.
The astronomical cost of living contributes to another dire problem: California's highest in the nation homeless rate.
The Tight Rope
Newsom's visit and his message shine a light on the difficulty for a candidate like Brandon Presley. The national Democratic Party, led by people like the California Governor, is aggressively progressive. There are not enough truly progressive voters in Mississippi to win the day. Association with the national Democratic brand becomes a millstone for a candidate trying to establish that he or she can represent broad swaths of Mississippi.
Conversely, refusal to associate with that brand makes much needed fundraising difficult. It's a tight rope that Presley will have to walk carefully, lest he fall.
So far the strategy appears to be quiet disassociation. His social media accounts were conspicuously silent about both Biden and Newsom's visits. But it's hard to imagine that Presley will be able to avoid his political party's stance on controversial social issues, or association with its leaders, for the entirety of the coming campaign. I suspect he wishes people like Newsom would stay put in their home states.
About the Author(s)
Russ Latino
Russ is a proud Mississippian and the founder of Magnolia Tribune Institute. His research and writing have been published across the country in newspapers such as The Wall Street Journal, National Review, USA Today, The Hill, and The Washington Examiner, among other prominent publications. Russ has served as a national spokesman with outlets like Politico and Bloomberg. He has frequently been called on by both the media and decisionmakers to provide public policy analysis and testimony. In founding Magnolia Tribune Institute, he seeks to build on more than a decade of organizational leadership and communications experience to ensure Mississippians have access to news they can trust and opinion that makes them think deeply. Prior to beginning his non-profit career, Russ practiced business and constitutional law for a decade. Email Russ: russ@magnoliatribune.com
More From This Author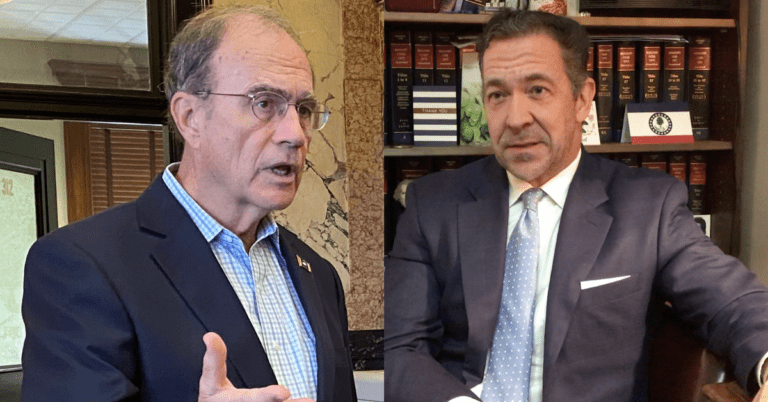 Next Story