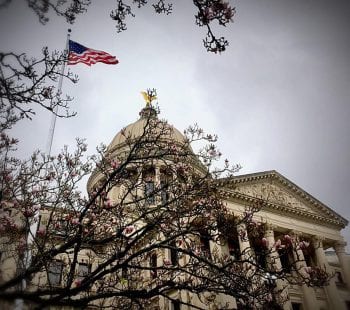 During conference weekend lawmakers will not only be tasked with setting the state budget for FY2024 but will address legislation pertaining to education, early learning, and the city of Jackson.
The 2023 Mississippi Legislative session is coming to a close, and lawmakers are preparing for conference weekend. This time is used to finalize details on legislation that may differ in each chamber. It's also the time when the state's budget for the next fiscal year is set.
Three conferees from each chamber are named and will hammer out the details of the bills, considering changes made in the House and Senate, and then offer those agreements to the whole body for a vote.
There are over 230 bills that have been sent to conference, which includes appropriation and revenue bills.
The approved estimated revenue for FY2024 is currently set at $7,523,800,000. This is a 7.7% increase over last year's budget estimate. With the increase, lawmakers look to set the budget roughly $55.7 million higher at $6,989,435,095 for FY2024.
If budget bills do not amount to that number, leadership will be required to meet and set a new number before sine die, or end of session.
One sticking point could be the new proposed funding for the Mississippi Adequate Education Program (MAEP), which would increase the state funding for the public education system by $181 million this year.
HB 1369, the vehicle for this increase and formula change to fully fund the program, is still sitting on the House calendar. Conference has only been invited for the appropriation bill – SB 1316.
Capitol City Bills
One of the most talked about bills of the session that pertains to the city of Jackson is still alive and headed to conference. HB 1020 would make significant changes to the circuit courts for Hinds County in an attempt to address backlogs and rising crime. The legislation has changed forms significantly since its passage in the House. The Senate removed provisions for a new and separate inferior court within the Capitol Complex Improvement District with appointed judges and took out language expanding the jurisdiction of the Capitol Police. However, SB 2343 which could still expand their jurisdiction is also in conference.
HB 1020 will ultimately be decided between the conferees. House conferees include Rep. Trey Lamar (R), the bill's author, Rep. Nick Bain (R) and Rep. Earl Banks (D).
Another bill which would impact water billing for all municipalities, but has been rumored to be aimed at Jackson, is HB 698. The bill would require cities to bill based on usage but gives them authority on how water rates are determined if actual usage per household or business cannot first be used. If actual usage cannot be determined, the city could bill based on a flat fee rate that does not discriminate.
Women, Children and Families
When it comes to families, several proposals have come forward to address concerns from tax credits, adoption fees, and foster care issues. HB 510 and SB 2384 are both being sent to conference and pertain to the foster care system. The House bill, authored by Representative Jill Ford (R), creates a "Foster Parents' Bill of Rights and Responsibilities," to be adhered to by parents as well as Child Protective Services (CPS) who maintain custody of Mississippi's foster children.
The Senate bill, written by Senator Nicole Boyd (R) who chaired a committee on Women, Children, and Families over the summer, would create a study committee to look into streamlining the adoption and foster care process in the state.
HB 1342, presented by Speaker of the House Philip Gunn (R), would create a board of trustees for the Mississippi Adoption Licensure Authority and give them licensing authority for the Division of Family and Children's Services. The board would consist of nine members, all appointed by different entities of CPS. It also originally created the Mississippi Adoption Relief Fund which could be used by the board to perform duties of licensing and regulation of adoption services in the state.
The Speaker also has a large omnibus tax credit bill still alive in HB 1671, known as the Pregnancy Resource Act. It would provide tax cuts to crisis pregnancy centers, the adoption of a child, donations to charitable organizations that handle foster care cases, and several others.
Education Changes
When it comes to education, the Senate has proposed a substantial increase for MAEP, as mentioned above. The proposal also shifts the funding formula to allow what Education Chairman Senator Dennis DeBar (R) called sustainability for the program.
Lawmakers have also turned their sights to Early Learning Collaboratives to ensure they are receiving the max amount of funding for their programs. Early Learning programs include efforts geared toward children prior to Kindergarten. This includes Pre-K 3 and Pre-K 4.
HB 698 would increase the minimum funding levels for each enrolled student to $2,500 for a full day, and $1,250 for a half day program. These numbers have been met previously, but the Legislature would ensure they stay there going forward.
A debated bill offered by Senator Angela Hill (R) would provide that approved individuals could carry a firearm while working within a K-12 school.
The School Safety Guardian Training Program, SB 2079, would be established to provide training for those interested in carrying a firearm and those who complete the program would be known as a school safety guardian. The designation comes with at least a $100 monthly stipend from the district and the identities of safety guardians would be kept confidential.
Healthcare Initiatives
Hospitals and healthcare workers could see some benefits from the session with SB 2372, The Hospital Grant Program and SB 2371, the Nurse Retention Act.
The Hospital Grant Program, authored by Senator Kevin Blackwell (R), aims to improve and preserve access to hospital care throughout the state of Mississippi. Rural hospitals in particular have been in decline in the state for several years and those struggles only increased due to the COVID-19 pandemic. Approved hospitals could receive grants of up to $1,000,000 through the fund.
The nursing grant program also comes in response to the COVID-19 pandemic when it was seen that the healthcare industry saw a large disruption within hospitals, clinics, long-term care facilities and other healthcare facilities. Funding would largely come from Federal ARPA funds that were appropriated to the state. The aim is to increase capacity in nursing and allied health training programs as well as retain graduates within the state.
Once conferees make an agreement on a conference report, the bills must be brought back to each chamber. If a bill is not brought back to the floor, it will not be moved forward in the process.
Sine Die is expected to come before the end of March. Session is scheduled to end April 2nd.
About the Author(s)
Sarah Ulmer
Sarah is a Mississippi native, born and raised in Madison. She is a graduate of Mississippi State University, where she studied Communications, with an emphasis in Broadcasting and Journalism. Sarah's experience spans multiple mediums, including extensive videography with both at home and overseas, broadcasting daily news, and hosting a live radio show. In 2017, Sarah became a member of the Capitol Press Corp in Mississippi and has faithfully covered the decisions being made by leaders on some of the most important issues facing our state. Email Sarah: sarah@magnoliatribune.com
More From This Author
Previous Story