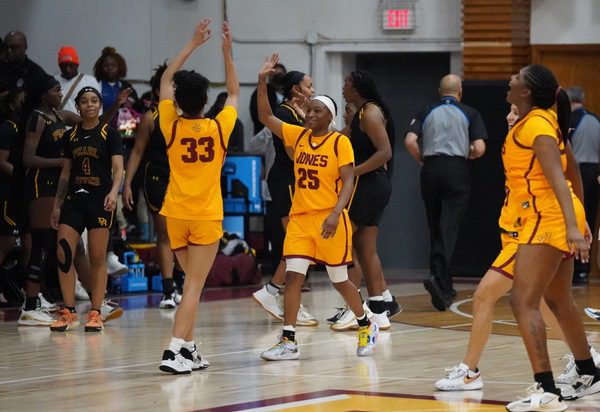 Jones College Women's Basketball players En'Dya Buford (right) high fives Melony Thames (left) in a game versus Pearl River. Both are All-Americans. (Photo credit: Laiklynn Roberts with JCBobcats.)
The Bobcats won their 7th straight region crown this year and are a 6 seed heading into the NJCAA Tournament next week.
The Jones College Women's Basketball team is making history this season, earning a place in the National Junior College Athletic Association (NJCAA) Tournament for a seventh consecutive year.
The Bobcats won their seventh straight NJCAA Region 23 Championship this season, finishing the regular season 25-3 overall with a 19-game winning streak.
The women are ranked 8th nationally. They are a 6 seed in the NJCAA Division I Tournament when it begins March 22nd at the Rip Griffin Center on the campus of Lubbock Christian University in Lubbock, Texas.
The Bobcats have a bye to open the tournament. The Mississippi women are slated to play the winner between 11 seed Gulf Coast State (Florida) and 22 seed Three Rivers College (Missouri) on March 24th at 7pm.
The Jones College women's team made the NJCAA Final Four last season for the first time in school history. It is a feat that has not been achieved in nearly 40 years by a Mississippi school at this level of play.
The team is led by Head Coach Missy Bilderback. Since joining the Bobcats in 2015, Bilderback's program has achieved an impressive 172-29 (.856) overall record with a conference record of 86-11. Bilderback and the Jones College women's team have sent nearly 40 players to NCAA Division I over the last seven seasons.
"We are ecstatic that this team gets to go to Lubbock and compete with the best teams in the country," Bilderback said recently in a Mississippi Association of Community Colleges Conference release. "We are going to go have fun and see what happens."
About the Author(s)
Frank Corder
Frank Corder is a native of Pascagoula. For nearly two decades, he has reported and offered analysis on government, public policy, business and matters of faith. Frank's interviews, articles, and columns have been shared throughout Mississippi as well as in national publications such as the Daily Caller. He is a frequent guest on radio and television, providing insight and commentary on the inner workings of the Magnolia State. Frank has served his community in both elected and appointed public office, hosted his own local radio and television programs, and managed private businesses all while being an engaged husband and father. Email Frank: frank@magnoliatribune.com
More From This Author
Next Story