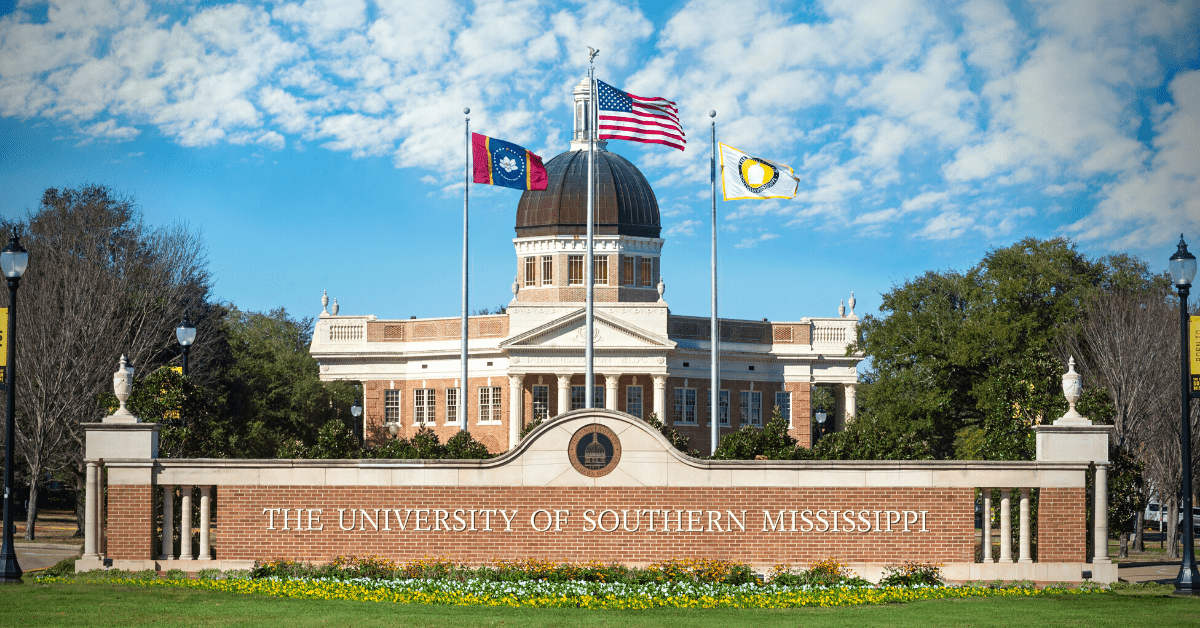 The University of Southern Mississippi main campus entrance in Hattiesburg,
USM has always thrived when all come together and harness our unique culture of grit.
Mississippi is my home. I grew up on the Mississippi Gulf Coast and am a proud graduate of both Bay High and the University of Southern Mississippi. I've spent the majority of the last five decades serving my alma mater in various roles, and I have been overwhelmed with the support and love so many of you have shown me in the short time I have returned to Southern Miss as its new president.
I am also grateful for the trust the IHL Board has placed in me to lead this university for the next four years—a university that I love and that has benefited individuals and communities across our state for more than a century.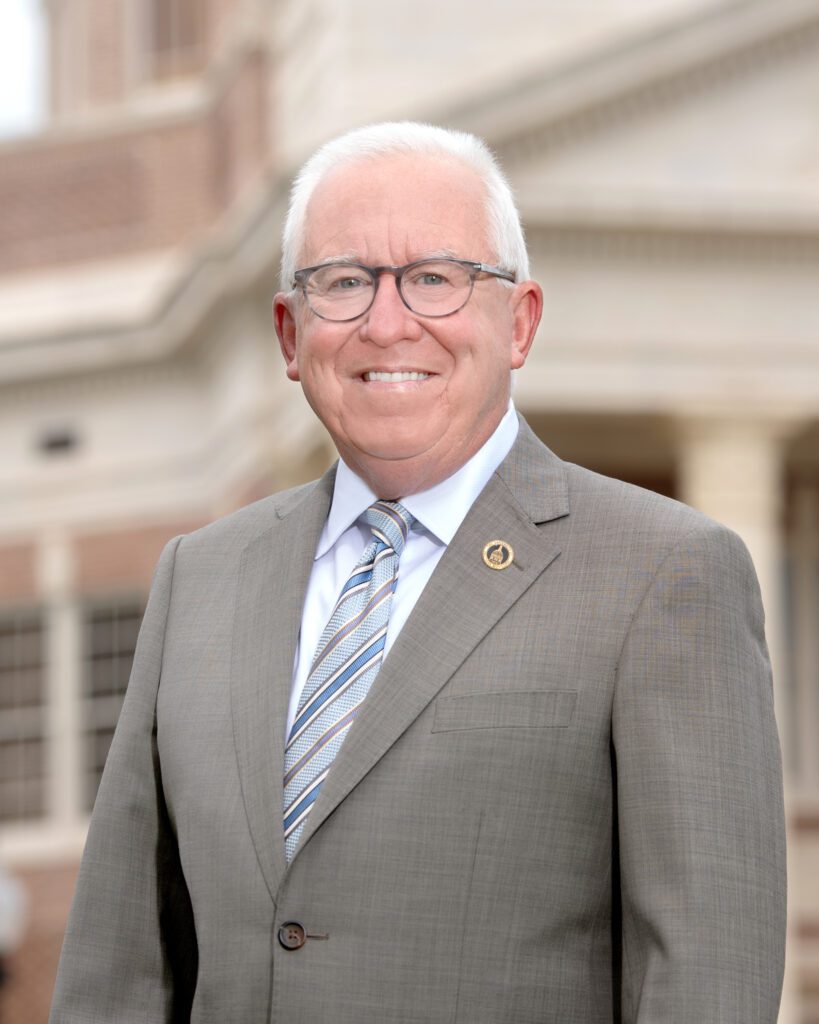 Upon my return to Southern Miss as interim president last summer, I was pleased to find a thriving academic and research enterprise. In 2022, our place among the nation's leading research universities was solidified upon the renewal of our Carnegie R1 status – the highest classification reserved for top-tier institutions. This recognition helps Southern Miss recruit top faculty talent, provides unparalleled hands-on research opportunities for students, and ensures the university receives the highest consideration for many public and private sector grant opportunities.
The university's $663 annual economic impact reaches every corner of Mississippi, with its greatest effects in the Pine Belt and on the Gulf Coast. Three multimillion-dollar buildings totaling $36.1 million have opened in the past five years on the Mississippi Gulf Coast in support of USM Coastal Operations, with a new research vessel coming online soon. And as an employment generator, the university supports nearly 8,000 jobs throughout the state.
I am proud of our academic and research work—not only because of the economic development opportunities it brings to south Mississippi, but more importantly because our teaching and research mission elevates our state, our region and beyond. The good work of our excellent faculty and staff provides the foundation for our students' success—enabling them to create a meaningful living, and an extraordinary life.
Southern Miss alumni are CEOs, military generals, international performers, and Super Bowl and Olympic champions, as well as the teachers who educate our children, the scientists who lead the next big discovery, and the doctors and nurses who deliver life-saving care and provide comfort on our most painful days.
As I look forward, my priorities for Southern Miss fall into six categories:
To grow enrollment at all locations, and especially on the Gulf Coast. Enrollment presents a challenge not only for Southern Miss, but universities across Mississippi, as we are currently on the leading edge of a steady decline in the number of Mississippi high school students expected to graduate in the coming years. I am encouraged and optimistic that our laser focus in this area has already helped us welcome 300 new transfer students this spring, and we will continue to make strategic investments of time and resources to attract and retain Mississippi students.
To further support excellent teaching and research. This includes not only enhancing our R1 status, but also continuing to maintain premier academic program accreditation standards demonstrating high quality.
To reinvigorate student life, post-pandemic. Our students are the reason we are here, and we must provide the highest level of engagement as we help them chase their dreams with an unrivaled passion and a relentless persistence.
To reach and exceed our $150 million capital campaign goal. Currently, we have surpassed $138 million–with $13 million raised since my arrival.
To re-engage our alumni base. Southern Miss alumni and friends are passionate about their university, and I am excited about our potential that can only be realized when we are all under the tent. Together we are mighty!
To support Southern Miss Athletics' ongoing transition to the Sun Belt. In 2019, Southern Miss Athletics generated an economic impact of $41 million, a number that surely increased this past year, as our Golden Eagle football team won a bowl game, our men's and women's basketball teams are off to great starts, and our baseball team became the country's first program in nearly 20 years to host conference, regional, and superregional tournaments in the same season. Our Athletics programs have a long and proud history, and this transition provides the opportunity to have an even brighter future.
When I accepted the IHL Board's offer to lead this university for the next four years, I knew the strengths of Southern Miss; I also knew the challenges from my decades of experience on campus and in our local communities.
The Southern Miss story is one of many successes, successes that have rarely come easily. But our university has always thrived when we come together and harness our unique culture of grit.
We are setting audacious goals for our university in support of our students, and we will pursue them with passion and perseverance. We will never give up, and we will never give in, as we look to the next peak on our path to the top.
About the Author(s)
Joe Paul
Dr. Joseph S. Paul began his service as the 11th President of The University of Southern Mississippi on November 1, 2022, after having served in the interim role since July 16th. Dr. Paul holds a Ph.D. in administration of higher education from the University of Alabama and was named the university's Most Outstanding Doctoral Student in the field in 1985. The Bay St. Louis native earned a bachelor's degree in communication and political science from USM in 1975, graduating magna cum laude from the University Honors College, and received a master's degree in communication and management from Southern Miss in 1978. He was inducted into the University of Southern Mississippi Alumni Hall of Fame in 2000.
Previous Story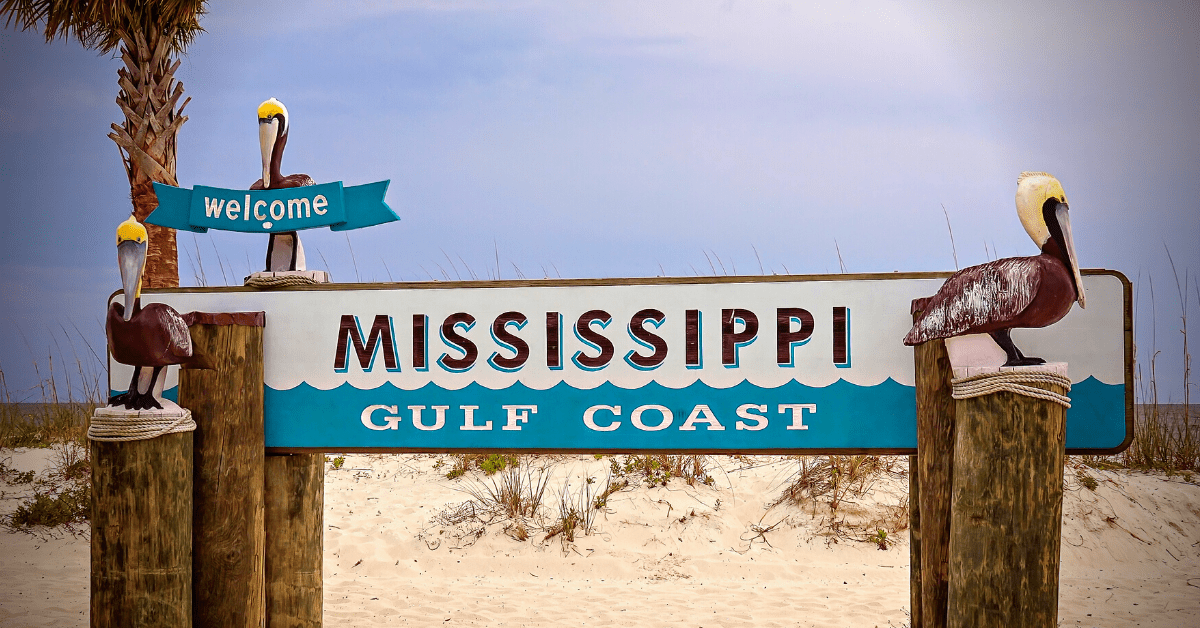 Next Story