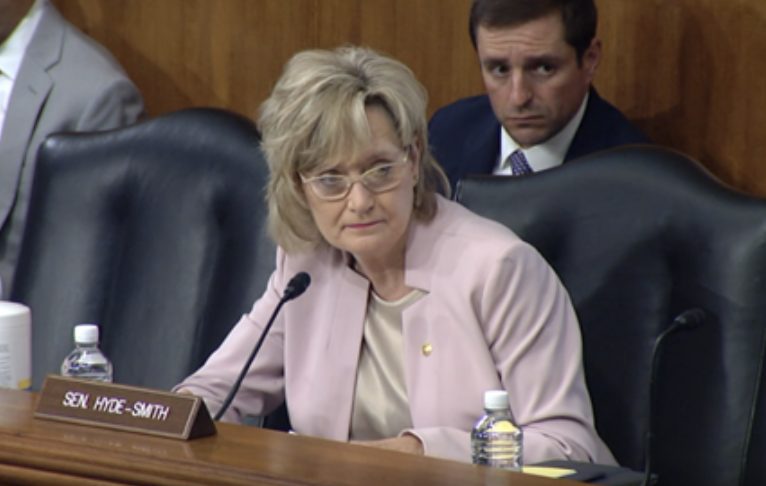 U.S. Senator Cindy Hyde-Smith (R-Miss.) today announced committee passage of an appropriations measure.
Sen. Hyde-Smith serves on the Senate Energy and Water Development Appropriations Subcommittee that developed the FY2022 Energy and Water Development (EWD) Appropriations Bill. The Senate Appropriations Committee approved the bill 25-5.
This measure includes funding to support flood control and water infrastructure projects in Mississippi. Senator Hyde-Smith has made the long-delayed flood control project a priority since arriving in the Senate in 2018.
"The decades of neglect to the Yazoo Backwater Area Project have cost Mississippians far too much.  More recent severe storms and flooding highlight the immense amount of work that needs to be done," said Senator Cindy Hyde-Smith.
The USACE Vicksburg District is currently utilizing $11.2 million, which Hyde-Smith worked to secure in FY2021 appropriations, to carry out preconstruction, engineering, and design activities.
FY2022 EWD Appropriations Bill, Hyde-Smith also supported funding for additional USACE projects in Mississippi, including water and wastewater infrastructure assistance, and research conducted at the U.S. Army Engineer Research and Development Center in Vicksburg.
In addition to the EWD measure, the Appropriations Committee also approved the FY2022 Agriculture Appropriations Bill and the FY2022 Military Construction and Veterans Affairs Appropriations Bill.  All three measures are now available for consideration by the full Senate.
Sen. Cindy Hyde-Smith stated that the neglect that the Yazoo Pumps faced has costed Mississippians too much. She states that there is an "immense amount of work that must be done."
Decades of neglect to the #YazooPumps have cost Mississippians too much. Recent severe storms & flooding highlight the immense amount of work that must be done. Senate E&WD Approps bill includes $20.7M for the pumps and funds for other MS flood control & water projects.

— U.S. Senator Cindy Hyde-Smith (@SenHydeSmith) August 4, 2021
Among the items of interest to Mississippi in the committee-passed measure:
Chronic Wasting Disease (CWD) – Increased funding for CWD research and development, in addition to added funding for state CWD monitoring activities.
Cattle Contract Library – Funding for the Agricultural Marketing Service (AMS) to establish a cattle contract library and funding for AMS enforcement of the Packers and Stockyard Act.
Warmwater Aquaculture Research – Funding for the U.S. Agricultural Research Services (ARS) at Stoneville to continue warmwater research to advance technologies that improve the efficiency, profitability and sustainability of aquaculture production.
Catfish Inspections – Language directing the USDA Food Safety and Inspection Service to continue the catfish inspection program and to ensure foreign imports meet the U.S. food safety standards.
ARS Extramural Research – Continues funding for ARS research projects involving Mississippi State University, the University of Mississippi, and other state institutions.
Institute of Child Nutrition – Increased funding for the Institute of Child Nutrition at the University of Mississippi.
About the Author(s)
Anne Summerhays
Anne Summerhays is a recent graduate of Millsaps College where she majored in Political Science, with minors in Sociology and American Studies. In 2021, she joined Y'all Politics as a Capitol Correspondent. Prior to making that move, she interned for a congressional office in Washington, D.C. and a multi-state government relations and public affairs firm in Jackson, Mississippi. While at Millsaps, Summerhays received a Legislative Fellowship with the Women's Foundation of Mississippi where she worked with an active member of the Mississippi Legislature for the length of session. She has quickly established trust in the Capitol as a fair, honest, and hardworking young reporter. Her background in political science helps her cut through the noise to find and explain the truth. Email Anne: anne@magnoliatribune.com
More From This Author