Democratic Leader of the Mississippi House of Representatives, Rep. Robert Johnson, releases the following statement after Governor Reeves vetoed several important bills yesterday, including HB 658, SB 2123, & HB 1782: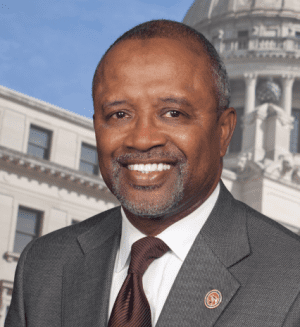 Mississippi House Democrats regret that the Governor did not see the wisdom of signing House Bill 658 and Senate Bill 2123 into law. These are bills that would have provided for the eligibility of parole for over 2000 inmates and help to reintegrate our regional facilities back to safely conducting their processes while immediately reducing the pressure on our underfunded and overstressed Mississippi Department of Corrections. Additionally, Senate Bill 2123 would have also made more people eligible for parole. That is all; it did not guarantee release. It only made individuals eligible to apply to a parole board made of members appointed by the Governor.
The Governor also vetoed HB 1782. Democrats sought to address an urgent problem facing Black, working-class, and impoverished communities in Mississippi and the undeniable disparate impact of Covid-19 on a large community in our state. Dr. Dobbs personally acknowledged that the effects on the poor and minority communities have been far more devastating than it has on the majority population. We proposed to fund a disparity program at the tune of six million dollars. This program would be run by Magnet Corporation, a corporation that is composed of (5) five federally qualified health centers that combined, have more than 100 years of serving the poor, underserved and uninsured in Mississippi. The Governor suggested the Health Department would be great for this disparity program but they have expressed no interest in the program. Nor, unfortunately, do they have the capacity to run the program given the consistent erosion of their budget, especially in the last eight years while Tate Reeves was Lt. Governor. There was no "cherry-picking" and no handpicking of this entity, it was the only one to pick. They are the only entity, including any state agency in the State of Mississippi, that has a program in place that addresses this serious problem.
The Governor's veto of HB1782, citing disapproval of a specific program that will address health disparity in the face of COVID-19, and his veto of the two pieces of criminal justice reform legislation that will decrease the prison population and burden on MDOC's staff, displays a callous disregard for the issues facing the Black and working-class communities in Mississippi amid a novel pandemic, which is very disturbing.
We recently removed the confederate emblem from our state's flag and we are glad we were able to but the Governor's initial reluctance to get behind that effort has continued and manifested itself in these vetoes. The flag is gone but clearly, the idea of it still lingers with some people. There is still work to do, despite these lingering attitudes. We are not deterred, we will remain vigilant and we will continue to fight for all people of Mississippi.
###
Release from the Mississippi House Democratic Caucus.
More From This Author