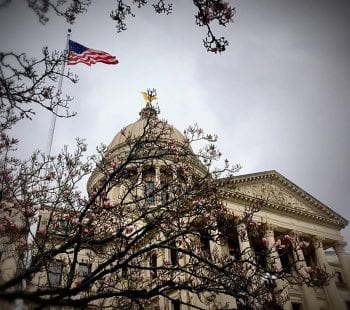 It was announced earlier this week by Lt. Gov. Delbert Hosemann and Speaker Philip Gunn that the Mississippi Legislature would be resuming its 2020 session on May 18th.
Now it looks like they will be back sooner. Official word came late Thursday that lawmakers will return at 1:00 p.m. May 1st.
Division in the ranks is stirring related to how the $1.25 billion should be appropriated and who should be making those decisions.
Portions of the CARES Act passed by Congress and signed by President Donald Trump specifically refer to the Governor as the authority in how the funds should be utilized in their states, while other portions refer merely to "the State."
Herein lies the rub for some legislators as well as Lt. Gov. Hosemann and Speaker Gunn, it would appear.  Members interpret the references to "State" as those funds that should be appropriated by the Legislature, not left solely up to the Governor.  As such, a letter was sent to the Department of Finance and the State Treasurer by the two chamber leaders seeking to slow the utilization of these funds.
Requests for comment from both Hosemann and Gunn have not been fruitful as of the time of the publication of this article.
Governor Tate Reeves has repeatedly indicated that he is willing to work with the Legislature, and across the aisle, to insure funds are put to the best use for all of Mississippi.  But he has also said emergency code sections in state law allow him to execute actions on behalf of the state and its people during these times.
"I don't really give a damn who is in charge of this money. What I care about is the people who need it and they need it now," Reeves said in his press conference Thursday. "I will never stop fighting for the people of this state no matter what it takes."
Gov. Reeves said the Legislature has authority to direct funding until it gives up that authority, which it has done during disasters by empowering the Executive Branch.
<<WATCH THE THURSDAY PRESS CONFERENCE beginning at 38:00 to hear the Governor's full remarks.>>
The legislative wrangling could result in assistance being delayed when Mississippians are hurting economically, which is what the majority of the funds were directed to shore up during this pandemic.
"We are going to work to insure to get this money in the hands of the Mississippians who need them as quickly as possible," Reeves said, adding that he does not want a political fight to delay that assistance.
If legislation is passed by the Republican supermajority in the Legislature to restrict the Governor's authority on the use of CARES Act funds, it would seem the two-thirds vote needed to override a gubernatorial veto would not be a tough hurdle.
Gov. Reeves will not rule out a veto if it inhibits his ability to help Mississippians as intended.
State Sen. Brice Wiggins (R), vice chairman of the Senate Appropriations Committee, spoke with Y'all Politics on what is playing out among his colleagues as they look to return to debate who has the authority to appropriate these federal funds and how what looks to be a power play between the Executive Branch and Legislative Branch may develop in the coming days.
###
Y'all Politics Capitol Correspondent Sarah Ulmer contributed to this article.
About the Author(s)
Frank Corder
Frank Corder is a native of Pascagoula. For nearly two decades, he has reported and offered analysis on government, public policy, business and matters of faith. Frank's interviews, articles, and columns have been shared throughout Mississippi as well as in national publications such as the Daily Caller. He is a frequent guest on radio and television, providing insight and commentary on the inner workings of the Magnolia State. Frank has served his community in both elected and appointed public office, hosted his own local radio and television programs, and managed private businesses all while being an engaged husband and father. Email Frank: frank@magnoliatribune.com
More From This Author