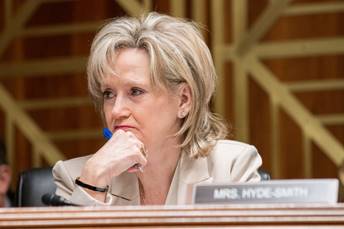 U.S. Senator Cindy Hyde-Smith (R-Miss.), a member of the Senate Labor, Health and Human Services (HHS), and Education Appropriations Subcommittee, today reported that Historically Black Colleges and Universities (HBCUs) or minority serving institutions in Mississippi have been allocated $55.1 million from the Higher Education Emergency Relief (HEER) Fund authorized in the CARES Act, which was enacted in late March.
This funding is in addition to the $149.0 million announced on April 9 for Mississippi postsecondary educational institutions to support colleges, universities and other schools during the COVID-19 emergency.
Additional information regarding the HBCU funding is available in the U.S. Department of Education news release below.
HBCU Formula allocations (National)
Allocations for Section 18004(a)(2) of CARES Act: EXCEL (176K)
Methodology for Calculating Allocations: PDF (140K)
OPEID
School
State
Strengthening Historically Black Colleges and Universities (HBCUs)
Strengthening HBCU Master's Program (HBCU Master's)
Strengthening Historically Black Graduate Institutions (HBGIs)
Strengthening Tribally Controlled Colleges and Universities (TCCUs)
Strengthening Asian American and Native American Pacific Islander-serving Institutions
(AANAPISI)
Strengthening Alaska Native and Native Hawaiian-serving Institutions (ANNH)
Strengthening Native American-serving Nontribal Institutions (NASNTI)
Strengthening Predominantly Black Institutions (PBI)
Developing Hispanic-serving
Institutions (DHSI)
Promoting
Postbaccalaureate
Opportunities for Hispanic
Americans (PPOHA)
Strengthening Institutions Program (SIP)
Total Allocation
00239600
Alcorn State University
MS
$6,895,286
$1,043,821
$7,939,107
00239700
Belhaven University
MS
$148,159
$148,159
00239800
Blue Mountain College
MS
$38,086
$38,086
00240100
Coahoma Community College
MS
$3,759,380
$3,759,380
00240200
Copiah-Lincoln Community College
MS
$163,606
$163,606
00240300
Delta State University
MS
$124,900
$124,900
00240400
East Central Community College
MS
$126,691
$126,691
00240500
East Mississippi Community College
MS
$230,011
$230,011
00240700
Hinds Community College
MS
$14,014,581
$685,196
$14,699,777
00240800
Holmes Community College
MS
$262,996
$262,996
00241000
Jackson State University
MS
$11,101,301
$6,208,725
$17,310,026
00241100
Jones County Junior College
MS
$186,486
$186,486
00241300
Meridian Community College
MS
$198,994
$198,994
00241600
Mississippi Delta Community College
MS
$174,714
$174,714
00241700
Mississippi Gulf Coast Community College
MS
$384,060
$384,060
00242200
Mississippi University for Women
MS
$106,640
$106,640
00242400
Mississippi Valley State University
MS
$3,787,438
$580,434
Press Release
4/30/2020
About the Author(s)
Sarah Ulmer
Sarah is a Mississippi native, born and raised in Madison. She is a graduate of Mississippi State University, where she studied Communications, with an emphasis in Broadcasting and Journalism. Sarah's experience spans multiple mediums, including extensive videography with both at home and overseas, broadcasting daily news, and hosting a live radio show. In 2017, Sarah became a member of the Capitol Press Corp in Mississippi and has faithfully covered the decisions being made by leaders on some of the most important issues facing our state.
More From This Author