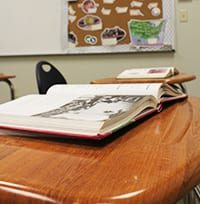 A bill revising curriculum and funding requirements for the State's nationally-recognized pre-K program passed the Mississippi Senate yesterday with overwhelming bipartisan support.
First established in 2013, Early Learning Collaboratives (ELCs) provide grants to communities to set up, expand, support, and facilitate early childhood education programs for 4-year-olds. For the 2019-2020 school year, the Legislature provided $6.7 million for ELCs in 19 districts, which serve almost 3,000 students.  There is broad support to expand the program this year.
Senate Bill 2286, authored by Senator Brice Wiggins, would require ELCs to use an "evidence-based curriculum" demonstrating a significant effect on improving student outcomes.  The legislation also would require individualized professional development plans for teachers and teacher assistants, and would raise the per pupil state appropriation to $2,500 for a full-day program.
"When our children are engaged in high-quality pre-K programs, they are more likely to be Kindergarten-ready, and successful later in their educational careers. Expanding access to pre-K is one of the most important investments we can make in our children's futures—and in the future of our State," Lieutenant Governor Delbert Hosemann said.
The bill now heads to the House of Representatives for consideration.
To track Senate Bill 2204's progress, visit: http://billstatus.ls.state.ms.us/2020/pdf/history/SB/SB2286.xml.  To learn more about Lieutenant Governor Delbert Hosemann, visit www.ltgovhosemann.ms.gov.
Lt. Governor Delbert Hosemann Press Release
3/10/2020
More From This Author