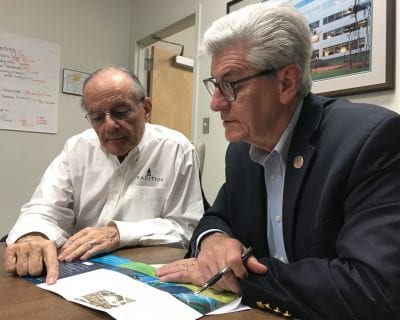 Driving down Highway 67 a few years ago, Phil Bryant saw what a future Governor should see in the people and places he's entrusted with serving – potential.
A new development was emerging in north Harrison County known as 'Tradition.'  It was the work of Joe Canizaro, a venture capitalist, philanthropist and real estate developer with a heart of service driven by faith in God and Mississippi.
Bryant, then Lieutenant Governor, started asking questions, curious of who was behind this 4,800-acre area.
"I had never heard of it – Tradition," Bryant said.  "I was thinking, 'Gosh, It's so beautiful.'  So I asked, 'Who owns it?' because I wanted to meet them."  Bryant found Canizaro's number and gave him a call.
What has developed is a friendship that is educating thousands of students and bringing in thousands of jobs with an estimated $2 billion economic impact to an area that is soon to be a premier "Medical City,," not only for Mississippi but across the Gulf South.
"He's always been a friendly person," Canizaro said of Bryant.  "He's always been very interested in Mississippi and its success, and that's common to me."
Canizaro found the site for 'Tradition' with the help of former Biloxi mayor Gerald Blessey and retired Marine Corps General Jim Livingston, a Medal of Honor recipient.  It began as a planned community, with spec homes selling before they were even completed.  The scenic natural beauty, the delightful architecture of the neighborhoods, and the small town feel was essentially selling itself, and it still is today.
As Governor, Bryant was keenly interested in finding a place to create a medical city in the Magnolia State.  He had led a group to Houston, Texas to see what a medical city encompassed, and then visited Lake Nona, Florida at the behest of former Sunshine State Governor Jeb Bush.  After seeing the Florida medical city, he knew of the perfect place in Mississippi, and he knew Canizaro would be all in.
Canizaro's father, Vito or V.J. Canizaro, was born in Vicksburg.  He came to Biloxi in 1945 after serving as a military physician in World War II.  He was in the South Pacific Theater for two years as a battle surgeon, receiving the Bronze Star for rushing headlong into battle to save a fellow soldier wounded in combat.  The elder Canizaro was also presented with a Purple Heart and two other Bronze Stars.  The doctor returned to Mississippi and opened a clinic, leaving his son, Joe, with a practical understanding of what it means to serve others and provide medical care.
One of the first things Bryant learned was that the area needed a medical school if it was going to be a medical city.
"I knew UMMC wasn't going to move to Harrison County but William Carey and their School of Osteopathic Medicine was just up the road," Bryant said.  So Bryant called up his friend, Canizaro, putting him in touch with William Carey University President Dr. Tommy King.  The two hit it off immediately.
"Dr. King is a force of nature," Bryant said.  "You put Joe Canizaro and Dr. King together and lightning strikes.  And then, Dr. Mary Graham with MGCCC started talking about consolidating nursing programs, and things took off."
William Carey moved to the area not long after Hurricane Katrina, purchasing half of the land from Canizaro in 2007.  The other half of the property was donated to the school by Canizaro.
In 2015, Canizaro also donated the property for construction of the Mississippi Gulf Coast Community College's state-of-art nursing facility, named the Bryant Center in honor of the former Governor.  The Bryant Center is a 50,000 square foot, $12 million facility that has allowed MGCCC to double the size of its nursing programs and offer them at a centralized location.
Bryant and Canizaro's vision was becoming a reality.
But there was still a missing piece to the puzzle.  The area needed a medical research facility that could both improve the state's healthcare in a meaningful fashion and draw regional and national attention to the area, solidifying its standing.
"We were ranked #1 in the country for obesity and diabetes," Canizaro recalls, "and the Governor wanted to change that."
Both men had family members struggling with diabetes and knew of the devastating effects on the patient and their families.
The two organized meetings with key players where a strategic plan was developed to take the next step of developing the National Diabetes and Obesity Research Institute.  One of the goals was to identify a recognized, nationally prominent institution to associate with the facility to provide the necessary credentials.
The group looked at all of the top national health providers in these fields.
"We chose Cleveland Clinic," Canizaro said.  "The Governor went out and made them a presentation."
Bryant just happened to be in Cleveland, Ohio in 2016 for the Republican National Convention.
"I called the Cleveland Clinic up and they agreed to meet," Bryant said.  "We took a detour from nominating Donald J. Trump and went to the Cleveland Clinic.  We said Mississippi needs your help.  They were looking for a mission and said they thought Mississippi would be a great match for them outside of Ohio."
Bryant recollects calling Canizaro that day as he left saying, "This is a miracle. They immediately said, 'We're coming,' when I made the pitch."
"One of the most exciting days of my life was when they agreed to do it," Canizaro added.
Research is underway now to find a cure for diabetes, and Mississippi is leading that fight as a result of what can only be seen as Providence.
Other developments are happening around Tradition now as a result of the targeted development and focus under Canizaro's leadership and planning.
A $54 million Veterans Home with 100 beds and over 200 workers was announced in Fall 2019.  Twenty-six percent of the state's veterans live in the three coastal counties, a group near and dear to Canizaro's heart for obvious reasons, but also to Bryant.
"This will be a critical anchor for Mississippi to go out and serve in the veteran community," Bryant said.  "A veterans community has long been a dream of mine."
A mental health facility with an addiction center is also coming to the area, primarily serving the retired veteran population, a segment that is growing by the day in Mississippi.
One of the next steps is to add student housing in the area for both William Carey and MGCCC.
"That's my #1 priority right now," Canizaro said.  "Both Dr. King and Dr. Graham need it."
Bryant noted the changing housing requirements of modern students, and the need to better serve the student populations and their families while supporting the development of the medical city.
The two visionaries not only share a love for Mississippi and want to see her prosper, they are also staunch supporters of President Trump.
Bryant's relationship with the Republican President is well documented, but it is Canizaro who has known the president since the early 1980s.
Canizaro has long been a Republican supporter, from introducing President Ronald Reagan at a function to hosting events for Presidents George H.W. Bush and Trump.
He says of Trump one of the President's traits is persistence, and notes that "it's evident" as to why America needs a businessman in the White House now.
"He understands economics.  He knows how to negotiate with people," Canizaro said.  "He is a warm, wonderful person.  He is a good man."
Together, Bryant, now a private citizen, and Canizaro continue to advocate for conservative policies and will continue to push to complete the Tradition Medical City, firmly establishing Coastal Mississippi's medical research corridor and driving new investments.
While some may view the state as a healthcare desert and continually point out the negatives while doing little to nothing to offer real solutions, these two men are delivering results.  They share a vision that is rooted in seeing Mississippi's potential and finding a way to achieve it, no matter what it takes or where it takes them, whether it be Cleveland or the White House.
About the Author(s)
Frank Corder
Frank Corder is a native of Pascagoula. For nearly two decades, he has reported and offered analysis on government, public policy, business and matters of faith. Frank's interviews, articles, and columns have been shared throughout Mississippi as well as in national publications such as the Daily Caller. He is a frequent guest on radio and television, providing insight and commentary on the inner workings of the Magnolia State. Frank has served his community in both elected and appointed public office, hosted his own local radio and television programs, and managed private businesses all while being an engaged husband and father. Email Frank: frank@magnoliatribune.com
More From This Author