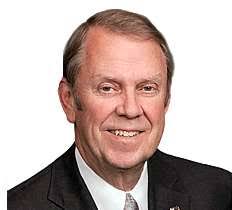 The most common natural disaster in the United States, this according to the Federal Emergency Management Agency (FEMA).
FEMA notes homeowners face a 26 percent chance of experiencing a flood during the life of a 30-year mortgage, compared to a four percent chance of fire.  However, losses due to flooding are not covered under typical homeowner's and business insurance policies.
The National Flood Insurance Program (NFIP) offers flood insurance and works with local communities on floodplain management with the goal of reducing the impact of flooding on private and public structures.  
"The Mississippi Insurance Department does not regulate the NFIP, approve its rates or changes or have any authority over the program," said Insurance Commissioner Mike Chaney.  "However, the department encourages all citizens to determine their flood insurance needs to protect their homes and property."
The recent flooding in Mississippi should serve as a wake up call for anyone who does not have flood insurance.
At last check, the Mississippi Department of Insurance reports that there were more than 62,500 flood policies in force in Mississippi.  In the area affected by Pearl River flooding, there are more than 7,700 flood insurance policies in force.  The following table shows the policy count and total coverage by county.
| | | |
| --- | --- | --- |
| COUNTY | POLICY COUNT | TOTAL COVERAGE (IN THOUSANDS) |
| HINDS | 4,062 | 868,817.50 |
| RANKIN | 2,143 | 596,428.00 |
| PEARL RIVER | 928 | 214,580.50 |
| MARION | 267 | 48,934.30 |
| SIMPSON | 108 | 16,274.60 |
| LAWRENCE | 71 | 11,790.70 |
| NESHOBA | 61 | 13,862.20 |
| COPIAH | 43 | 8,349.80 |
| LEAKE | 26 | 3,673.70 |
| JEFFERSON DAVIS | 5 | 1,025.00 |
| TOTAL | 7,714 | 1,783,736.30 |
If you think it isn't affordable, FEMA says the average flood insurance policy premium costs approximately $411 a year – a little more than $1 a day.  Lower-cost coverage is available for homes and businesses in low- to moderate-risk zones.
It typically takes 30 days for a flood policy to go into effect and, as stated, homeowner's policies do not cover flooding.  You can find more information about how to buy flood insurance through the National Flood Insurance Program by clicking here.
If you experienced flooding from the Pearl River and have flood insurance, Commissioner Chaney encourages you to file an insurance claim as soon as possible.
Once it is safe to return to your property, Chaney says homeowners should document any damage with photos and videos, and prepare a list of damaged items in your home and photograph those items as well.
The Federal Emergency Management Agency outlines how to file a flood insurance claim here.
Chaney says the Mississippi Insurance Department stands ready to assist neighbors who have experienced flooding from the Pearl River.  If you have an insurance related question, call your agent or call the Mississippi Insurance Department at 1-800-562-2957 or email consumer@mid.ms.gov.
Commissioner Mike Chaney Press Release
More From This Author