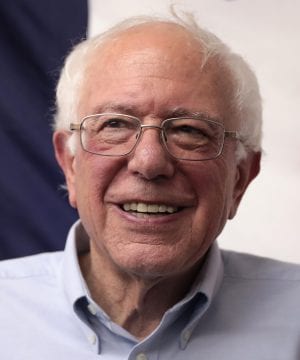 Iowa, New Hampshire and Nevada have come and gone, and Vermont Senator Bernie Sanders has emerged as the front-runner for the Democratic Party's Presidential nomination.
Oddly enough, there does not seem to be a single elected official in Mississippi who has endorsed Sanders at this point.
The self-proclaimed Democratic Socialist gained just under 17% of the vote in Mississippi's 2016 Democratic primary, finishing second to eventual nominee Hillary Clinton who garnered nearly 83%.  Clinton, who had significant establishment support from Mississippi political insiders, took 36 delegates from the Magnolia State while Sanders gained 5.
But the winds have shifted nationally, and activists who back Sanders' revolutionary movement have, at least at this point, upended Democratic Party orthodoxy and jolted the party far to the political left.  In fact, in a recent national Gallup poll, 76% of Democrats would support a socialist for President.
The only signs of life from anyone even near elective office for Sanders in Mississippi is First Congressional District candidate Antonia Eliason and U.S. Senate candidate Jensen Bohren.  Both are considered prohibitive longshots to actually hold elective office in Mississippi.
I'm Antonia Eliason. Today, we're launching the very first congressional Democratic Socialist campaign in Mississippi (MS-01). We are 100% people powered and refuse all corporate money. Join us in fighting for a new leaf for Mississippi! #Antonia4MS pic.twitter.com/fbGZIX64cM

— Antonia Eliason for Congress (@Antonia4MS1) January 13, 2020
There will be 10 Democratic Presidential candidates on the ballot in Mississippi.  Two have already dropped out, that being Andrew Yang and Deval Patrick.
What Sanders lacks in traditional establishment support, he seems to make up for in grassroots.  A quick social media check of the top 6 candidates remaining in the field showed Sanders with 1,435 Facebook members in the "Bernie Sanders 2020 Mississippi" page, while Bloomberg's "MSforMike" page had 556, Warren's "MS4Warren" showed 56, Buttigieg's "MS4Pete" had 102, and Klobuchar's group sat at 4.  No Mississippi specific Facebook group or page was found for Biden.
Mike Bloomberg is money-whipping the race with 20+ staffers that have been racking up primarily state legislator endorsements.  They have inserted the former New York Mayor into state-related issues and are crafting a potentially strong ground game in traditional terms.
Yet, the fact remains that the Magnolia State's Democratic elected officials are nowhere to be found on who political oddsmakers are increasingly predicting will most likely be their party's nominee for President – Bernie Sanders.
Y'all Politics reached out to Mississippi Democratic Party chairman Bobby Moak to see where he thought Sanders stood in the state.  Moak was quick to say any of the candidates – including Sanders – was better than the Republican option of President Donald Trump.
"We have 10 candidates in the primary even though a couple have dropped out, and we don't comment on one candidate in a field," Moak said.  "However, we do think any of our candidates would be more truthful, less pro-Russian and properly follow the laws and Constitution than the current impeached occupant of the office."
State Sen. David Blount, a Democrat representing District 29, said he wasn't sure if Mississippi Democrats would support Sanders, noting that he would not have, at least if he voted last weekend.
"I don't know.  Sanders got about 17% of the vote here four years ago," Blount told Y'all Politics.  "If I had voted this weekend, I would have voted for Sen. Amy Klobuchar."
Republicans in Mississippi are relishing this moment of clarity for voters in the state.  In terms of public policy and economics, Sanders offers the most stark contrast when compared to the traditional American values rooted in liberty and free enterprise personified in GOP nominee President Trump.
"Having Bernie Sanders at the top of the ticket means the Democrats are finally telling the truth about what they stand for," Lucien Smith, Chairman of the Mississippi Republican Party told Y'all Politics.  "They've long since run off nearly every moderate in leadership and are now completely controlled by their extremist base.  Their agenda is more government, less freedom, and the destruction of our economy in service to a radical agenda."
Smith says Democrats in Mississippi have a choice, and it is one that will resonate for years to come if they side with socialist Bernie Sanders.
"Every elected Democrat in the state has a choice to make about whether they want to continue associating with a party so out of step with the views of most Mississippians," Smith said.  "If you're a Democratic elected official and you aren't switching from the Democratic Party, you send a clear signal to your constituents you support the radicalism of your party and we will be reminding them of that come election time."
Whomever Democrats select on March 10th, he or she will be out of step with the views of most Mississippians, as evidenced by the state's most recent elections placing Republicans in all eight statewide offices as well as maintaining supermajorities in both chambers of the Legislature.
There's now a better than even odds chance that Bernie Sanders will win the Democratic Party's nomination for President without one single elected official supporter in Mississippi, and for the sake of the Democratic Party's future in the Magnolia State, that is perhaps the best thing that could happen in such a red state.
Things become clearer after Super Tuesday and then a week later when Mississippi holds its Primary.
About the Author(s)
Frank Corder
Frank Corder is a native of Pascagoula. For nearly two decades, he has reported and offered analysis on government, public policy, business and matters of faith. Frank's interviews, articles, and columns have been shared throughout Mississippi as well as in national publications such as the Daily Caller. He is a frequent guest on radio and television, providing insight and commentary on the inner workings of the Magnolia State. Frank has served his community in both elected and appointed public office, hosted his own local radio and television programs, and managed private businesses all while being an engaged husband and father. Email Frank: frank@magnoliatribune.com
More From This Author