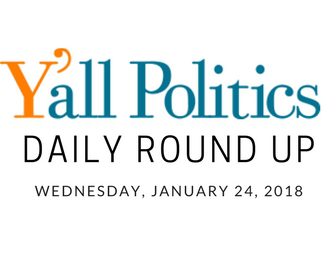 The Mississippi Career Techs Scholars Program passed the 122-member House with only two dissenting votes Tuesday. The legislation now goes to the Senate.
The bill is similar to a proposal made late last year by Gov. Phil Bryant. The governor proposed the Mississippi Works Scholarship Program as part of his budget recommendation to the Legislature.
Sally Doty is an attorney from Brookhaven and has served in the state Senate since 2012. Morgan Dunn is managing director of Vestra LLC, a health care consulting firm in Magee. The two women filed qualifying papers Monday to run in central Mississippi's 3rd District.
Five Republicans are now in the primary.
Public school advocates are organizing a fierce campaign against the proposals.
The Mississippi Association of Educators has taken an official stance against the bill.
"Vouchers take scarce funding away from public schools and give it to private schools
and institutions that are unaccountable to the public," the teacher advocacy group said in a statement.
Gunn told reporters after the meeting that the proposal's success would come down to whether there were enough votes, a possible sign that the bill's prospects in the House are shaky.
Reeves, while reiterating his stances that "every kid in our state deserves an opportunity for success" and "I don't believe anybody knows better what's best for your kid than the parents know," remained vague about his legislative goals concerning school choice.
Mississippi has a higher Black voting population than Alabama, but not as many city folk and suburbanites. It does have a potential Alabama-style GOP primary, if sharp-tongued Tea Party State Sen. Chris McDaniel challenges U.S. Sen. Roger Wicker. But the only declared Democratic candidate so far is Jensen Bohren, 34, a political novice who tells OZY he has not yet raised the $1,000 he needs to get on the ballot. State Democratic Party Chairman Bobby Moak says, "We have about five viable candidates who are looking" at the race, and they need to decide among themselves who takes a shot. Moak wouldn't name them, but news reports suggest Attorney General Jim Hood and Public Service Commissioner Brandon Presley (a distant relative to Elvis) as possibilities.
Moak realizes it's late in the cycle to be waiting on a candidate, but it has been hard to convince people that bright red Mississippi is winnable. But now, post-Alabama, "it's a sea change." The wild card in Mississippi is U.S. Sen. Thad Cochran's fragile health. If the 80-year-old resigns, it would create simultaneous Senate races — aka electoral bedlam.
For the cost of Kemper, you could have put a state-of-the art solar panels on the roof of every MPC customer's house and cut every electric bill in half.
Deceit was rampant throughout the process. MPC and Southern forecast natural gas prices five times the federal forecasts. The feds were right. Company officials never explained how they came up with their grossly inflated numbers.
The application of fracking techniques has created a surplus of natural gas, causing prices to drop like a rock. Construction had barely begun on Kemper when it was clear fracking was dramatically altering the energy landscape. MPC and Southern plunged on.
Delays and cost overruns were never timely reported, keeping the PSC in the dark during crucial steps in the approval process. The Kemper construction manager alerted Southern CEO Tom Fanning to these shenanigans and was soon fired.
During all of this, Kemper construction subcontractors held a campaign fund-raiser for one of the pro-Kemper PSC commissioners who wasn't even running for re-election. The audacity!
Let them sue. They will lose and Mississippi ratepayers will save a billion dollars. Kemper was a boondoggle from the get go — a completely unproven concept, scaled up 100 times from a tiny pilot project. Scaling up anything more than a factor of seven is engineering malpractice.
More From This Author