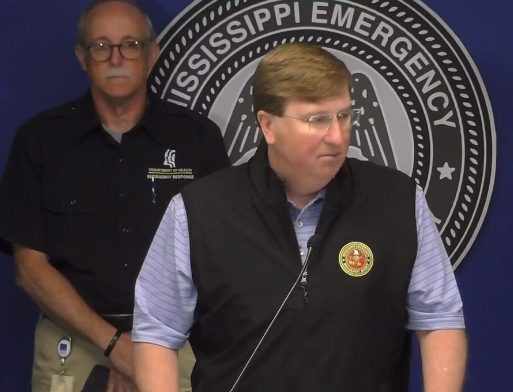 Local burn bans imposed by county leaders may still be in place. Be sure to check with local authorities before burning for any reason.
On Tuesday, Mississippi Governor Tate Reeves announced that he was lifting the partial statewide burn ban, effective November 16th. Reeves said he made the decision in consultation with the Mississippi Forestry Commission (MFC), and the Mississippi Emergency Management Agency (MEMA).
The increased rainfall in parts of Mississippi over the last week has decreased wildfire activity. The current forecast also calls for more precipitation to fall in the Magnolia State. With those factors in mind, MFC requested the burn ban be lifted.
The Governor's office said the burn ban was a necessary tool to help protect property and lives during the extreme drought period Mississippi has experienced this year. According to the Governor's office, from August 1st to November 14th, MFC wildland firefighters responded to 1,506 wildfire calls that burned approximately 21,919 acres throughout the state and were able to help save over 2,679 structures from damage or destruction.
While the partial statewide burn ban is being lifted, a number of counties have imposed their own local burn bans. Some of those counties include Attala, Calhoun, Carroll, Chickasaw, Clay, Grenada, Humphreys, Itawamba, Kemper, Lafayette, Lee, Lowndes, Marshall, Monroe, Montgomery, Noxubee, Oktibbeha, Panola, Pontotoc, Sunflower, Tallahatchie, Tate, Tishomingo, Union, Webster, Winston and Yalobusha.
To see if your county Board of Supervisors has a burn ban still in place, visit here.
Violators of burn bans can be held responsible for flame and smoke damage caused by a fire they set. During a burn ban, anything with an open flame that produces an ember is not allowed.
The local sheriff's department enforces burn bans. Anyone who knowingly and willfully violates a burning ban is guilty of a misdemeanor. These persons may receive a fine of not less than $100 and not more than $500.
About the Author(s)
Frank Corder
Frank Corder is a native of Pascagoula. For nearly two decades, he has reported and offered analysis on government, public policy, business and matters of faith. Frank's interviews, articles, and columns have been shared throughout Mississippi as well as in national publications such as the Daily Caller. He is a frequent guest on radio and television, providing insight and commentary on the inner workings of the Magnolia State. Frank has served his community in both elected and appointed public office, hosted his own local radio and television programs, and managed private businesses all while being an engaged husband and father. Email Frank: frank@magnoliatribune.com
More From This Author
Next Story