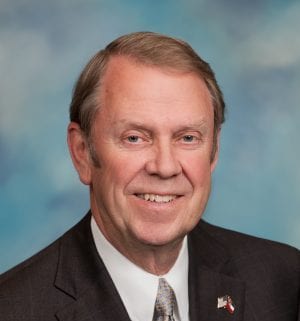 Insurance Commissioner Mike Chaney
The legislation creates a comprehensive legal framework by which pet insurance may be sold in the state.
During the 2023 Mississippi Legislative session, lawmakers passed Senate Bill 2228 which established provisions for the sale and renewal of pet insurance policies.
Last month, Governor Tate Reeves (R) signed the legislation into law, making Mississippi the second state in the country to establish such a measure.
The law takes effect July 1, 2023.
Mississippi Insurance Commissioner Mike Chaney (R) said pet owners must decide for themselves if insurance is right for them. In some cases, it could save you money.
"If you have a question about pet insurance, call your insurance agent or call my office at 601-359-3569," Commissioner Chaney said.
The number of insured pets is growing every year, Chaney notes, saying that so is the number of companies offering these type of policies.
In a press release, the Mississippi Insurance Department said pet insurance may seem like a joke to some, but it is "big business." As of 2020, there were 3.1 million pets insured.
"That is billions of dollars in premiums and that big business is coming to Mississippi," Commissioner Chaney said.
The Insurance Department's staff says pet insurance, like human health insurance, includes exclusions, various levels of coverage, deductibles, and payment limits.
Some carriers have different levels of coverage for the customer to choose from, while other carriers have one-size-fits all type plans, the Department outlined. Most pet insurance companies exclude pre-existing conditions and hereditary or congenital conditions. Some insurance companies will not accept pets after a certain age and many companies have waiting periods before benefits begin.
The Mississippi Insurance Department reminds citizens that insurance policies are usually broken down by the type of pet being insured and some companies allow the owner to choose their veterinarian.
"The actual monthly cost of the policy will depend on many variables, including the species of animal, breed, gender, age, location, and the coverages and deductible chosen," the Department's notice continued. "Most policies pay on a reimbursement basis and are not transferable to other pets, but with written approval and consent, some policies can be transferred to new owners."
About the Author(s)
Anne Summerhays
Anne Summerhays is a recent graduate of Millsaps College where she majored in Political Science, with minors in Sociology and American Studies. In 2021, she joined Y'all Politics as a Capitol Correspondent. Prior to making that move, she interned for a congressional office in Washington, D.C. and a multi-state government relations and public affairs firm in Jackson, Mississippi. While at Millsaps, Summerhays received a Legislative Fellowship with the Women's Foundation of Mississippi where she worked with an active member of the Mississippi Legislature for the length of session. She has quickly established trust in the Capitol as a fair, honest, and hardworking young reporter. Her background in political science helps her cut through the noise to find and explain the truth. Email Anne: anne@magnoliatribune.com
More From This Author
Next Story