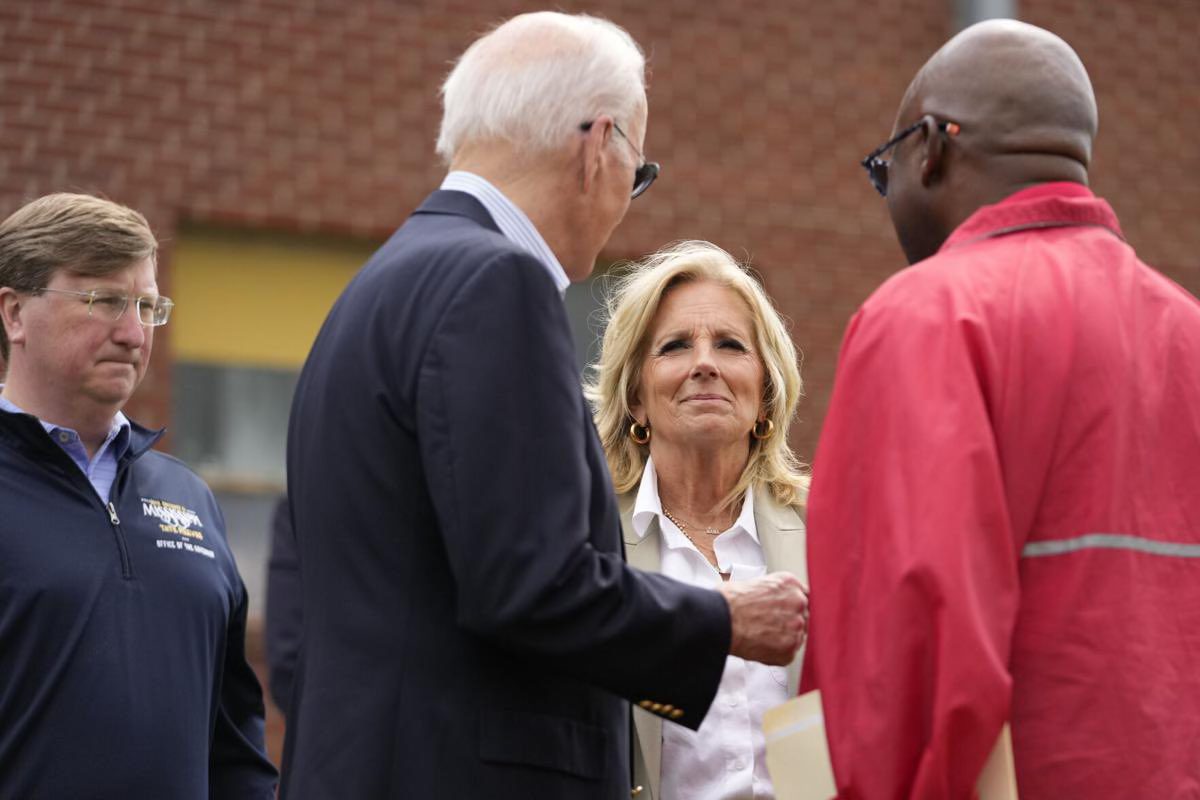 President and First Lady Biden visit Rolling Fork, Mississippi on March 31, 2023. (photo from Governor Tate Reeves' Twitter)
The President and First Lady walked around the community making remarks on how the federal government will aid in recovery efforts.
President Joe Biden along with First Lady Jill Biden visited the people of Rolling Fork, Mississippi on Friday after devastating storms and tornados nearly wiped out the community of just under 2,000.
After hearing of the devastation by the March tornado, President Biden said he was committed to making sure he used any means within his power to provide assistance for the members of those communities.
The town, still completely torn apart by the storm is a conglomeration of demolished homes, down power lines, tarps covering partially ripped off roofs and numerous misplaced families. Over 300 homes and businesses were left in piles.
"The resilience of this community has been remarkable," said President Biden. "I just want you to know, as you fight through this, you're not alone. The American people will be with you. They'll help you through it, and so will I."
During his remarks, the President read aloud the names of the 13 people who lost their lives in the storm from the community. While making these remarks Biden accidently referred to Rolling Fork as "Rolling Stone" and was corrected by a crowd member who shouted back.
The names of those who lost their lives in the town include: Melissa Pierce, Lonnie Pierce, Mary Bush, Deloris Harris, David Moore, Phyllis Maxey, Daryl Purvis, Linds Herman, Erica Moore, Brenda Odoms, April Johnson, Lavetta Herman and Wanda Kelly.
In attendance with the President were Governor Tate Reeves and First Lady of Mississippi Elee Reeves as well as Congressman Bennie Thompson who represents the area. Upon his mid-morning arrival, the President met with mayor of Rolling Fork, Eldridge Walker, and later FEMA Director, Deanne Criswell.
"This is tough stuff. And the thing that really always amazed me that all the tornadoes I've been to lately is that we have one house standing, one house from here to the wall, totally destroyed. But for the grace of God," said Biden.
The President announced that he authorized the federal government to cover 100% of the cost for removing debris and emergency measures involved in restoring Rolling Fork back to a functioning community. This will include shelters and overtime pay for workers up to 30 days.
Volunteers with the Salvation Army and Red Cross are still a presence in Rolling Fork and were handing out hot meals, cleaning supplies, food, water and clothing to residents.
"We're not just here for today. I'm determined and we're gonna leave nothing behind. We're gonna get it done for you. That's why I'm here," said President Biden.
About the Author(s)
Sarah Ulmer
Sarah is a Mississippi native, born and raised in Madison. She is a graduate of Mississippi State University, where she studied Communications, with an emphasis in Broadcasting and Journalism. Sarah's experience spans multiple mediums, including extensive videography with both at home and overseas, broadcasting daily news, and hosting a live radio show. In 2017, Sarah became a member of the Capitol Press Corp in Mississippi and has faithfully covered the decisions being made by leaders on some of the most important issues facing our state. Email Sarah: sarah@magnoliatribune.com
More From This Author