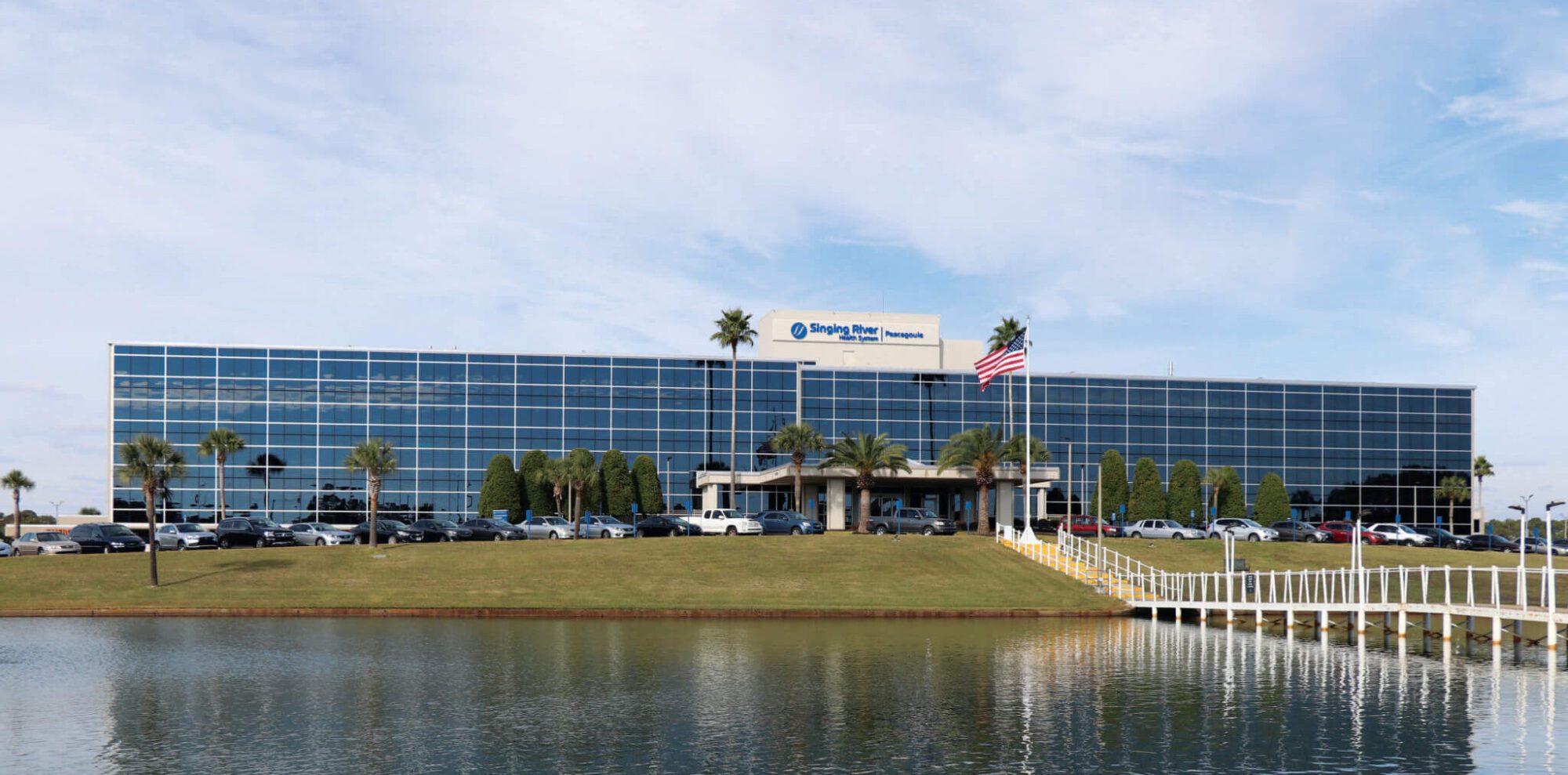 Singing River Hospital in Pascagoula (photo from SRHS website)
County Supervisors announced the selection on Monday. The parties hope to complete the sale by Fall 2023.
On Monday, the Jackson County Board of Supervisors announced that that they have selected the Franciscan Missionaries of Our Lady Health System, a leading healthcare innovator in Louisiana and Mississippi founded in 1911, as the buyer for Singing River Health System.
The Singing River system has had an existing partnership with New Orleans' Oschner Health for some time now, which led many in the community to believe Oschner would be the leading contender. However, that was not the case in today's announcement.
"We are excited about the possibilities for healthcare in our region and believe the Franciscan Missionaries of Our Lady Health System is the right choice," said Ken Taylor, Jackson County Board of Supervisors President. "Fundamentally, they share our community values and have a mission to provide equal access to healthcare for all."
It was announced two weeks ago that "multiple proposals" had been received regarding the potential sales of the health system, which is county owned and headquartered in Jackson County but reaches into Harrison County as well. This comes after county supervisors announced in September 2022 that they would be requesting proposals for purchase of the health system which includes three hospitals – Pascagoula, Ocean Springs, and Gulfport – and 30 primary care medical clinics, community medical parks, and specialty centers throughout the area.
Raymond James had provided a report to the county which showed the Business Enterprise Value of Singing River to be between $220 to $300 million and the Equity Value to be between $158 to $238 million.
Details of the proposal or potential compensation to the county were not made available to the public.
In a release, the Franciscan Missionaries of Our Lady Health System (FMOLHS) said it is committed to ensuring Singing River Health System patients continue to receive high-quality, accessible care. They also believe in keeping care local, investing in our community and investing in our people.
According to the FMOLHS website, they are a nonprofit, mission-focused Catholic healthcare ministry founded in 1911. They already have a presence in Mississippi in Jackson with St. Dominic's Hospital. FMOLHS hospitals include:
In the last fiscal year, Franciscan Missionaries of Our Lady Health System had:
1,747 Licensed Beds
65,322 Discharges
44,592 OR Procedures
10,827 Full Time Employees
331,360 Inpatient Days
1,915 Active Medical Staff
229,296 Emergency Visits
Tiffany Murdock, Singing River Health System CEO, said her team is excited about the opportunity.
"This is an exciting day for Singing River Health System," said Murdock. "Our future with the Franciscan Missionaries of Our Lady Health System ensures that Singing River will be able to meet the needs of our employees, patients and community members for years to come. Together, we will build on the strong foundation Singing River has established since we first originated as Jackson County Hospital in 1931."
Jackson County and FMOLHS will now move to the next phase in hopes of completing the sale of the Singing River Health System by this fall.
About the Author(s)
Frank Corder
Frank Corder is a native of Pascagoula. For nearly two decades, he has reported and offered analysis on government, public policy, business and matters of faith. Frank's interviews, articles, and columns have been shared throughout Mississippi as well as in national publications such as the Daily Caller. He is a frequent guest on radio and television, providing insight and commentary on the inner workings of the Magnolia State. Frank has served his community in both elected and appointed public office, hosted his own local radio and television programs, and managed private businesses all while being an engaged husband and father. Email Frank: frank@magnoliatribune.com
More From This Author