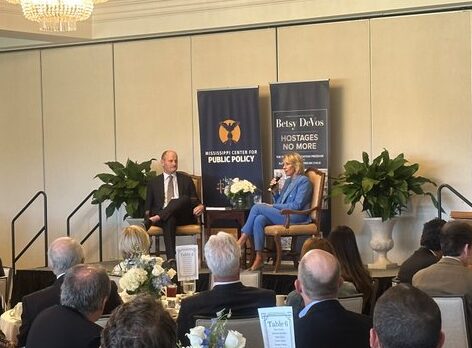 Former U.S. Secretary of Education Betsy DeVos speaks at an event hosted by the Mississippi Center for Public Policy. (Photo courtesy of MCPP - March 23, 2023.)
DeVos believes education freedom is essential to "put our country back on the right track."
On Thursday, former U.S. Education Secretary Betsy DeVos headlined a luncheon hosted by the Mississippi Center for Public Policy (MCPP) to discuss her book, "Hostages No More: The Fight for Education Freedom and the Future of the American Child."
In her book, DeVos highlights key reforms she believes to be needed to "put our country back on the right track."
DeVos called her new book a "playbook" for parents and policymakers looking at where public K-12 education has been in America and where it is headed in the future.
Prior to the luncheon, DeVos spoke with the Magnolia Tribune about her book as well as key education reforms and issues she is advocating for as she speaks across the country.
DeVos said the most important education reform the nation needs is to adopt policies that support education freedom.
"By education freedom, I mean the ability to take the resources that are dedicated for a child and have them follow that child to wherever that child can learn best," DeVos said. "Not send those resources just into a system or to a building, but really attach them to each child so that families can make those choices and those decisions."
DeVos said there is a lot of offensive curricula that has seeped into schools across the country.
"Parents saw this first-hand during COVID when they had a front row seat for their children's education," DeVos said.
She explained that the demand for education freedom and parents' ability to direct their children's education is increasing.
Betsy DeVos served as the 11th U.S. Secretary of Education from 2017-2021. She was confirmed by the U.S. Senate on February 7, 2017, after being nominated by former President Donald Trump.
According to her archived biography, Secretary DeVos has been involved in education policy for nearly three decades as an advocate for children and a voice for parents. She is especially passionate about reforms that help underserved children gain access to a quality education.
"Education is the lifeblood of everything we want America to be," DeVos is quoted as saying. "Every American is impacted every day by how our education system has – or has not – risen to meet the unique needs of each student… to meet your needs, as a student, a parent, a teacher, a family member, an employer, or a proud citizen of this remarkable land."
She adds that if we fix education, we fix America.
"Fighting for freedom in education is my life's work. It was the honor of my life to serve as the 11th United States Secretary of Education," DeVos said. "While the four years I spent in Washington got a lot of attention, I've spent nearly forty fighting for kids, their families, and a better education ecosystem. And that fight continues today."
About the Author(s)
Anne Summerhays
Anne Summerhays is a recent graduate of Millsaps College where she majored in Political Science, with minors in Sociology and American Studies. In 2021, she joined Y'all Politics as a Capitol Correspondent. Prior to making that move, she interned for a congressional office in Washington, D.C. and a multi-state government relations and public affairs firm in Jackson, Mississippi. While at Millsaps, Summerhays received a Legislative Fellowship with the Women's Foundation of Mississippi where she worked with an active member of the Mississippi Legislature for the length of session. She has quickly established trust in the Capitol as a fair, honest, and hardworking young reporter. Her background in political science helps her cut through the noise to find and explain the truth. Email Anne: anne@magnoliatribune.com
More From This Author
Previous Story
Next Story