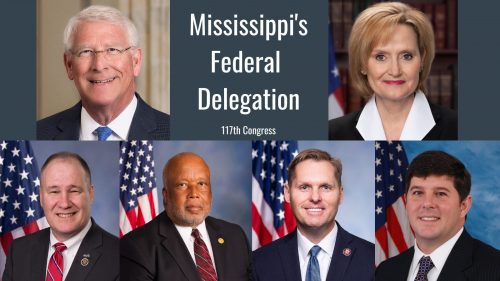 "We urge you to protect religious liberty and halt this effort."
Yesterday evening, U.S. Senators Roger Wicker (R-MS) and Cindy Hyde-Smith (R-MS), and U.S. Representatives Michael Guest (R-MS), Steven Palazzo (R-MS), and Trent Kelly (R-MS), sent a letter to the Office of Management & Budget concerning reports that the Biden Administration plans to create databases of Federal employees who have requested religious exemptions to President Biden's vaccine mandate.
Congressman Bennie Thompson (D-MS) has not commented or expressed concern over the databases. 
In September 2021, President Biden issued an Executive Order mandating vaccines for Federal employees with exemptions available for those with religious objections.
"In light of the public health guidance regarding the most effective and necessary defenses against COVID-19, I have determined that to promote the health and safety of the Federal workforce and the efficiency of the civil service, it is necessary to require COVID-19 vaccination for all Federal employees, subject to such exceptions as required by law," a press release from the White House says.
Many Federal agencies have taken steps to track federal employees who have requested religious exemptions to the vaccine, including the U.S. Department of Treasury, the U.S. Department of Health and Human Services, and the U.S. Department of Justice. 
"We are writing to express our concern regarding the plans of certain departments and agencies within the Biden Administration to create databases of Federal employees who have requested religious exemptions to your COVID-19 vaccine mandate. We urge you to protect religious liberty and halt this effort," the lawmakers wrote.
The Mississippi officials wrote that they understand that over nineteen Federal agencies have announced plans to maintain databases of their employees who have sought religious accommodations for the COVID-19 vaccine requirement for Federal employees.
"While we understand that these databases are not public facing, we are concerned that the Federal government is keeping this personally identifiable information and, in some cases, only for those Federal employees requesting exemptions to the vaccine mandate on religious grounds. The effects of these databases could represent an unprecedented affront to individuals' First Amendment rights and a troubling overreach by the Federal government," the letter continued.
The full text of the letter can be found below or by clicking here.
About the Author(s)
Anne Summerhays
Anne Summerhays is a recent graduate of Millsaps College where she majored in Political Science, with minors in Sociology and American Studies. In 2021, she joined Y'all Politics as a Capitol Correspondent. Prior to making that move, she interned for a congressional office in Washington, D.C. and a multi-state government relations and public affairs firm in Jackson, Mississippi. While at Millsaps, Summerhays received a Legislative Fellowship with the Women's Foundation of Mississippi where she worked with an active member of the Mississippi Legislature for the length of session. She has quickly established trust in the Capitol as a fair, honest, and hardworking young reporter. Her background in political science helps her cut through the noise to find and explain the truth.
More From This Author