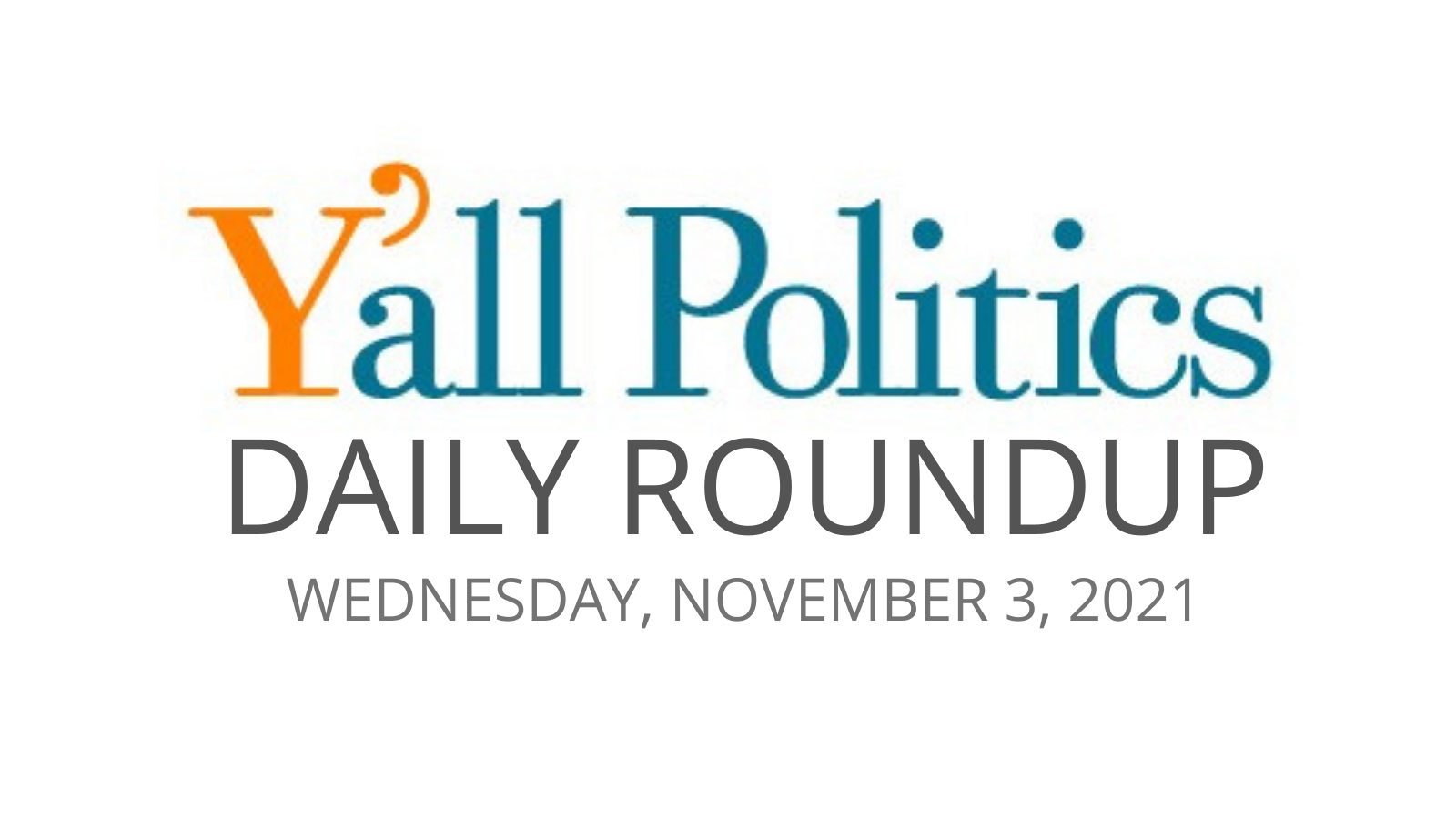 Stay up-to-date on what's in the news with the Y'all Politics Daily Roundup.
Mississippi Governor Tate Reeves says discussions are still ongoing on the medical marijuana bill and until those negotiations are finalized, there will not be a special session. With the start of the 2022 legislative session just weeks away, the Governor says a special session is possible but he and lawmakers must first come to an agreement.
Lawmakers have had years to work on a medical marijuana program in Mississippi, but chose not to make it a priority until after the state Supreme Court struck down the initiative process by which Initiative 65 was passed that would have forced the creation of the program.
Due to previous legislative inaction, Governor Reeves now has the opportunity to engage in the process more robustly and negotiate the bill to implement the medical marijuana program, holding the sole ability to call a special session on the matter if the details can be worked out to his liking.
Leaders across the country and in the state of Mississippi are speaking out against President Joe Biden's federal vaccine mandates.
Governor Tate Reeves took to Facebook on Tuesday to express his distaste for the mandate. He also voiced expectations on how Mississippi will fight the mandates.
Reeves wrote:
"Joe Biden's vaccine mandates are one of the most shocking attacks on personal liberty we have seen in this country during my lifetime. I am a strong supporter of the COVID vaccines and commend the Trump administration's efforts to develop it. I even got it on Facebook Live to demonstrate my confidence. I have urged every Mississippian to talk to their doctor and make a personal decision to protect themselves. These federal mandates, however, threaten every Mississippian's individual liberties. They are nothing short of tyranny."
MSDH COVID-19 Reporting
Today MSDH is reporting 455 more cases of COVID-19 in Mississippi, 31 deaths, and 30 ongoing outbreaks in long-term care facilities. State #covid19 totals: 505,266 cases, 10,129 deaths, and 1,379,333 persons fully vaccinated. Full COVID-19 information: https://t.co/YCv9xPyJDk pic.twitter.com/yyzieOrXM9

— MS Dept of Health (@msdh) November 2, 2021
Ilex Organics, supplier of Yaupon tea and Mississippi-grown catfish fillets, is locating operations in Clarksdale. The project is a $2.612 million corporate investment and will create 60 jobs.
"The creation of 60 jobs in Clarksdale by Ilex will have a tremendous impact on the local community and economy for many years to come," Governor Tate Reeves said. "With Clarksdale's accessibility to the FedEx distribution hub, the area's strong workforce, and its proximity to the freshest catfish in the country, Coahoma County provides all of the competitive advantages Ilex needs for years of success."
Started in 2020 by entrepreneur and Mississippi native Oliver Luckett, Ilex will sell a variety of flavors of Yaupon tea, which will be produced and bagged in Clarksdale, as well as Mississippi-grown catfish fillets, which will be labeled and distributed in Clarksdale. Coahoma County is leasing Ilex a 38,000-square-foot facility located in the Leonard Pharr Industrial Park.
Mississippi Secretary of State Michael Watson joined Y'all Politics for an Election Day update on Tuesday as voters went to the polls to cast their ballots in various special elections across the state.
Secretary Watson also offered his thoughts on the efforts by Congressional Democrats to change how elections operate at the state level, which could impact Mississippi is they are successful.
U.S. Senators Roger Wicker and Cindy Hyde-Smith helped reintroduce legislation to implement a long-term reauthorization of the National Flood Insurance Program (NIFP) and ensure more affordable premiums for policyholders in Mississippi and around the country.
The National Flood Insurance Program Reauthorization and Reform (NFIP-RE) Act (S.3128) is a bipartisan, bicameral effort to extend NIFP for five years through Sept. 30, 2026, and authorize reforms to assist policyholders and ensure the long-term success of the program.
"The NFIP is a lifeline for many Mississippi communities that remain at risk of flooding," Senator Wicker said. "After an active season of floods, it is clear that the NFIP not only needs to be reauthorized, but also that it needs to be reformed to make it work better for taxpayers and policyholders alike."
Members of Congress have authored H.R. 5451, Protecting Financial Privacy Act, a bill aimed at prohibiting federal agencies from forcing institutions to report balances or transactions outside of the Bank Secrecy Act requirements. This resolution comes in direct response to President Biden's current proposal to allow the IRS to retrieve details into personal bank accounts under certain requirements.
Congressman Steven Palazzo helped co-sponsor the legislation after outcries from several community members who shared serious concerns about weaponizing the IRS. These concerns also came from smaller credit unions and banks who are concerned with the increased burden of tax reporting requirements.
U.S. Senator Roger Wicker joined Republican senators in urging Senate Majority Leader Chuck Schumer (D-N.Y.) to take up the National Defense Authorization Act (NDAA) for Fiscal Year 2022.
The bill, which would authorize all funding for the Department of Defense, passed the Senate Armed Services Committee in July by a vote of 23-3. This marks the 61st consecutive year that the Committee has come together on a bipartisan basis to advance a defense policy bill.
The legislation has stalled for months as Senate Democrats have chosen to advance other legislative priorities, including low level nominations and a multi-trillion dollar tax and spending package.
More From This Author