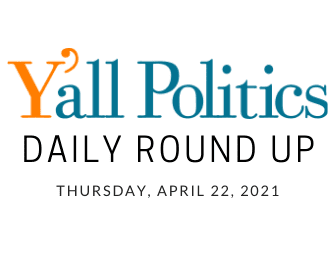 Former President Donald Trump appeared on Fox's Sean Hannity Show this week where he said he was seriously considering a run for the White House in 2024.
"I am looking at it very seriously – beyond seriously," Trump said…
…Having Trump on the top of the ticket in 2024 would conceivably help senior U.S. Senator Roger Wicker the most. Wicker received the backing of Trump in his 2018 race where he defeated Democrat challenger David Baria nearly 59% to 40%.
Trump told Hannity his record in races where he has endorsed candidates is 128-2.
"I'm not looking to say, 'Well, we want super conservative, only Trump.' I also want them to win after the primaries. But I'm at 128 and 2 when I endorse people," Trump said. "When we endorse them, it means something."
That was certainly true in Mississippi in 2018 for Cindy Hyde-Smith.
MSDH daily COVID-19 reporting
Today MSDH is reporting 233 more cases of COVID-19 in Mississippi, 2 deaths, and 25 ongoing outbreaks in long-term care facilities. The state's total of #covid19 cases is now 309,818, with 7,163 deaths. More on case details, vaccinations and prevention: https://t.co/YCv9xPyJDk pic.twitter.com/eFwN8kI2de

— MS Dept of Health (@msdh) April 21, 2021
The Mississippi Department of Environmental Quality (MDEQ) has awarded $354,700 to 15 school districts to apply to the purchase of new school buses for the upcoming school year. The grants were provided to the school districts toward the purchase of new diesel powered buses with more stringent pollution controls to replace older buses thus reducing emissions of particulate matter, hydrocarbons, nitrogen oxides and carbon monoxide. Since 2009, the MDEQ Diesel School Bus Replacement Program has awarded over $1.30 million to 50+ school districts for the purchase of 100+ school buses.
"Thousands of Mississippi children ride school buses daily. MDEQ continues its efforts in ensuring those students have the safest and most efficient means of transportation. Not only will the students benefit from a cleaner school bus, but the environment will as well," said Chris Wells, MDEQ Executive Director.
Attorney General Lynn Fitch joined the Mississippi Coalition Against Domestic Violence, the Mississippi Coalition Against Sexual Assault, and Children's Advocacy Centers of Mississippi to honor those who have demonstrated outstanding commitment to serving victims of crime in Mississippi. The awards ceremony is one of the many ways the Attorney General's Office is observing the 40th anniversary of National Crime Victims' Rights Week, emphasizing the importance of leveraging community partners statewide to help care for and support Mississippi victims of crime…
…Governor Tate Reeves signed a proclamation on Monday naming the week of April 18 to 24, 2021, Crime Victims' Rights Week in Mississippi. As noted in the Proclamation, this week "provides an opportunity for all to recommit to ensuring that accessible, appropriate, and trauma-informed services are offered to all victims of crime to help them heal on every level: physically, mentally, emotionally, and spiritually, and to help them rebuild their lives so they can re-enter society as a whole person with restored dignity."
U.S. Senator Cindy Hyde-Smith (R-Miss.) today announced her support for bipartisan legislation intended to increase voluntary participation by private forest owners and agriculture producers in conservation efforts by improving access to carbon credit markets.
Hyde-Smith is an original cosponsor of the Growing Climate Solutions Act (S.1251), introduced Tuesday and referred to the Senate Agriculture Committee. The committee scheduled a business meeting to consider the measure on Thursday.
"Foresters, farmers, and ranchers are good stewards of our farm and timberlands, already possessing the skills and characteristics to help the environment on which their livelihoods depend. This legislation represents a solid plan to give them access to carbon credit markets and benefit economically from their good work," Hyde-Smith said. "We have very strong voluntary participation in existing federal conservation programs in Mississippi. Our strong agriculture sector and forests make improving access to the carbon credit markets a smart move."
MLBC seeks investigation into jail incident
We have sent letters to the Honorable Merrick B. Garland (@TheJusticeDept), U.S. Attorney General, and the Honorable Sean Tindell, @MissDPS Commissioner, requesting an investigation into the death of Mr. Robert Loggins. pic.twitter.com/bpAmtK43fe

— Mississippi Legislative Black Caucus (@mlbcofficial) April 21, 2021
Following their trip to the Southern Border, Congressman Michael Guest (MS-03) and other Members of the Committee on Homeland Security sent a letter to the Biden Administration to clarify policies on processing and vetting illegal aliens entering the United States.
"According to DHS personnel on the ground, there are no requirements for migrants being placed on flights and busses across the country to show a negative COVID-19 test. Also, for migrants who show up at the border with no paperwork or documentation, CBP is forced to take them at their word regarding biographic information including their name and even age. That does not instill confidence regarding the identities of people who are expeditiously being put on busses and planes to head to cities across the country pending their immigration proceedings," the letter reads.
The letter goes on to lay out seven questions for the Administration in order to explore the origin of and response to the concerning policies at the border.
More From This Author