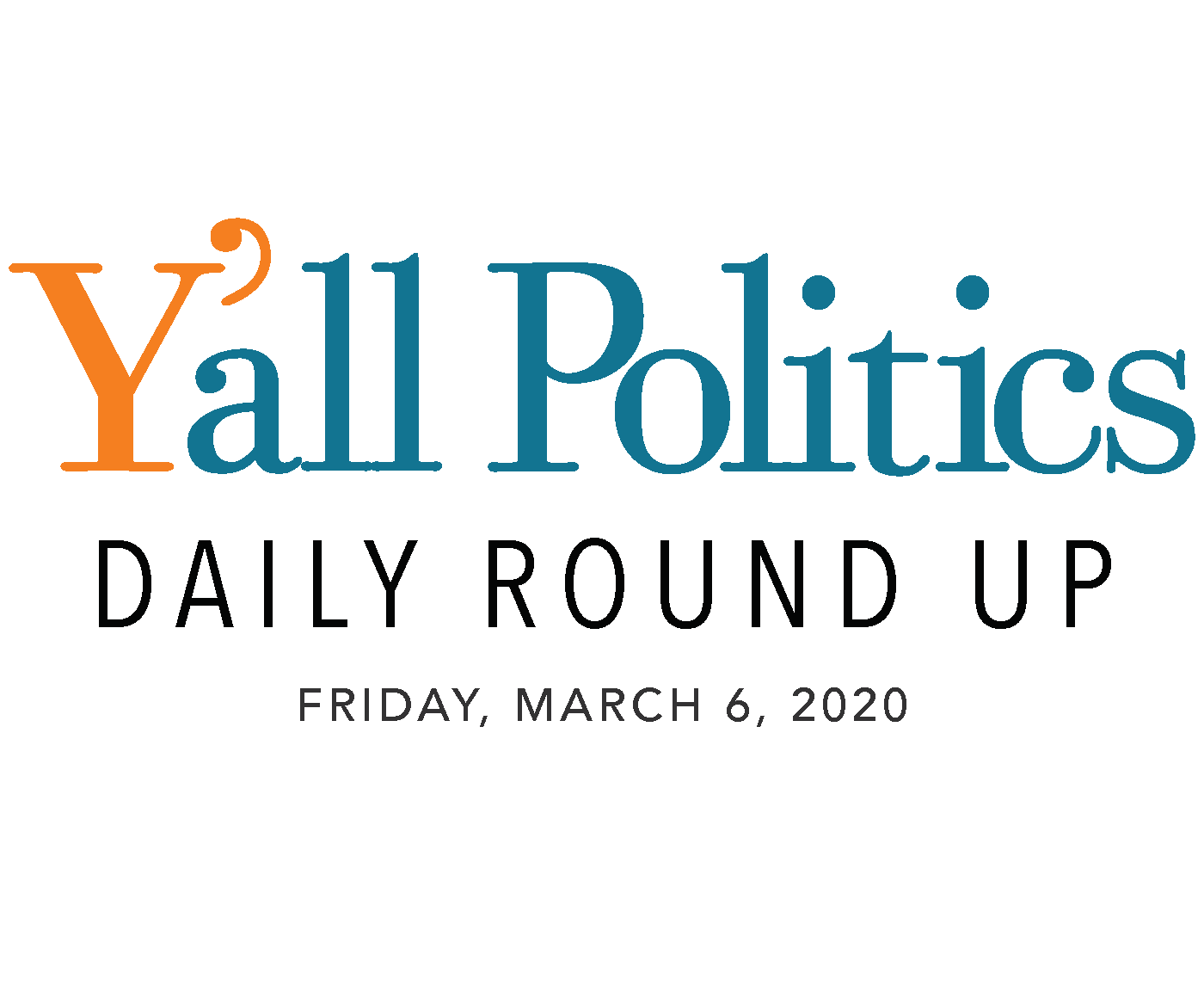 Don't forget to Spring Forward…Daylight Saving Time starts this Sunday.
YP – Bernie bails on Mississippi visit
@BernieSanders bails on Mississippi visit ahead of #mselex #Elections2020 Primary. https://t.co/WAzCO87QZQ

— Yall Politics (@MSyallpolitics) March 5, 2020
MS Senate Democrats back Biden
Unanimous support from @msdemocrats in the State Senate for @JoeBiden pic.twitter.com/KH0qSqWZfN

— David Blount (@SenDavidBlount) March 5, 2020
YP – Congressman Thompson endorses Biden
Today @BennieGThompson endorses @JoeBiden and @ewarren calls it quits.

Mississippi's primary next week is coming into sharper focus.#mselexhttps://t.co/rTFC6hT3UI

— Yall Politics (@MSyallpolitics) March 5, 2020
WTOK – Rep. Michael Guest (R-MS) discusses looming Mississippi primary
WTOK – Race preview: Mississippi's 3rd Congressional District
YP – MS Senate passes increase for law enforcement, firefighters death benefits
#Mississippi Senate Unanimously Approves Increase in Death Benefit for Law Enforcement Officers, Fire Fighters #msleg READ MORE>> https://t.co/JWe9nUXHFw

— Yall Politics (@MSyallpolitics) March 5, 2020
Lt. Governor Delbert Hosemann announced that Senate Bill 2511 would allow college students to enter a School of Education if they have achieved a 21 ACT score, OR a 3.0 grade point average on pre-major coursework, OR a passing score on the Praxis Core, the test traditionally used in teacher certification programs.
The law currently requires a 21 ACT score AND a 2.75 grade point average in content coursework.
"More than 50 of our school districts are facing a critical shortage in teachers this year. Many of our other districts face shortages in specific subject areas like special education and math," Hosemann said. "This bill will open up the pipeline of teachers flowing through our universities and colleges to help address this dire situation. I am grateful for Senate Education Chairman Dennis DeBar's commitment to this issue."
The proposal called for drivers to apply to have a sticker placed on their license plate.
A physician or psychologist would have to certify that a person in the vehicle has a health condition or disability that prevents them from communicating with law enforcement.
The impairment would have to last at least five years.
So, during a traffic stop, law enforcement would know that someone in the vehicle could have an impairment before walking up to the car.
YP – Legislature addressing transgender athletes in schools
What one would have thought to be a non-controversial bill in the Senate, quickly changed when an amendment was added to address transgendered athletes in high school and IHL institutes #msleg READ MORE>> https://t.co/dVYaikImih pic.twitter.com/9b7djOVGWq

— Yall Politics (@MSyallpolitics) March 5, 2020
Twenty mayors from cities along the Mississippi River are in Washington this week to discuss the costs of flooding with federal policymakers and push for solutions.
Mayors from Vicksburg, Natchez and Greenville have been in meetings Wednesday and Thursday with House Speaker Nancy Pelosi and other lawmakers. They are hoping for critical congressional support and investment to protect communities against increasing flooding risk.
State Auditor Shad White said special agents from his office arrested former Lawrence County Soil and Water Conservation District clerk Brandy Russell. She was indicted for embezzlement by a grand jury.
Russell is accused of using conservation district accounts to pay herself for bogus travel reimbursement requests, purchase her own groceries, and write checks directly to herself for cash.
About the Author(s)
Frank Corder
Frank Corder is a native of Pascagoula. For nearly two decades, he has reported and offered analysis on government, public policy, business and matters of faith. Frank's interviews, articles, and columns have been shared throughout Mississippi as well as in national publications such as the Daily Caller. He is a frequent guest on radio and television, providing insight and commentary on the inner workings of the Magnolia State. Frank has served his community in both elected and appointed public office, hosted his own local radio and television programs, and managed private businesses all while being an engaged husband and father. Email Frank: frank@magnoliatribune.com
More From This Author