Wicker gets a "Thank you, Roger" from President Trump
Thank you Roger, it is a big Hoax! https://t.co/G6X3ClI7Df

— Donald J. Trump (@realDonaldTrump) January 28, 2020
Mississippi Supreme Court Justice Kenny Griffis Tuesday announced his campaign for a full term.
Griffis was appointed to the high court in 2019, while he was serving as chief judge on the Mississippi Court of Appeals.
"I'm announcing my campaign based on my record and experience as a Constitutional conservative with a dedication to fairness and the rule of law," Griffis said.
Hyde-Smith speaks with YP on Impeachment Trial
Senator @SenHydeSmith calls impeachment hearings a 'great American tragedy' #mssen READ MORE>> https://t.co/MvFmMj1Pey pic.twitter.com/Z71LZdgPQZ

— Yall Politics (@MSyallpolitics) January 28, 2020
Picture this: you walk into a grocery store to pick up dinner, next stop on the list is to grab a bottle of wine. But what if you could get it all in one place?
Elliott Flaggs is the chair of the Looking for Wine Coalition.
"We are working with legislative leadership, committee chairs, working with committee members but on top of that on social media we have a huge following. Over 6,000 Mississippians who support our issue."
Bloomberg comments on MS House election challenge
Is @MikeBloomberg endearing himself to @msdemocrats with support for State Rep. Jackson-McCray? #mselex #msleghttps://t.co/7ljU0dbE9a

— Yall Politics (@MSyallpolitics) January 28, 2020
The chairman of the Mississippi House Ethics Committee said he expects the panel to look into domestic violence allegations against Rep. Doug McLeod.
A justice court judge found McLeod, a Republican from Lucedale, not guilty of misdemeanor domestic abuse at a trial in August…
…Rep. Mac Huddleston, R-Pontotoc, was appointed chair of the Ethics Committee last week. He told the Clarion Ledger Monday that he intends for the committee to look into the matter, though he did not set a timetable.
Voters hoping to end Mississippi's unusual two-step election process for governor and other statewide officials might get the chance this November.
State Sen. David Blount, D-Jackson, filed legislation that would let voters decide whether to amend Mississippi's constitution and remove its Jim Crow-era election provision.
It's one of several measures Blount and others are pushing this legislative session to modernize the state's election system, which lacks features such as online registration and no-excuse early voting.
Wicker speaks on the future of the internet
Today I spoke to the State of the Net conference about the future of the internet. Working together, we can advance policies that will close the digital divide in our country and ensure continued economic prosperity in the U.S. for years to come. #SOTN2020 pic.twitter.com/VW9CweB0kD

— Senator Roger Wicker (@SenatorWicker) January 28, 2020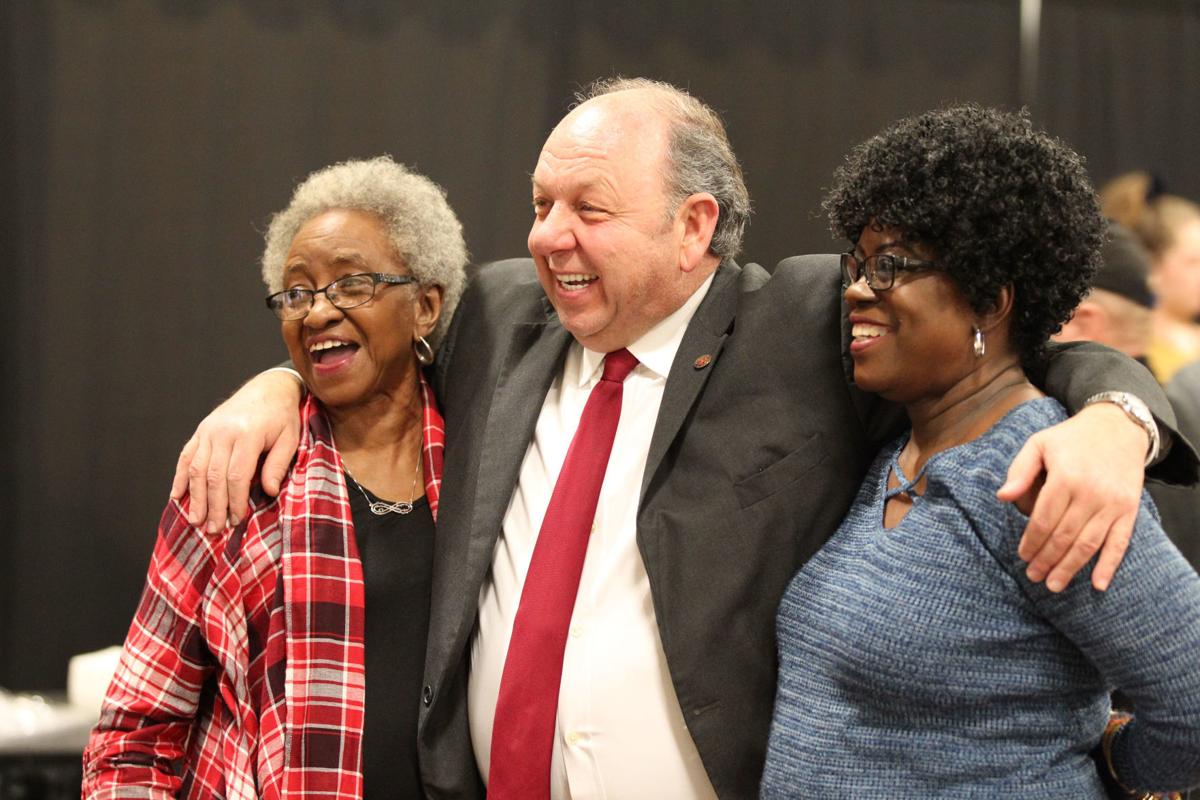 Steve Holland, a legendary state lawmaker, says he's ending his career just like Frank Sinatra – his own way.
Hundreds of Tupelo residents and elected officials from all over the state turned out on Tuesday at the Tupelo Furniture Market to celebrate nearly four decades of Holland's career in the Mississippi House of Representatives.
After representing Lee and Monroe Counties for nine consecutive terms in the Legislature, Holland lost his bid for re-election this past November. Despite this, Holland says he feels "free," now that he's out office but still happy about his longtime career in state politics.
AG Fitch speaks to GOP women in Prentiss County
Thank you to the Prentiss County Republican Women's Club for allowing me to serve as guest speaker at their charter dinner this evening in Booneville.

Republican women have always led the way to equality, prosperity and freedom. pic.twitter.com/g17G7Q3o0N

— Lynn Fitch (@LynnFitch) January 29, 2020
The fate of the Yalobusha county sheriff's race now rests in the outcome of an upcoming special election.
Mark Fulco and Luther Folson are the candidates on the ballots
A judge ordered a special election to take place for two precincts.
Treasurer McRae speaks to new MS Senate Finance Committee
Thank you to @SenatorHarkins for inviting me to talk with the Senate Finance Committee today! I had a great discussion with new state legislators about the role Treasury plays. #msleg pic.twitter.com/ZvgeBQD5Fu

— Treasurer David McRae (@DavidMcRaeMS) January 28, 2020
The city of Laurel will hold a special election on Feb. 11 to fill the vacant Ward 6 City Council position.
Travares Comegys previously held the position but was elected to the Jones County Board of Supervisors in November.
About the Author(s)
Frank Corder
Frank Corder is a native of Pascagoula. For nearly two decades, he has reported and offered analysis on government, public policy, business and matters of faith. Frank's interviews, articles, and columns have been shared throughout Mississippi as well as in national publications such as the Daily Caller. He is a frequent guest on radio and television, providing insight and commentary on the inner workings of the Magnolia State. Frank has served his community in both elected and appointed public office, hosted his own local radio and television programs, and managed private businesses all while being an engaged husband and father. Email Frank: frank@magnoliatribune.com
More From This Author
Next Story