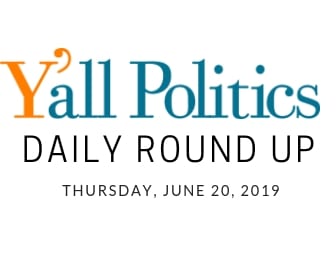 WTOK – Governor, guests celebrate Mississippi's Country Music Trail
Joe Biden on Tuesday recalled a time of "civility" in the U.S. Senate when he could get along with just about anyone — including the former Mississippi Sen. James O. Eastland, a segregationist.
"I was in a caucus with James O. Eastland," Biden, a 2020 presidential contender, said at a New York fundraiser, according to the Washington Post and other outlets. "He never called me 'boy,' he always called me 'son.'"…
…Biden imitated Eastland's southern drawl in the speech when he made remarks about the Dixiecrat cotton planter calling him "son," according to the Post. "Boy" was a racial slur often used on black men. Eastland had a long history of racist remarks, including that black Americans belonged to an "inferior race."
…The remarks drew swift criticism on social media and elsewhere. Some noted the comments came on the eve of Juneteenth, a day remembering the end of slavery.
Congressman Thompson tweets "free-ish" on Juneteenth
#Juneteenth2019 pic.twitter.com/zJmpyrIBpo

— Bennie G. Thompson (@BennieGThompson) June 19, 2019
According to Politico, the incident "has become a controversy over Senate Appropriations Committee Chairman Richard Shelby's running of the once-powerful panel"
Taxpayers had to pay for this mistake because when the flight was missed, a Navy jet had to quickly be brought in for Wicker and the others to get to the funeral.
Politico reports that when Wicker was trying to get on the plane, Shelby's staff members said that only Senator Patrick Leahy of Vermont was on the flight and it was too full for Wicker to get on.
After this incident, two of Shelby's staff members were told they could either resign or be demoted.
State Rep. Anderson heads to Belgium for Transatlantic Inclusion Workshop
Representative Jeramey Anderson will head to Brussels, Belgium, next week to take part in a week long Transatlantic Inclusion Leaders Network workshop. Anderson will leave June 24 and return July 1, after a side trip to Amsterdam for an Inclusion Leaders Networking event there. pic.twitter.com/WdMWP9brAB

— Rep. Jeramey Anderson (@jerameyanderson) June 19, 2019
Congressman Kelly introduces Paperwork Reduction act for farmers
For far too long, our Mississippi farmers and other business operators who need seasonal workers have been forced to endure government red tape and frustrating delays. The introduction of the Paperwork Reduction for Farmers H-2A Modernization Act addresses this problem. ↓ #MS01 pic.twitter.com/jJKPADvKLL

— Trent Kelly (@RepTrentKelly) June 19, 2019
Court documents reveal more financial issues connected to Pelahatchie Mayor Ryshonda Beechem, stemming from loans she made on another person's account.
3 On Your Side obtained the case file surrounding the civil suit filed by Bobbie Jones against Beechem after attempting to confirm the suit with county officials for weeks.
The subsequent settlement agreement, signed by both parties Wednesday, indicates Beechem must pay $2,726 to Jones over the next six months…
…She then asked how we knew about the case, naming several former city employees and a current alderman as people she thought had leaked the information.
"My personal business has nothing to do with the town business, so I don't understand how that becomes news to you. I don't have anything to say in reference to that," Beechem said in a brief telephone conversation before hanging up.
Wicker leads effort to restore government accountability
Read more about the #MERITact here: https://t.co/VuSCnx0cl3

— Senator Roger Wicker (@SenatorWicker) June 19, 2019
WTOK – Campaign to include medical marijuana on 2020 ballot visits Meridian
Wicker supports EPA clean energy rule
By finalizing a new clean energy rule, President @realDonaldTrump and @EPA Administrator Wheeler have made good on their promise to ensure environmental protection without undermining America's economy. https://t.co/Lo0UqiseAZ

— Senator Roger Wicker (@SenatorWicker) June 19, 2019
Hyde-Smith supports battlefield preservation program
I support continuation of the @NatlParkService battlefield preservation program that has benefited efforts to save historic sites in Mississippi. https://t.co/5Yxu81WWCu pic.twitter.com/aX2M42Rb6Z

— U.S. Senator Cindy Hyde-Smith (@SenHydeSmith) June 19, 2019
More From This Author