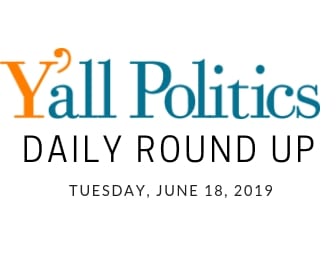 Starkville Daily News – Interview with Secretary of State Delbert Hosemann, talks life on campaign trail, election security
We're a week away from an important date in the 2019 election cycle. 
Starting next Monday (June 24th), you'll be able to request an absentee ballot ahead of August 6th's primary elections, during which, you'll select the primary candidates for your respective party in the race for Governor, Lt. Governor, Attorney General and several other statewide races. 
You must apply for an absentee ballot through your local circuit clerk's office, but an application can be mailed to you if you are disabled, over the age of 65, or if you're temporarily outside of the county where you are registered to vote. 
The in-person absentee voting deadline is August 3rd at noon while the mail-in deadline is August 5th at 5:00 p.m. 
Taggart releases new ad for AG
Only 50 days to go until election day!
If you agree with me that tomorrow can be better, that our future can be brighter, that our young people should have even greater opportunity, then I hope you'll vote for me for Attorney General. #AndyForAG #CounselForMS #JoinTheATeam pic.twitter.com/2L3fMh4wBI

— Andy_for_AG (@Andy_for_AG) June 17, 2019
Baker to hold fundraiser for AG backed by two sheriffs
I'm excited for our event in Rankin County next week at the home of @ChasRPorter. Join us! pic.twitter.com/zIDLJ9PsWi

— Mark Baker (@MarkBakerForAG) June 13, 2019
WTOK – Lt. Gov. candidate stops in Meridian
Sen. Wicker backs POTUS Trump on reigning in Iran regime
I support President @realDonaldTrump and his efforts to reign in Iran's rogue regime, which continues to engage in destructive behavior. A nuclear Iran is a non-starter.

— Senator Roger Wicker (@SenatorWicker) June 17, 2019
The state Supreme Court is set to hear arguments Tuesday morning about whether it's constitutional for local communities to help fund charter schools through property taxes.
That question is at the center of the three-year-old case brought by a group of Jackson school parents with children enrolled in the city's traditional public schools.
Four charters are located in Jackson.
Local property taxes are a financial lifeline for the schools.
MS Delegation backs Gov. Bryant's request for federal disaster declaration
The Mississippi congressional delegation sent a letter to @realDonaldTrump requesting full consideration of @PhilBryantMS's request for a major federal disaster declaration in the wake of devastating weather events and record flooding across the state. pic.twitter.com/1hsiQuJeXw

— U.S. Senator Cindy Hyde-Smith (@SenHydeSmith) June 17, 2019
The Hattiesburg City Council is expected to vote Tuesday on an ordinance that would remove jail time as a punishment for first-time possession of 30 grams or less of marijuana.
Instead, a first-time offender would receive a "summons" or ticket compelling an appearance in court.
Any fine imposed would not exceed $100.
"I am grateful we are at this point," said Ward 2 Councilwoman Deborah Delgado, who first asked for a modification of the law in May.
WTOK – Governor Phil Bryant coming to Philadelphia
A $1.3 million grant has been given to the city of Jackson's Planning Department by the U.S. Department of Housing and Urban Development to address exposure to lead-based paint.
The funding will go to testing and removing lead-based paint in low-income houses built before 1978.
MDA Site Development Grants Awarded
Glad to see @mdaworks helping local communities grow. Site Development Grants are critical to local economic developers and local governments as they work to bring businesses to Mississippi. Success starts at home. https://t.co/b1SiLshOFX

— Phil Bryant (@PhilBryantMS) June 17, 2019
Phone records show that in the days after Lee County Supervisor Billy Joe Holland's 2018 drunken driving arrest, Sheriff Jim Johnson spoke with Holland himself and with the local prosecutor who ultimately dismissed the DUI charge.
Johnson and Holland both use county owned phones, and the Daily Journal obtained select records for these phones through a public records request.
The records show that following his arrest on Friday, April 6, Holland called Johnson early the next Monday morning. A few hours later that same morning, Johnson called then-county prosecutor James Moore.
Wicker oversees effort to bridge digital divide
Prosperity does not belong to cities alone. We will all be better off when every citizen is connected to the internet and able to benefit and contribute. #WickerReport https://t.co/00DquJ1GvS

— Senator Roger Wicker (@SenatorWicker) June 17, 2019
What's next for two Canton city officials charged in a voter fraud case could become know later this week.
Plea offers have been made and several of those indicted in the case appeared in court Monday morning.
A date for a pre-trial settlement conference has been set for Courtney Rainey and Andrew Grant.
WCBI – Webster Co. Board of Supervisors re-appoints McCants as Sheriff
More From This Author