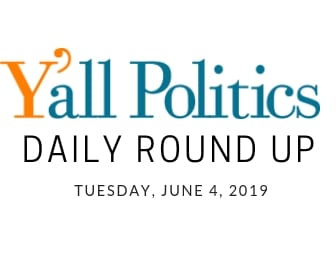 WJTV – Peers and public pay their respects to Thad Cochran
The U.S. Senate's top Republican and Democrat on Monday praised their former colleague, Thad Cochran, a Republican, in lengthy floor speeches.
The warm words from Majority Leader Mitch McConnell of Kentucky and Minority Leader Chuck Schumer of New York underscore the strong relationships Cochran built up with members of both parties over his 45-years representing Mississippi in Congress. Cochran died Thursday in Oxford at 81.
Schumer recalled how Cochran backed New York when it needed aid after Hurricane Sandy, even as some other Republicans didn't. McConnell remembered how Cochran showed "that a dogged work ethic and compassionate friendship are not incompatible" in Congress. Both described him as a friend.
WJTV – Mississippi Native Americans recall Sen. Cochran backing them on casino
Craig Nave sworn in after former mayor's resignation.
In a letter to Lynn Fitch, Republican Attorney General candidate Andy Taggart questioned her reason for not appearing at two scheduled debates. One of the debates is slated for William Carey College Wednesday, June 5, hosted by the Federalist Society of the Gulf Coast.
The second debate is on the calendar for June 7 at Southwest Mississippi Community College, hosted by the Mississippi Federation of College Republicans.
Taggart said, "As candidates for Attorney General, I believe we have a particular responsibility to allow the voters of our state to compare our skills and experience as advocates — and our positions as public servants — in person and head-to-head."
He asked Fitch to reconsider attending and then challenged her to a series of three lives debates in each of the state's Supreme Court districts.
WJTV – Clarke County mayors make endorsement in District 84 race
Wicker highlights path ahead for trade
One of President @realDonaldTrump's top priorities has been getting trade deals right. The potential rewards are worth the effort. #WickerReport https://t.co/tG3VExqWsI

— Senator Roger Wicker (@SenatorWicker) June 3, 2019
When state Rep. Douglas McLeod and his wife blamed the media for "misrepresentations" and "fabrications" about the lawmaker's arrest for domestic violence, the Sun Herald pulled additional records.
In the criminal affidavit signed by George County Deputy Robert Karg, the allegations are clear: The Republican lawmaker is accused of the misdemeanor offense because he "purposely caused injury to his wife."
The deputy wrote that the lawmaker's wife, Michele McLeod, "advised that she was hit in the face by her husband." The document said she had a "bloody face and nose at the scene."
YP – Auditor issues demand in Coahoma County
State Auditor @shadwhite Issues Over $1.1 Million in Demands and Makes Three Arrests in Coahoma County #msleg READ MORE>> https://t.co/cYcSKjZifD

— Yall Politics (@MSyallpolitics) June 3, 2019
The Clarion Ledger reviewed the earmarks to the Willie Price preschool as part of an ongoing investigation into Mississippi lawmakers quietly funneling millions of education dollars to favored projects and vendors.
The Willie Price Learning Lab did not have to go through any competitive bidding for its earmarks, which do not require any oversight from state education officials.
Lawmakers singled out the preschool at Ole Miss, while four preschools with the same accreditation at other Mississippi universities received no money.
More From This Author