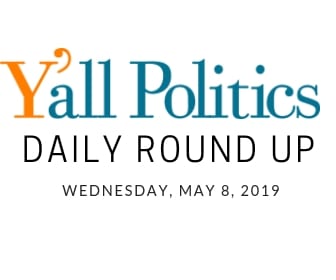 A new Mississippi law erases personal debt that some county supervisors were facing for insurance coverage.
House Bill 1249 became law when Gov. Phil Bryant signed it April 18. It allows counties to pay for life insurance and health insurance expenses for dependents of county employees, including retroactive payments.
A previous law said any county employee wanting dependent coverage must submit a written request, and the entire cost of that coverage must be paid by the employee.
Sen. Hyde-Smith receives ACU award
Honored to receive this @ACUConservative award for my
conservative values. I will continue to work hard to represent those values in my work as your Senator. pic.twitter.com/UcFEzmRpxL

— U.S. Senator Cindy Hyde-Smith (@SenHydeSmith) May 8, 2019
WJTV – Vicksburg's Mayor responds to Facebook comments being 'hidden'
Congressman Thompson to gavel in domestic terrorism hearings
Since 2011, Rep. @BennieGThompson & @HomelandDems requested the then-Republican majority hold hearings focused on domestic terrorism. Time and time again we were ignored or denied.

We're back in the majority.

Chairman @BennieGThompson gavels in this ?? hearing at 10AM tomorrow. https://t.co/GzFGLZ3rvU

— House Homeland Security Committee (@HomelandDems) May 7, 2019
This year, legislators agreed on a $1500 pay raise for teachers and assistant teachers. Senator Michael Watson was among those who said the pay raise was a fair solution.
"I think we'll see more in the year to come, but the also important piece is making sure we're not pitting our teachers against our other state employees. So, we gave our other state employees a raise as well. We need to make sure we do that for every one to give them the best that we can," he said.
On the other side, Representative Sonya Williams-Barnes stood firm that teachers deserve more.
"I personally didn't feel like it was enough," she said, "because we have to make sure that teachers are competitive, and education is a foundation here in our state, and it makes sure we have a good workforce. And if we aren't competitive and we begin losing teachers, then it could be detrimental to our state."
Sen. Wicker speaks on ending malaria
"To quote Emily Dickenson 'If I can keep one heart from breaking I will not have lived in vain' and look what we have done: we have saved 7 million lives." – @SenatorWicker #EndMalaria pic.twitter.com/tS5JQSZoy4

— PMI (@PMIgov) May 7, 2019
State Rep. Anderson on Louisiana, Mississippi anti-abortion law: See you in court
Maybe we can split the legal cost to, for whatever reason—defend this unconstitutional law. That we know will be struck down as #unconstitutional #SeeYouInCourt #MS #LA https://t.co/EmSHvTqxpw

— Rep. Jeramey Anderson (@jerameyanderson) May 7, 2019
WJTV – Crime Crisis: Jackson Mayor Chokwe Antar Lumumba on crime in the Capitol City
Mississippi University for Women announced a free tuition program for the Mississippi National Guard.
The new agreement will ensure free tuition to undergraduate Mississippi National Guard participants enrolled full time at The W as well as any full-time Army members.
YP – Central PSC race: De'Keither Stamps
Wicker supports National Nurses Week
Today I introduced legislation to designate this week as #NationalNursesWeek. It is a time to reflect on the significant contributions of America's 4 million nurses & to thank them for the work they do to provide quality care & improve patient outcomes. https://t.co/BjzSiMeLM1

— Senator Roger Wicker (@SenatorWicker) May 7, 2019
WXXV – Mayoral Monday: D'Iberville Mayor Rusty Quave
More From This Author