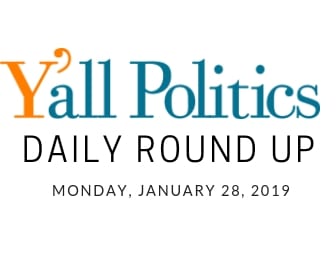 Tucker Carlson on FoxNews takes Congressman Thompson, Democrats to task over border security
Wicker , Hyde-Smith, Palazzo comment on end of shutdown
My statement on the agreement to end the government shutdown. ⤵ https://t.co/5JgNOhdLQd pic.twitter.com/CzhoaFSCRH

— Senator Roger Wicker (@SenatorWicker) January 25, 2019
Here's my statement on the agreement to reopen the government. pic.twitter.com/8ksrVPpptx

— U.S. Senator Cindy Hyde-Smith (@SenHydeSmith) January 25, 2019
My full statement on President Trump's announcement to temporarily fund the government: pic.twitter.com/cOflVzXzzE

— Cong. Steven Palazzo (@CongPalazzo) January 25, 2019
The debate over funding for a wall along the U.S.-Mexico border has invoked partisan passions and strong language. Democratic leaders have dismissed the President's proposed wall as "irresponsible," "not serious," and "wasteful." Speaker of the House Nancy Pelosi, D-Calif., went so far as to say a border wall would be "immoral."
Today's charged rhetoric contradicts decades of bipartisan support for enhanced border security including physical barriers. Congress has funded walls and fences along the southern border under presidents of both parties. Until recently, these efforts were widely considered necessary to defend our homeland and were not controversial.
For most of American history, the border with Mexico has been secured only by natural barriers. By the early 1990s, the flow of undocumented immigrants and illegal drugs across the Mexican border required a greater response.
The proposed guideline is one of several policies the task force wants lawmakers to consider during the 2019 session.
Members of the panel also want a feature on school district websites allowing people to report threats anonymously.
Bryant established the panel last year, four months after a gunman killed 17 students and teachers at Stoneman Douglas High School in Parkland, Florida.
That same year Bryant spoke in support of legislation allowing school districts to offer training to some employees that would allow them to carry guns on campus.
The proposal died during the 2018 session. The new proposal does not explicitly include a recommendation to arm teachers. The report calls, however, for giving school districts permission to establish a volunteer school marshal program. That proposal would apply to districts who cannot afford to hire one school resource for every 1,000 students per school.
This morning, Lt. Governor Tate Reeves announced he has chosen two Coast businessmen to serve on the BP Advisory Board.
Mark Cumbest and Jerry Levens will serve on the board which will assist the Mississippi Development Authority with distribution of funds from BP to settle the Deepwater Horizon Oil Spill.
The committee will be comprised of seven individuals, three appointed by Governor Phil Bryant, two by House Speaker Philip Gunn, and two by Lt. Governor Tate Reeves.

Gov. Bryant announces support for Watson as SOS
.@MichaelWatsonMS has been an effective lawmaker in the Mississippi Senate and will be even better for our state as Secretary of State. I look forward to supporting his campaign in any way I can. https://t.co/y10N14r5iu

— Phil Bryant (@PhilBryantMS) January 27, 2019
Updates MSGOP Candidate Qualifying Listing through January 25th
Click here for the full listing.
Kimberly Remak Wednesday officially qualified for State Representative. Remak is seeking the Republican nomination in House District 7. The district includes parts of Olive Branch and Southaven.
"I am running for State Representative to make Mississippi a better place to live, raise a family, and retire," Remak stated. "I support our outstanding DeSoto County Schools and will protect our traditional values."
One of the key motivators behind Remak's candidacy is a desire to work with other conservatives to get things done in Jackson.
Republicans who have qualified through the party for legislative office include all three state Senators currently representing DeSoto County: Chris Massey in District 1, Dr. David Parker in District 2 and Kevin Blackwell in District 19.
GOP House members representing DeSoto County that have filed for re-election include Dana Criswell in District 6, Steve Hopkins in District 7, Jeff Hale in District 24, Dan Eubanks in District 25, Ashley Henley in District 40 and Bill Kinkade in District 52.
At least two legislators, Hopkins in District 7 and Eubanks in District 25, are facing challenges.
Kimberly Remak, a former county Republican Party leader this week announced her candidacy to run against Hopkins in District 7 .
Meanwhile Randy Denton announced his challenge to Eubanks in District 25.
The continuing thread of these announcements is that everyone listed is a Republican. The state Democratic Party is not offering a list similar to what is found on the state Republican Party website and apparently won't until after the March 1 deadline.
More From This Author