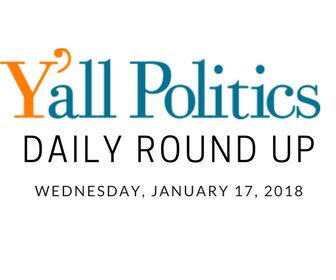 WLBT – Congressman Gregg Harper leaving a positive legacy
House Bill 1121 would allow for an increase in the fines for littering.
Anyone convicted of tossing trash or even cigarette butts along the roads would pay not less than $500, which would be used to fund local litter prevention programs.
A second offense could mean double the fine and possibly helping pick up trash along the highway.
Charlie Mitchell goes after Trump and Trump voters
During the campaign, it was demonstrated — conclusively and repeatedly — that Donald Trump had flaws as a person. Not that anyone can claim perfection, it became clear enough that Trump was a bully, not above engaging in meaningless Twitter wars with critics. He mocked the handicapped, gave instructions on how to be a sexual predator and bragged, incessantly, about himself and his wealth.
Many Mississippi officials, including Gov. Phil Bryant, and a large majority of Mississippi voters were willing either to rationalize these aspects or blame media unfairness. In other words, they were willing to look past the shortcomings because they believed a Trump presidency was the pathway to some or all of the outcomes they believed best for America.
The question that lingers is "how much?"
State Sen. Hob Bryan (D) sends Speaker Gunn a snarky invitation to discuss education funding formulas
Sen Hob Bryan, D, author of current #Mississippi#education funding formula, writes to Speaker @PhilipGunnMS, R, about proposed new formula. #mslegpic.twitter.com/1iJShIWOov
— Emily Wagster Pettus (@EWagsterPettus) January 16, 2018
MERIDIAN STAR – Civil rights veteran Rep. Lewis being honored in Mississippi
JACKSON, Miss. (AP) — Democratic U.S. Rep. John Lewis of Georgia will speak at the Mississippi Civil Rights Museum, months after refusing to join President Donald Trump there.
A private group called Friends of Mississippi Civil Rights Inc. announced Tuesday that it will give awards to Lewis, who helped lead the historic 1965 march across the Edmund Pettus Bridge in Selma, Alabama; and Democratic Rep. Bennie Thompson of Mississippi, who also was active in the civil rights movement. Events are set for Feb. 23 and 24 at the museum, which adjoins the Museum of Mississippi History in downtown Jackson.
The Mississippi Public Service Commission voted Tuesday to approve rate changes for Entergy Corp. and Mississippi Power Co.
Customers of New Orleans-based Entergy, serving the western half of the state, will see rates rise 10 percent because of higher costs for fuel and other items, while Mississippi Power ratepayers from Meridian to the Gulf Coast will see rates rise 4 percent.
More From This Author