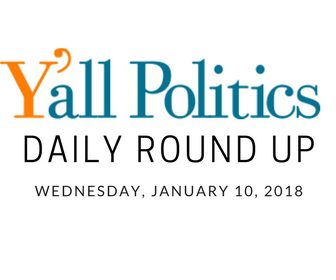 CLARION LEDGER – Tate Reeves, Jim Hood would be close governor's race, according to Millsaps College poll
Millsaps College partnered with Chism Strategies for its second annual state of the state survey, which was released on the day Gov. Phil Bryant will give the State of the State address to the Legislature. Chism Strategies is a Democratic polling firm that also works with non-partisan groups and businesses…
…In the hypothetical governor's race, Reeves is leading with 44.7 percent compared to Hood with 37.5 percent. The poll shows 17.8 percent are undecided…
…That said, Reeves' support among Republicans (77 percent) is not a strong as Hood's is among Democrats (84.5 percent), nor does Reeves enjoy the same amount of crossover. Hood enjoys support from 10.5 percent of Republicans surveyed, compared to only 5.5 percent of Democrats who support Reeves. Too, 12.5 percent of Republicans say they are unsure, compared to just 7.4 percent of Democrats.
WLOX – Tupelo mayor issues executive order to remove state flag at police headquarters
TUPELO, Miss. (AP) – The Confederate-themed Mississippi flag is being removed from display outside a city's police building.
Tupelo Mayor Jason Shelton issued an executive order Tuesday taking down the flag, which includes a Confederate battle emblem, about a week after it started flying.
SUNHERALD – How strong is support for a lottery in Mississippi? This poll has an idea
A poll released Tuesday found overwhelming support for a Mississippi lottery.
The Millsaps College and Chism Strategies on the State of the State Survey also found significant concern over the direction Mississippi is headed. It was released just hours before Gov. Phil Bryant's State of the State address. The telephone poll of 587 Mississippians was conducted Dec. 15-19. It has a margin of error of 4.08 percent, according to a release from Millsaps. Chism is a consulting firm that focuses on Democratic and progressive candidates…
…On the "creation of a lottery in the state," 68.8 percent said they supported it, 22.8 percent were opposed and 8.4 percent were unsure. More than half, 50.6 percent, favored using the money a lottery would generate for public education, 28.6 percent would spend it on roads and bridges, 5.5 percent to offset corporate tax cuts, 5.9 percent to restore budget cuts and 9.4 percent for "something else."
HATTIESBURG AMERICAN – Poll: Bannon endorsement not only less significant than Trump, it could hurt in #MSSen race between Wicker, McDaniel
While most of the findings are not surprising, take the poll with a responsible dose of skepticism as it was conducted for U.S. Sen. Roger Wicker's campaign. Most of the time these polls are conducted by campaigns to get legitimate data and only released publicly if the numbers are favorable to them. Still, it's interesting that they did not release any head-to-head data. Wicker campaign manager Justin Brasell said a head-to-head competition but didn't include it because their release was focused on the effects of Trump and Bannon. Brasell said the head-to-head results were similar to other public polls. A December poll by Mason-Dixon showed Wicker leading 49 percent to 33 percent with 18 percent undecided.
WTVA – North MS municipal election results
Ackerman:
Tim Cutts is the new mayor of Ackerman. Cutts wins the runoff race with 222 votes to Dale Reid's 113.
Water Valley:
Donald Gray will now hold the seat of mayor for the City of Water Valley. Gray won the position with 552 votes. His opponent Terry Rockette received 309 votes
Aberdeen:
Carolyn Odom is the new Ward Four Alderman with 166 votes. Dean Irvin received 98 votes.
The Ward Four seat was left vacant following the death of Brunson Odom last October.
Congressman Palazzo Welcomes EPA Cleanup Announcement
Washington, DC – Congressman Steven Palazzo (MS-4) today commended the Environmental Protection Agency for adding the Mississippi Phosphates Corporation (MPC) in Pascagoula to its Superfund Program's National Priorities List (NPL).
"It has been three years since the facility discontinued operations and until last February it sat untouched in Pascagoula. We've witnessed the damaging environmental impact of hazardous materials not being properly managed. Working to clean up the contaminated facility is past due.
"This announcement is a refreshing reminder that the EPA under this Administration is committed to fixing real problems and not overregulating and further burdening our businesses.
"Seeing swift action taken by Secretary Pruitt and the EPA to clean up the MPC site will help ease the minds of local residents and work toward restoring a healthier ecosystem in Pascagoula."
In February 2017, the EPA temporarily assumed oversight of the wastewater treatment operations after the MPC Environmental Trust ran out of funds. The Superfund investigates and cleans up hazardous waste sites and converts them into community resources.
More From This Author