Robert St. John
Restaurateur Robert St. John shares memories and praise of Fred Cerami, a true Mississippi restaurant legend and the godfather of the Jackson restaurant scene.
This week will mark the final week of my most recent work stint in Italy. I host tours in this country, and a few other European countries, 10-12 weeks out of the year. This seven-week, five-tour journey started in Rome before meeting my first group in Sicily. After that tour was complete, I flew up to Tuscany where my fourth group— in almost as many weeks— arrives tomorrow.
There are so many aspects of this country that have made me fall in love with it over the past decade. The history, the food, the landscapes, the culture, the architecture, and the ever-present arts at every turn. Though, first and foremost, it's the people.
I love the Italian people.
Though "Italian people" is a potentially misleading term. As in America, people and personalities are different from region to region. The Romans are quite different than the Venetians. The Milanese are a world apart from the Sicilians. The same goes for the Tuscans, Bolognese, and so on. It's been my observation that the Romans almost consider themselves Roman before Italian, the same with the Florentines, the Venetians, the Milanese, Sardinians, and so on. I sometimes forget that this country wasn't an actual unified country until 1861.
It's been my experience that no matter where I am in Italy, most of the people are warm and friendly. That goes double for Tuscany.
My friend, fellow Jackson restaurateur, and noted Italian progeny, Fred Cerami, is the epitome of the warm, kind, and generous spirit I have witnessed over here. Anyone who has spent almost sixty years in foodservice and still maintains a positive attitude, generous spirit, and boundless enthusiasm, with a steadfast dedication to family is worthy of praise in my book.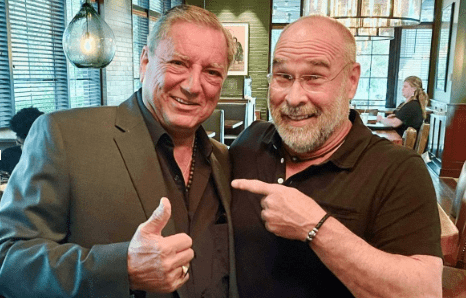 Fred Cerami— along with the Ward brothers who ran the local Frostop burger chain— was the first entrepreneurial example I can recall. When I was nine years old, I remember seeing a guy with a hot dog cart set up on the corner of Hardy Street and Hutchinson Avenue in my hometown of Hattiesburg. My mother told me, "That young man is a college student at the university and is selling hotdogs to put himself through college." Even as a kid I admired that. I guess he's also one of the first people I ever encountered in our industry.
It was a treat to get to eat a hot dog from Cerami's cart and I can remember pleading with my mom to stop there, often. There was something special about buying a hotdog off the street instead of in a brick-and-mortar restaurant.
In addition to his entrepreneurial spirit, independence, and focused work ethic at an early age, he was kind, friendly, and hospitable— all traits that have grown deeper in him through the years.
If one can't admire someone who put himself through college selling 35-cent hotdogs, then you live by a different standard of accomplishment than I. Add to that the fact that he's been in the restaurant business since the mid 1970s, and you have a true Mississippi restaurant legend and the godfather of the Jackson restaurant scene. I think Fred probably holds the record for being the longest-running continuous restaurateur in town who has been the sole owner of an establishment (A few other longstanding eateries— great as they are— have been passed down to the next generation).
Cerami has genuine care and concern for his fellow restaurateurs. After we opened our Italian restaurant in Ridgeland, he drove over from his Italian restaurant in Flowood and made a point to dine with us and congratulate me. I was so moved by the gesture that I stood on a chair in the middle of a packed dining room and announced his presence and asked for a round of applause for his years of service to the Jackson metropolitan area.
This summer, a few weeks before we opened the Hattiesburg bakery, he popped in while we were cleaning construction debris from the dining area just to congratulate me on the upcoming opening.
I could go on for several more paragraphs about his work ethic, Godliness, enthusiasm, steadfastness, and dedication to his restaurant and staff, but all that pales in comparison to his devotion and commitment to his special needs grandson, AJ. That young man is Cerami's entire life and Fred is completely and totally devoted to his constant care. At an age when most people would have already retired and called it quits after enduring almost six decades of brutal restaurant work, Cerami— like many of the best Italians I know, and like all of the finest men I know— has prioritized his family. That is the true measure of the man.
Fred Cerami has always done what it takes— whatever it takes— to succeed in business and in life. He also has genuine care and concern for his fellow man.
The old hot dog cart that he rolled around town to put himself through college is now in the dining room of his Flowood restaurant and is used as a salad bar. It stands as a testament to his determination, grit, and tenacity. If there were a Hall of Fame of Mississippi restaurateurs, Fred Cerami would be a shoo-in for a first-ballot entry into the inaugural class, and if there were a museum that held all the iconic restaurant items that have made this state a great place to eat and live, that hot dog cart would be front and center.
Overall, Italians are a passionate people. That's why I think they're so successful in the restaurant business, a profession that demands passion and perseverance. Fred Cerami is the living, breathing embodiment of those two traits, with a lot of bonus character assets thrown in for good measure.
Ben fatto, amico mio.
Onward.
#####
This Week's Recipe: Caprice Crotini
Capri, and the surrounding mainland and rocky coast are home to beautiful vistas and amazing food. This is a perfect start to a dinner party.
INGREDIENTS
1 loaf Ciabatta bread, sliced 1/4" thick, about 16 slices
3 cups Roma tomatoes, small diced
2 Tbsp Extra virgin olive oil
1 Tbsp Balsamic vinegar
1 tsp Kosher salt
1/2 tsp Fresh ground black pepper
6-8 each Large fresh basil leaves. chiffonade
INSTRUCTIONS
Preheat oven to 300.
To make the crostinis, place the sliced Ciabatta on a baking pan lined with parchment paper. Bake until crispy, about 15-20 minutes. Allow to cool completely at room temperature. If you are doing this ahead of time, store at room temperature in an airtight container for 2-3 days.
Stack the basil leaves, roll them tight, and slice thin with a sharp knife (chiffonade). Combine with tomatoes, oil, vinegar, salt and pepper in a mixing bowl.
Divide the mixture among the crostinis, about 3-4 Tbsp per crostini. Drizzle with more extra virgin olive oil and balsamic vinegar as desired.
About the Author(s)
Robert St. John
Robert St. John is a chef, restaurateur, author, enthusiastic traveler and world-class eater. He has spent four decades in the restaurant business, thirty-three of those as the owner of the Crescent City Grill, Mahogany Bar, Branch, Tabella, Ed's Burger Joint, The Midtowner, and El Rayo Tex-Mex in Hattiesburg, as well as Highball Lanes, The Pearl, The Capri, and Enzo Osteria in the Jackson area. Robert has written eleven books including An Italian Palate, written in Europe while traveling through 72 cities in 17 countries in six months with his wife and two children. Robert has written his syndicated newspaper column for twenty years. Read more about Robert at robertstjohn.com.
More From This Author
Previous Story
Next Story