For 83 years, people came for the food. They stayed for the camaraderie and the community spirit.
There is a lot of emphasis on community these days. A community is made up of the people who live or work in a particular area, and the places that bring those people together are critical in determining how the community operates. What happens when a major gathering place in the community no longer exists?
For 83 years, 101 Beatty Street, on the outskirts of downtown Jackson, has been the hub of a community where people who have a common bond gathered. Beatty Street Grocery was a regular lunch spot for many people. The original owners, Malcolm and Betty Massey, purchased the building for $250 and opened the business as a grocery store that delivered to area residents. Over the years, a grill was added, and Beatty Street Grocery became a popular gathering spot. The old school classic remained that way for over eight decades, committed to serving the community.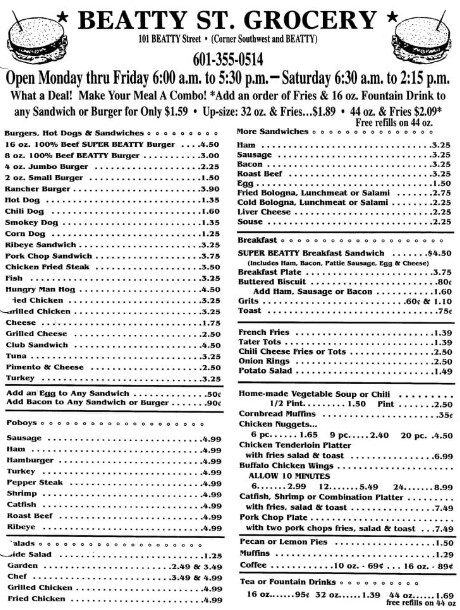 People came for the food. Juicy hamburgers, seasoned fries, hearty breakfast platter, stuffed po'boys and more at a reasonable price. All cooked to order, and consistently delicious over the years. 
People stayed for the camaraderie. Beatty Street Grocery has been described as "the most democratic restaurant in Jackson." Roofers dined with bankers. The conversation usually began with the food but could easily take a turn to everything from the weather to politics. 
The restaurant has been passed down for generations. Mary Hardin, the granddaughter of Malcolm and Betty Massey, has run the restaurant for many years with her husband, Ed.
"We always wanted to provide a warm spot for people to congregate," Mary said.
The restaurant opened for breakfast at 6:00am Monday through Friday and stayed open all day until 5:30pm. Many downtown workers called in orders and picked them up on their way home. It opened a little later on Saturdays – 6:30am – and shut down early – at 5:15pm. 
Besides the hamburger and fries, one of the most popular items at the mom-and-pop sandwich shop was the fried bologna sandwich. Thick cut bologna fried to perfection between two pieces of toasted bread. Perfection on a plate.
The building hasn't changed much over the years. It was an old-school classic that made customers feel as though they were stepping back in time. Customers were loyal, many saying they have been returning time and time again to the restaurant for thirty or forty years. Popular on sites such as Yelp and Trip Advisor, the restaurant drew its fair share of tourists to the capital city. 
The restaurant became famous nationally when the Hardin's daughter, Skylar Laine, was a contestant on the eleventh season of American Idol. Skylar made it to the top five, and in a video bio, she mentioned that she used to make the fried bologna sandwiches at Beatty Street Grocery.
"That played well with a national audience," said Mary. It also brought new customers into the restaurant.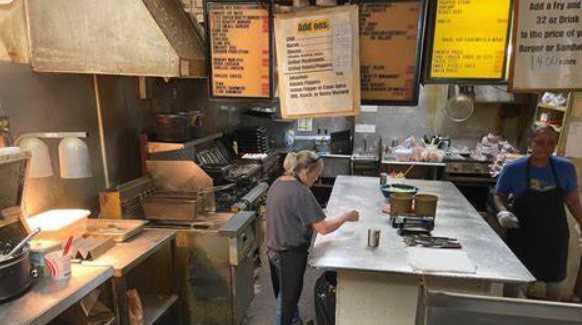 When it was announced recently that Mary Hardin would be closing the restaurant to enjoy retirement, customers began flocking to Beatty Street Grocery for one last taste of their favorite menu item. On Wednesday, there was a three-hour long wait at the counter, and people didn't seem to mind. They stood in line and shared their Beatty Street memories with each other.
After serving plate lunches, hamburgers and fried bologna sandwiches all day, Mary Hardin locked the door of Beatty Street Grocery for the last time at 4:30pm on Friday, September 15th. While the restaurant will be missed, it will not be forgotten for a long time to come. Hopefully, something else will provide a place for the community to gather and become even stronger.
About the Author(s)
Susan Marquez
Susan Marquez serves as Magnolia Tribune's Culture Editor. Since 2001, Susan Marquez has been writing about people, places, spaces, events, music, businesses, food, and travel. The things that make life interesting. A prolific writer, Susan has written over 3,000 pieces for a wide variety of publications.
More From This Author
Previous Story
Next Story