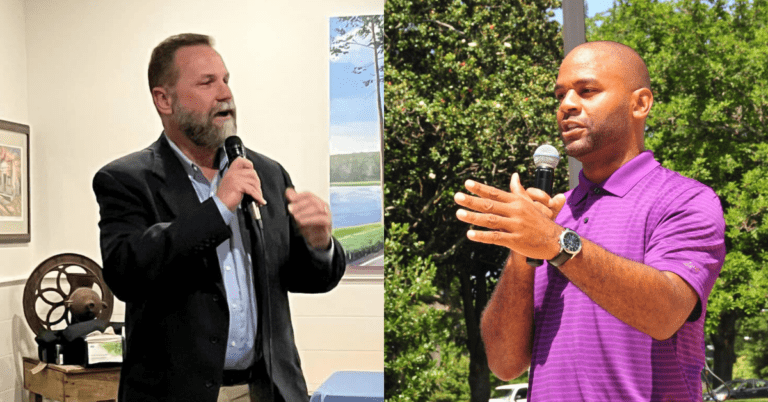 Brent Bailey (left) and DeKeither Stamps (right)
With no primary opponents, incumbent Commissioner Brent Bailey and State Rep. DeKeither Stamps will face off again in the November General Election. See what they have to say about utility rates, ratepayer advocacy and more.
The Central District Public Service Commissioner race features a rematch of 2019, with first-term incumbent Republican Brent Bailey facing off once again with Democrat DeKeither Stamps. Neither Bailey nor Stamps have primary opponents.
This go around, Stamps, a former Jackson City Councilman, is a member of the Mississippi House of Representatives, winning a six-man special election for House District 66 in 2020.
Bailey is seeking the Commissioner seat for the third time, yet it is the first time he has run unopposed in a Republican Primary. In a two-man race in 2015, he won the GOP nomination in his first attempt, setting up a race against former Central Commissioner Cecil Brown, a Democrat, in the General Election. Bailey lost that election to Brown by 8 points.
Four years later, Brown did not seek re-election. Bailey ran again in 2019 and won the GOP nomination, this time by nearly 50 points. However, the General Election versus Stamps, who faced three challengers in the Democratic Primary, was a nail-biter. Bailey won with 50.3% of the vote. The two were separated by just over 2,000 votes.
The Central District Public Service Commission race is one of the few tossups on the state level.
Should Democrats flip the seat, the three-man Public Service Commission will remain a 2 to 1 Republican majority as four-term Northern District Public Service Commissioner Brandon Presley, a Democrat, did not seek re-election and no Democrat qualified to run for the seat.
The Northern and Southern District races both feature two Republicans vying in the Primary Election on August 8th, sending the winners in each contest on to the November General Election unopposed.
If Bailey wins re-election, Republicans will hold all three Public Service Commission seats for the first time in the history of the Commission.
About the Candidates
BRENT BAILEY
Political Experience:
Incumbent Central District Public Service Commissioner
Employment:
Former State Activities Coordinator, 25x'25 Initiative
DEKEITHER STAMPS
Political Experience:
Incumbent State Representative, House District 66
Jackson City Councilman
Employment:
Retired, U.S. military (Marine Corps and Army)
Radio host
Question/Answer with the Candidates
Magnolia Tribune asked each candidate the same questions pertaining to hot button issues at the Mississippi Public Service Commission (PSC). Below are their responses in full.
What is your view of how Commissioners should consider rate cases coming before the PSC from the regulated utilities?
BAILEY
We must continue to consider rate cases carefully and independently before the Commission. A comprehensive rate case takes considerable time and resources and is a necessary regulatory function. However, we review rates, riders, and other charges on an annual basis through each regulated utilities' filed rate schedule and adjust up or down as necessary to reflect actual expenses and revenues from the past year as well as anticipated expenditures and revenues required to maintain reliable service for the upcoming year.

I conduct regular meetings with the Public Utilities Staff to discuss these cases. In these meetings, we evaluate the materials filed by utilities to validate expenses and revenues. The findings from the Staff and input from outside experts that the Staff engages confirm whether rates are compatible with the tariffs and plans already filed at the Commission and if the customer interest is being served.
STAMPS
The commissioners should consider the affordability and reliability of the utility first. Then take a new consideration the investments and return on investment for the ratepayers. 
In your view, how does solar play into the energy market in Mississippi?
BAILEY
Solar energy plays an important, complimentary role in the energy market, contributing to the overall energy supply. Solar energy, along other energy resources, helps to promote a more diverse and sustainable energy portfolio and reduces reliance on any one energy resource. Distributed energy resources, such as solar, can be built close to the energy consumption source, reduces transmission losses and improves grid resiliency, allowing us to meet state and local energy demands. Additionally, as the demand for solar installations increases, more jobs are created leading to economic benefits and the stimulation of local economies.

Every day, solar technology gets more efficient, more cost-competitive and integration into the grid more sophisticated. Like so many other things, the energy horizon is changing, and systems are adapting. Mississippi continues to embrace the advanced energy industry sector as evidenced by the large number of projects being evaluated by transmission operators.
STAMPS
At this time Solar is a portion of energy production. 
What is your position on the use of coal by the regulated utilities?
BAILEY
Coal has historically been a reliable and affordable baseload energy resource in our state and is a respected resource to maintain a diverse energy portfolio.  However, with more utilities switching to lower-cost and lower-emissions natural gas, balancing the economic impact and addressing the ongoing environmental concerns are key challenges within the coal-fired energy sector.  I remain concerned federal rules could impact resource adequacy and grid reliability.  In the alternative, the transition of coal-to-nuclear and coal-to-natural gas plants can help keep local jobs, maintain competitive rates, and can reduce the environmental regulatory burden often associated with coal-fired generation. 
STAMPS
At this time coal is a portion of energy production. 
Would you support setting up an office of a consumer advocate to be a watchdog for ratepayers?
BAILEY
By law, the Commission must balance the interests of utility ratepayers, utility service providers, and the state of Mississippi. That said, I believe the Commission has a role and responsibility to protect, inform and promote the welfare of customers – especially residential utility customers. The Commission's Ratepayers' Bill of Rights does just that and serves as an effective complement to our rules and regulations governing public utility service.

Since joining the Commission in January 2020, I have made it a priority to inform and educate consumers about the actions of the Commission and opportunities to engage. Coming from a background in advocacy, I understand how critical it is for individuals to not only organize to combine their voices, but to also have an effective message and policy or program objective. The more stakeholders you have at the table, the more ideas and perspectives that can contribute to crafting a workable solution.

Historically, the Mississippi Attorney General's Consumer Protection Division has participated in various rate and rules dockets at the Commission to represent the interests of consumers. It would be a decision of the Legislature to expand the role and resources of the Mississippi Attorney General's Consumer Protection Division or to create/modify an agency whose sole purpose is to serve in a consumer advocate function. Regardless, I am in support of an enhanced means to increase the voice of consumers.
STAMPS
Yes!!!!
How will you work with the regulated utilities to ensure grid stability and proper maintenance?
BAILEY
Working with regulated utilities to ensure grid stability and proper maintenance requires collaboration, communication and compliance with regulatory guidelines and performance indicators, including reliability.  We must understand electric (and natural gas) utilities' priorities and plans, in addition to being willing to share relevant data and information that helps the utility plan and optimize grid operations.  Therefore, the Commission requires regulated electric utilities to file an annual Transmission and Distribution Plan and all regulated utilities file an annual Energy Delivery Plan.  These plans undergo a thorough review and serve to inform the Commission and Staff on upcoming grid investments, adoption of grid enhancing technologies, and the prudency of the proposed investments.  We must continue to collaborate on identifying challenges to grid reliability and resiliency and then identifying and implementing cost-effective solutions that keeps the power flowing, even during times of grid stress, extreme weather events and other physical or cyber-based threats. 
STAMPS
I would review their operation plans, budgets and SOP's. I would also tour the facilities personally to see what's happening firsthand. 
#####
Magnolia Tribune has asked similar questions of the candidates seeking Public Service Commissioner seats in the Northern and Southern Districts. The responses from the Northern District race can be read here. The Southern District responses will be shared with readers in the days ahead.
About the Author(s)
Frank Corder
Frank Corder is a native of Pascagoula. For nearly two decades, he has reported and offered analysis on government, public policy, business and matters of faith. Frank's interviews, articles, and columns have been shared throughout Mississippi as well as in national publications such as the Daily Caller. He is a frequent guest on radio and television, providing insight and commentary on the inner workings of the Magnolia State. Frank has served his community in both elected and appointed public office, hosted his own local radio and television programs, and managed private businesses all while being an engaged husband and father. Email Frank: frank@magnoliatribune.com
More From This Author