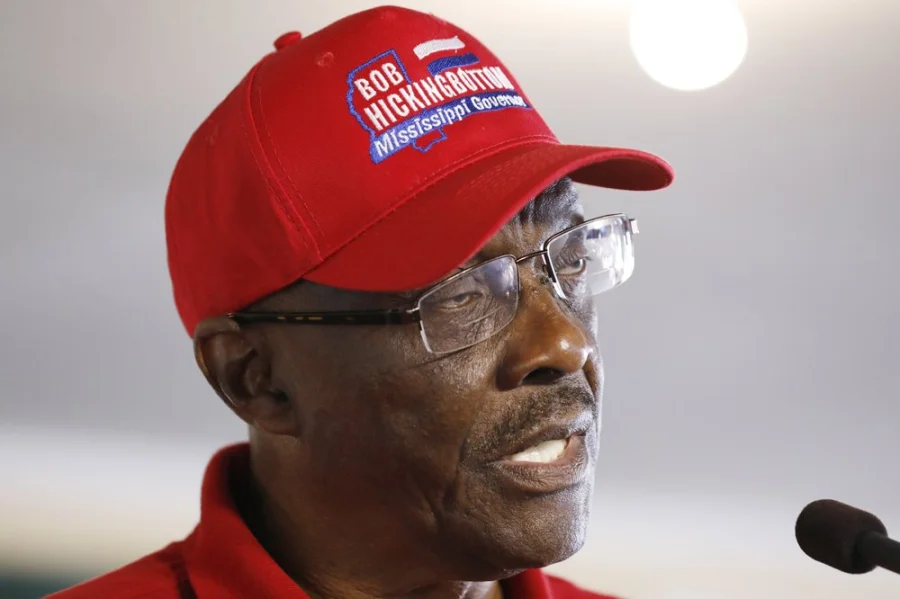 (AP Photos/Rogelio V. Solis)
Disqualified candidate demands a hearing and certification to run for governor as a Democrat versus Brandon Presley. If the party fails to act, his attorney, John Reeves, tells Chairman Irving they will sue.
Disqualified Democratic gubernatorial candidate Bob Hickingbottom continues his pursuit of being reinstated on the ballot this fall after being disqualified by his own party. Hickingbottom has retained well-known Jackson attorney John Reeves, a former state representative, to represent him against the Democratic Party.
In a letter sent last week to Mississippi Democratic Party Chairman Tyree Irving, attorney Reeves demanded that the party certify Hickingbottom as a candidate by March 31st or face a lawsuit.
Hickingbottom and Greg Wash, both African American candidates, qualified to run for governor as Democrats. Both were then disqualified by their own party, clearing the field for presumptive Democratic favorite, Brandon Presley. Initial reports said both men were disqualified for failing to file a Statement of Economic Interest (SEI) with the Ethics Commission.
As Magnolia Tribune documented after the disqualification decision, fifty-six other Democratic candidates failed to timely file a SEI without disqualification. The statute governing these documents does not even consider a candidate delinquent until 30 days after the deadline, and even then, the punishment is a fine.
READ MORE: Democrats Create Headache Cutting Presley Challengers
In his March 15th letter, attorney Reeves argues there is no requirement in the Mississippi Constitution or state statute for someone to file a SEI in order to be a candidate for governor. The argument echoes what both the Secretary of State and Ethics Commission have said in previous statements.
In a February statement, Secretary of State Michael Watson's office said that SEI's have never been used to disqualify candidates. "Statutes pertaining to the penalties for failure to submit a Statement of Economic Interest do not provide for disqualification as a penalty," the Secretary's statement said.
Hickingbottom's attorney asserts, based on Miss. Code Ann. § 23-15- 299(7)(b), that the Democratic Executive Committee's power was limited to determining whether he and Wash were qualified electors of the state and met the statutory qualifications of the office of governor. Reeves' letter also points to other Democratic candidates in different races who did not file their SEIs, but were certified to run.
"What appears to be interesting in this situation is that the same committee, the State Democratic Party Executive Committee, on the same date chose to certify over 48 candidates for office that had not filed a SEI at the time," Reeves writes to Chairman Irving. "Based on the committee's decision to not certify the two African American candidates running for Governor, this leaves the one candidate – Brandon Presley – the party's nominee without competition."
Attorney Reeves' advises that if the Mississippi Democratic Party State Executive Committee fails to reinstate Hickingbottom's candidacy on or before March 31, 2023, a Petition for Judicial Review will be filed in Hinds County Circuit Court. The letter indicates the petition will ask the court to decide that Hickingbottom was duly qualified to run and will seek attorney fees and litigation expenses for what attorney Reeves portrays as a "frivolous" action on the part of the Democratic Party.
Hickingbottom letter to MS Democratic Party by Russ Latino on Scribd
About the Author(s)
Frank Corder
Frank Corder is a native of Pascagoula. For nearly two decades, he has reported and offered analysis on government, public policy, business and matters of faith. Frank's interviews, articles, and columns have been shared throughout Mississippi as well as in national publications such as the Daily Caller. He is a frequent guest on radio and television, providing insight and commentary on the inner workings of the Magnolia State. Frank has served his community in both elected and appointed public office, hosted his own local radio and television programs, and managed private businesses all while being an engaged husband and father. Email Frank: frank@magnoliatribune.com
More From This Author