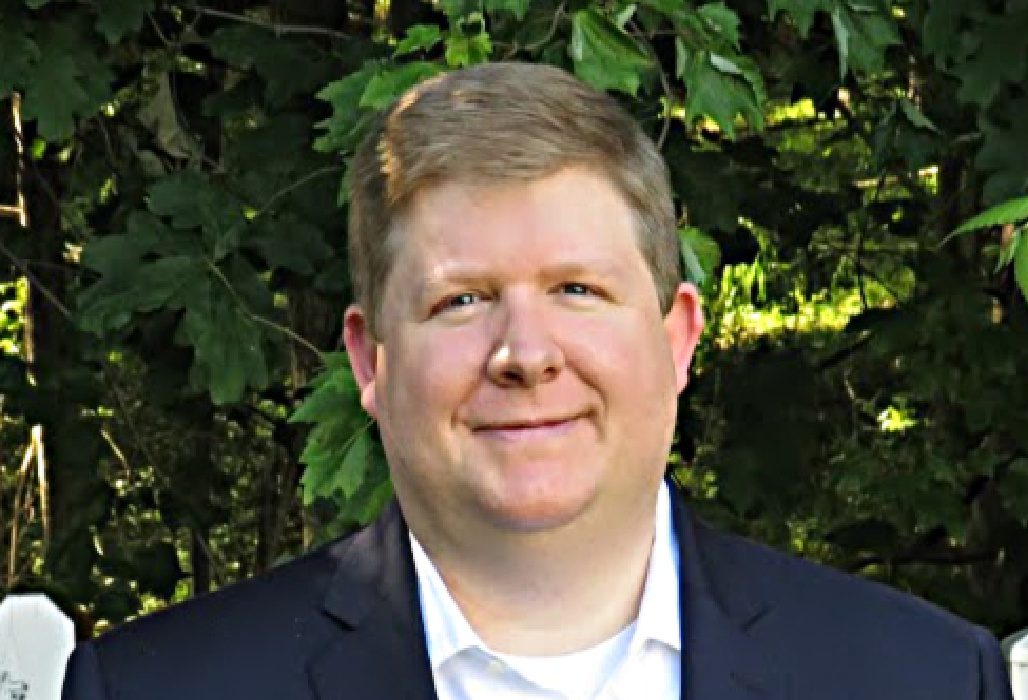 There is nothing sacred about MAEP. Nothing to suggest that the formula, itself, is the key to transforming education in Mississippi.
This week, the Mississippi Senate rolled out, and unanimously passed, revisions to the Mississippi Adequate Education Program (MAEP). The move met almost no resistance. MAEP is the funding formula used since 1997 to determine how much money districts receive for the education of their students.
The plan has three basic components:
It would revise how inflation is calculated to reduce the amount "owed" under the existing MAEP formula.
It would increase funding by $181 million to "fully fund" the newly reduced MAEP formula.
Finally, it would increase the minimum percentage that local districts have to contribute by nearly 10 percent. Districts fund their contribution to education through property taxes.
The inflation adjustment probably makes sense. But one might have also expected outrage from certain camps on how the legislature was gaming the formula. Instead, politicians, like Democratic gubernatorial candidate Brandon Presley, and advocacy groups, like the Parents' Campaign, commended the effort. There was scant mention of the formula change that brought down the amount "owed" under MAEP.
A History of Fearful Reverence
In the past, a gentle whisper about revising MAEP would invoke fevered panic and pitchforks. Political wars have been fought over it. In 2015, a ballot measure sought to take away the Legislature's authority over education spending. The battle cry of the effort was to "fully fund MAEP." The people rejected the push, but fear of the occasional email blast persisted.
In 2018, after two years of research and public hearings, the Mississippi House passed a funding formula rewrite. It met an unpleasant death on the floor of the Mississippi Senate.
The House offering that year was, in many ways, more progressive than MAEP. It would have increased the funding weights for at-risk students. It would have also created new funding weights for disabilities, English language learners, and high school students.
Ironically, it was not conservatives who killed it, but progressive forces. Why did a rewrite, one that more fully recognized that different students under different circumstances carry different costs to educate, die? Because it did not have the four magic letters. In MAEP we trust.
Student Outcomes Over Dogmatic Loyalty to Formulas
But what is MAEP and who says it is the holy grail of education funding? It is just a math equation made up by some well-meaning, but quite human, people. It is supposed to divine the amount of money it takes to adequately educate a student, as if that is both knowable and universal.
There is nothing sacred about MAEP. Nothing to suggest that the formula, itself, is the key to transforming education in Mississippi.
State leaders should focus on education outcomes, not dogmatic loyalty to an equation maintained in an excel spreadsheet. At a minimum, some questions might be in order:
Do we believe that spending another $181 million a year will change lives?
Do we have evidence to support it or are we just checking an expensive political box?
What are the performance metrics that leaders will use to hold schools accountable?
Peculiar Timing
The timing of this push is somewhat perplexing. There are only three weeks left in this legislative session. Up until yesterday, "MAEP rewrite" was on almost no one's Bingo card. This kind of policy change impacts a huge percentage of the state budget, but more importantly, our children.
It would normally be telegraphed, studied, and debated. One of the chief arguments against income tax elimination two years ago was that it was too important a topic to be sprung on unsuspecting legislators halfway through the session.
Perhaps even more peculiar, save a few zealous disciples, the debate over education funding had largely died down in recent years. Unprecedented education spending and considerable gains in education performance tamped down the volume of funding protests. This feels forced now.
Something to Talk About
The truth is that Mississippi has much worth touting in education without the late season MAEP push. U.S. News and World Report now puts Mississippi's K-12 system at 43rd in the country. While that ranking leaves plenty of room for growth, it also marks a quick and meaningful climb from last place.
Our state approach to reading has been heralded across the country as a model for other states. Leaps in NAEP scores, commonly referred to as the Nation's Report Card, mean Mississippi is experiencing gains faster than most of our peers. Our graduation rate now exceeds the national average.
Alongside these gains, the state has continued to invest. State per pupil spending has increased by 33 percent in the last decade. State and federal spending per pupil is up an astonishing 71 percent in this period. The state's increased investment in education included a more than $250 million a year teacher pay raise.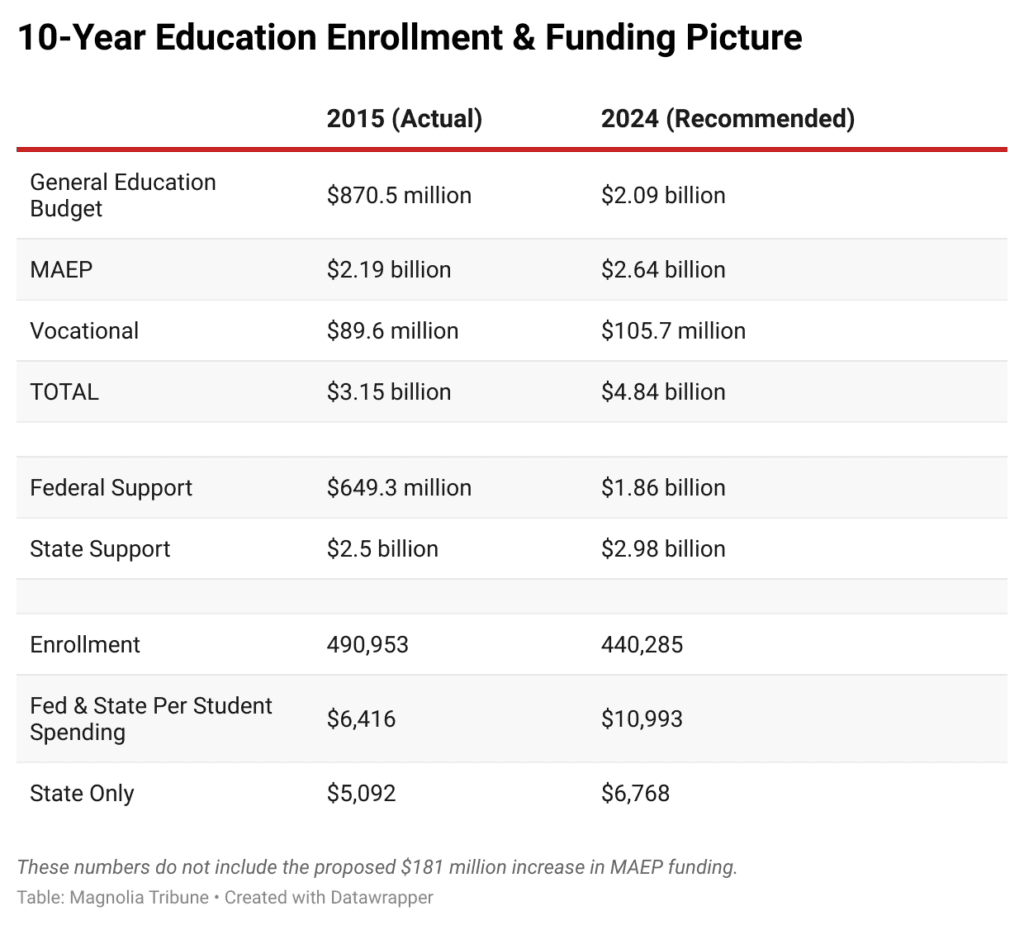 With the Senate's MAEP plan, spending for education would obviously exceed the original budget recommendations for FY 2024. The Senate's proposed vocational spending came in around expectation. General funding increased by about $20 million. But the Senate's MAEP proposed funding increased to $2.82 billion. Were the Senate plan to become law, state appropriations for education would bump over $5 billion, equating to per pupil spending of over $11,400.
It bears mentioning local funding per pupil, which exceeds $4,000, as well as federal dollars that rolled in during the COVID-era.
The largest influx of federal dollars came in the American Rescue Plan. So-called ESSER funds to Mississippi were north of $1.627 billion. Ninety percent of this ($1.46 billion) went directly to local school districts. This money was over and above normal federal, state, and local funding.
If you are doing the math, $1.46 billion is more than 8 times a $181 million increase in MAEP. Determining how that money was spent and the impact it made might be useful before we disburse more state funds.
Rethinking Education Funding
Instead of rushing to implement changes to MAEP, presumably to make the point that it was "fully funded" this year, the Legislature should come to an agreement on what outcomes it wants to promote in education. Then, it should do the hard work of designing a funding formula that increases the likelihood of those outcomes. Every student is unique and deserving of a quality education that meets their needs. Recognizing this, the focus should be on funding students and not systems.
About the Author(s)
Russ Latino
Russ is a proud Mississippian and the founder of Magnolia Tribune Institute. His research and writing have been published across the country in newspapers such as The Wall Street Journal, National Review, USA Today, The Hill, and The Washington Examiner, among other prominent publications. Russ has served as a national spokesman with outlets like Politico and Bloomberg. He has frequently been called on by both the media and decisionmakers to provide public policy analysis and testimony. In founding Magnolia Tribune Institute, he seeks to build on more than a decade of organizational leadership and communications experience to ensure Mississippians have access to news they can trust and opinion that makes them think deeply. Prior to beginning his non-profit career, Russ practiced business and constitutional law for a decade. Email Russ: russ@magnoliatribune.com
More From This Author