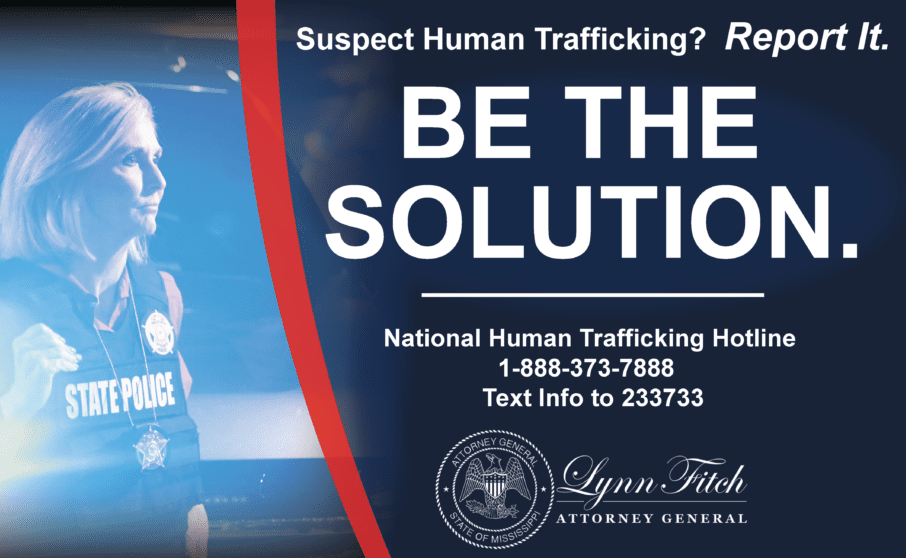 The campaign is focused on informing the public of how to identify human trafficking and know what to do when they see it.
It has been two years since multiple Mississippi state agencies and departments joined together to fight trafficking on a transportation platform through the Be the Solution campaign.
Attorney General Lynn Fitch, Mississippi Department of Public Safety Commissioner Sean Tindell, Hall Miller with the Mississippi Trucking Association, and representatives from the Department of Education, Mississippi Beer Distributors and more joined together to launch Be the Solution.
The campaign gathers leaders from all industries across the state to raise awareness and provide services aimed at ending human trafficking.
Since its launch, there have been nearly 300 reports of human trafficking in Mississippi and 187 rescues, which included 15 children.
"We recognize we have an issue. We recognize there are things we could all do together, and we've really rallied together," said Attorney General Fitch.
She said the purpose of the campaign was to make sure people knew human trafficking was out there while providing information on what to look for.
A vital portion of the campaign is a partnership with Mississippi truckers. Reports indicate that roughly 10 percent of all Mississippi jobs are in the trucking industry. Truckers hold a unique position to encounter victims of trafficking while on the road. This also includes school bus drivers.
Additional training for truckers, bus drivers and law enforcement allows them to be up to date on the signs and signals to recognize what could be a victim or a perpetrator of human trafficking. It also provides resources on who to contact and alert of the situation in those signs are prevalent.
The campaign has appeared on billboards, radio programs, truck wraps, posters and in other public spaces.
With phase two, Attorney General Fitch said they now have additional partners, including Mississippi Commissioner of Agriculture and Commerce Andy Gipson.
The Attorney General'ss office has also helped train over 250 law enforcement officers across the state on how to handle cases of human trafficking.
If you or someone you know is in need of immediate assistance related to human trafficking, dial the National Human Trafficking Hotline at (888)-373-7888, (844)-738-0590 or text "BEFREE" (233733).
About the Author(s)
Sarah Ulmer
Sarah is a Mississippi native, born and raised in Madison. She is a graduate of Mississippi State University, where she studied Communications, with an emphasis in Broadcasting and Journalism. Sarah's experience spans multiple mediums, including extensive videography with both at home and overseas, broadcasting daily news, and hosting a live radio show. In 2017, Sarah became a member of the Capitol Press Corp in Mississippi and has faithfully covered the decisions being made by leaders on some of the most important issues facing our state. Email Sarah: sarah@magnoliatribune.com
More From This Author
Previous Story