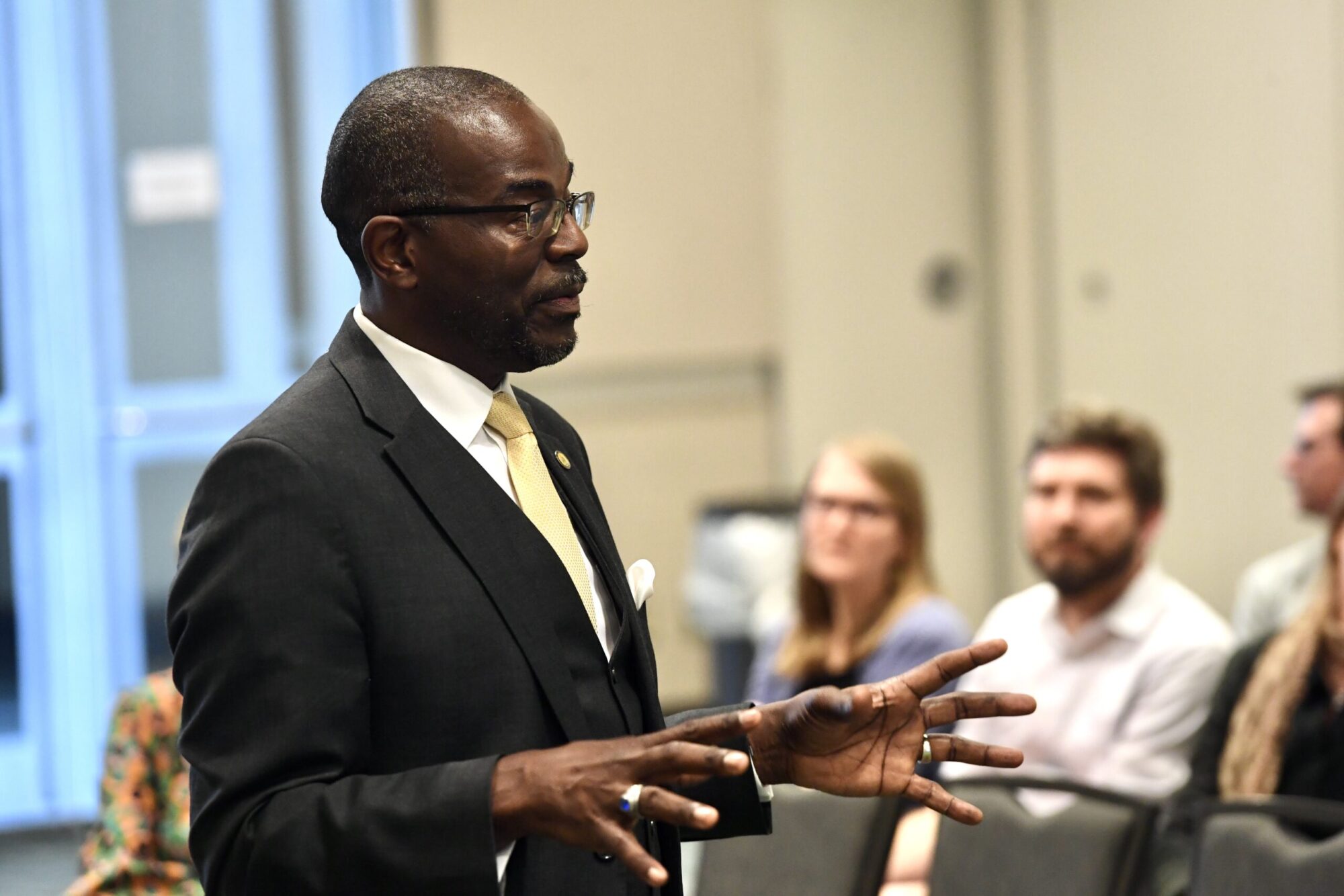 State Superintendent of Education Dr. Robert Taylor (photo from the University of Southern Mississippi).
Dr. Robert Taylor, the state's new Superintendent, says there is much to celebrate about Mississippi's progress in public education.
The state of Mississippi has seen an increase in education funding in recent years, both in federal and state dollars.
According to the new Mississippi State Superintendent of Education Dr. Robert Taylor, the Mississippi Department of Education (MDE) has invested more than $96 million in federal American Rescue Plan Elementary and Secondary School Emergency Relief (ESSER) funds to provide products and services to support student health, safety and learning statewide.
"The funds also support teacher preparation and licensure and the development of a new statewide student information system," Dr. Taylor said.
Dr. Taylor explained that the state has allocated additional funds to education since the start of the pandemic.
The first major investment was $200 million in July 2020 for the Mississippi Connects digital learning initiative, which provided every public-school student in Mississippi with a computer device and the technology to learn.
Other additional allocations from the state include a $40 million revolving local program to help school districts improve their facilities, $20 million to expand early childhood education, and more than $8 million for early learning and math coaches.
The state's largest investment was the historic $246 million teacher pay raise that went into effect this school year.
"These investments have helped students, teachers and school and district leaders address the disruptions of the pandemic and accelerate student learning," Dr. Taylor said. "Early evidence supports this. The average achievement rates on statewide assessments show students have mostly rebounded to pre-pandemic levels."
The Superintendent said all state and federal investments are targeted to serve all students, particularly students with the most need.
"For example, MDE instructional coaches are assigned to schools based on student performance data, and school improvement coaches work with the leaders of the state's lowest-performing schools," Dr. Taylor said. "At the local level, districts are required to submit their plans to MDE for spending federal education funds to ensure all students have equitable access to a quality education. The MDE reviews district plans and associated reimbursement requests."
Dr. Taylor said Mississippi's investment in early childhood education has grown in recent years, and that remains a priority. He explained that other areas of need are support for low-performing districts, funding to address aging school buildings, and continued support for school safety.
Investments from Federal Funds
At the beginning of January, MDE released the 2021-2022 Superintendent's Report which shows academic progress as well as how the Department designated federal funds to help students, schools and districts recover from pandemic disruptions to learning.
Below is a breakdown of how the $96 million in federal ESSER funds were designated:
Learning: $35.1 million

MDE procured tutorial services through PAPER for $10.7 million that provide students in grades 3-12 with online access to English Language Arts (ELA) and mathematics tutors 24 hours a day, seven days a week.
Six companies provide districts with supplemental digital subscriptions to online learning resources for English Language Arts, mathematics, science and social studies for students in grades K-12. MDE procured the digital subscriptions for $23 million.
Approximately 120 districts have opted to implement the MajorClarity computer platform MDE procured for $1.4 million to manage college and career readiness goals and automate the Individual Success Plans (ISPs) for students in grades 7-12.

Telehealth: $17.6 million— MDE partnered with the University of Mississippi Medical Center (UMMC) to create a telehealth delivery system within K-12 schools to provide remote healthcare and healthcare provider access to students.
Safety: $14 million— A total of 135 districts now have access to the nSide web-based school safety platform that enables them to develop and implement stronger health and safety plans that protect students, teachers and staff.
Other Investments $29.4 million

MDE's Mississippi Teacher Residency (MTR) program granted $9.8 million to five universities: Delta State University, Jackson State University, Mississippi State University, University of Southern Mississippi and William Carey University.
MDE contracted with a staffing agency for $1.8 million to expand its Licensure Call Center with longer hours and additional customer service to better assist prospective and current educators. The investment expanded the staff from four to 15.
MDE used $5.1 million of its American Rescue Plan ESSER funds to develop a new educator licensing system called Mississippi Educator Career Continuum Archive (MECCA).
MDE is using $12.7 million of its American Rescue Plan ESSER federal funds to modernize the current Mississippi Student Information System (MSIS) that launched in 2000.
The report states that additional funds are being used to support teacher preparation and licensure and the development of a new statewide student information system.
Mississippi Department of Education's FY 2024 Budget
According to MDE, the Office of Budget and Planning establishes and maintains the Department's budget as appropriated by the Mississippi Legislature.
"This budget, which totals over $3 billion, includes funding from state, federal and other special sources for internal agency operations and disbursement to Mississippi's public schools," MDE said.
The Department's Fiscal Year (FY) 2024 budget will be set as the Legislature finalizes its works this session.
Dr. Taylor said MDE's legislative priorities for FY 24 include expanding early childhood education programs, increasing the number of digital learning coaches, increasing funding for literacy and school improvement support, expanding professional development opportunities for educators and school and district leaders, and additional investments in school safety.
Return on Investment
When asked about what data the state will use to identify student needs and monitor how students are progressing, Dr. Taylor said MDE monitors student progress through multiple measures including annual statewide assessments and the statewide accountability system, which assigns annual A-F grades to schools and districts.
"Mississippi's school grading system considers several indicators, including how well students perform on state tests, whether students are showing improvement on those tests from year to year and whether students are graduating within four years," Dr. Taylor said. "The system also factors in how well schools are helping English learners and their lowest-achieving students make progress toward proficiency."
Additional monitoring systems include the school improvement identification system, MDE's annual district-level achievement gap analysis, and the Literacy-Based Promotion Act annual report, which provides 3rd grade assessment results and retention data from kindergarten through 8th grade.
Superintendent Taylor said there is much to celebrate about Mississippi's progress in public education, adding that the Department's focus on literacy and high academic standards have made Mississippi a national leader for improving student outcomes.
"In 2019, Mississippi achieved the No. 1 spot in the nation for gains on the National Assessment of Educational Progress (NAEP) when 4th grade students made the largest score gains from 2017 to 2019 in reading and mathematics. In 2022, we maintained our historic gains in NAEP 4th grade reading, while scores nationally dropped in all four NAEP subjects and grades," Dr. Taylor said. "Because of these achievements, more than 20 states have contacted Mississippi to learn about our effective policies and strategies to improve student outcomes."
Other achievements over the past decade include reaching an all-time high graduation rate of 88.9%, improving the state's overall Quality Counts grade from an F to a C- (the nation's grade is a C), and moving the state's national ranking for NAEP 4th grade reading scores up from 50th to 21st.
"These achievements are not only historic, they are life changing for students," Dr. Taylor said.
About the Author(s)
Anne Summerhays
Anne Summerhays is a recent graduate of Millsaps College where she majored in Political Science, with minors in Sociology and American Studies. In 2021, she joined Y'all Politics as a Capitol Correspondent. Prior to making that move, she interned for a congressional office in Washington, D.C. and a multi-state government relations and public affairs firm in Jackson, Mississippi. While at Millsaps, Summerhays received a Legislative Fellowship with the Women's Foundation of Mississippi where she worked with an active member of the Mississippi Legislature for the length of session. She has quickly established trust in the Capitol as a fair, honest, and hardworking young reporter. Her background in political science helps her cut through the noise to find and explain the truth. Email Anne: anne@magnoliatribune.com
More From This Author