Southern Mississippi head coach Jay Ladner calls out to his players during the second half of an NCAA college basketball game against Louisiana in Hattiesburg, Miss., Thursday, Feb. 9, 2023. Southern Mississippi won 82-71. (AP Photo/Rogelio V. Solis - Copyright 2023 The Associated Press. All rights reserved.)
Southern Miss Basketball Coach Jay Ladner wants to see his Golden Eagles in the NCAA Tournament.
If any person was born to be a coach, it was undoubtedly Jay Ladner.  Growing up under the direction of a Mississippi Sports Hall of Fame Coach J. Larry Ladner as his father, also known in the state as "the Ambassador of Basketball," was a learning experience that provided early tutelage towards this career.
With the history of building a winning culture in every institution where he has been, Jay Ladner has struggled being the head basketball coach in the last three years at his alma mater, the University of Southern Mississippi, with a subpar record of 46-69. However, the switching of conferences from Conference USA to the Sun Belt where regional rivalries exist along with a strong recruiting class, new staff and personnel are a lot of the reason USM is now 23-4.
"I can't go a single day without thanking the USM Golden Eagles faithful who've been with us through thick and thin," said Ladner after the crowd was sold out in the 82-71 Southern Miss victory over Louisiana-Lafayette in front of 8000 people. "This crowd at Reed Green Coliseum is so reminiscent of 1987 when I was living it. There were a couple of times I have been on the sidelines and felt goosebumps with that energy."
The coach was reflecting on his time as a guard under the legendary USM Basketball Coach M.K. Turk from 1984 to 1988, when they won in the only postseason tournament with a victory in the National Invitational Tournament (NIT) in 1987. Despite his hiatus from basketball for a few years after graduation, Ladner had the itch at a young age to be a teacher and coach.
Shortly after, athletic director Jerry Spell from a small Catholic school in Bay St. Louis, Mississippi (St. Stanislaus) called when Ladner sent a job application in 1992 for an interview. Following the introduction to the Brothers of the Sacred Heart Catholic organization, who ran the partial boarding school, the rest was history. After 20 years, 511 wins, and a MHSAA State Championship, the veteran coach decided to move back home to Hattiesburg.
"It was an honor to coach each of the outstanding men at St. Stanislaus," expressed Ladner. "The ability to learn from a great mentor in Jerry Spell, the many Brothers of the Sacred Heart that I came across, and outstanding faculty was beyond my appreciation."
Even though Ladner had a brief role at this alma mater Oak Grove High School, the junior college ranks from right down the road came calling. In July 2012, Ladner was hired as the Jones County Junior College Head Basketball Coach. Following an average season in 2012-13, the 2013-2014 Bobcats were the first team in Mississippi history to win the NJCAA National Championship with a 28-5 record.
An opening at the University of Southeastern Louisiana came later in the summer of 2014 and Ladner was hired by the Lions athletic director Jay Artigues. Artigues had watched Ladner throughout his career due to being from Bay St. Louis originally. Similarly to how each institution had been for Ladner, his team encountered problems for the first few years.
Since it was Ladner's first Division I coaching job, recruiting became a large part of putting wins and losses together versus X's and O's.
"High school coaches ask me all the time what the difference in coaching from their level to junior college to Division I is," stated Ladner after a convincing Southern Miss victory over James Madison University in late January. "I tell them it's all about the advanced scouting. We have a coach that looks way ahead for our future games and breaks down teams very detailed."
Ladner had a successful fourth season for the Lions, finishing 22-12 and winning the regular season title while earning a berth to their first ever NIT. A year later, the Southern Miss job became available and with enormous alumni support, Ladner was hired.
For three years, USM seemed like there was a dark cloud over their basketball program because they had a time dealing with everything from the pandemic to previous sanction concerns to the whole team transferring. With a 24-65 record at the time, Southern Miss Athletic Director Jeremy McLain went to bat for Ladner.
"Our focus and expectation continues to center around improving our basketball program with Coach Ladner as our head coach," McLain said.
With the administrative support, the larger crowds, a new conference, and an overall embrace from Southern Miss fans, the Golden Eagles currently sit at 23-4 overall and 12-2 in conference with a 14-0 record in Reed Green Coliseum in Hattiesburg after beating Louisiana-Monroe on Saturday, February 11th 76-67. If Southern Miss wins their last four regular season games, they will hold the NCAA record for greatest comeback ever by winning 20 more games than the year before.
From the Coast to the Pine Belt, the one detail that concerns Jay Ladner now is the opportunity to get to the NCAA Tournament. That would top off a career with nearly 700 wins and add to the coaching tutelage, the mentorship and the friendships Ladner has left along the way as he has built a legacy.
About the Author(s)
Hunter Dawkins
Hunter Dawkins has been the Publisher/Owner of The Gazebo Gazette since 2017. Prior to operating the Gazebo Gazette, Dawkins was a teacher and coach in Mississippi and Louisiana. He also previously worked for the Mississippi Attorney General's Office as a Public Relations Assistant and was a staffer on Capitol Hill. Learn more about the Gazebo Gazette by visiting ww.thegazebogazette.com.
More From This Author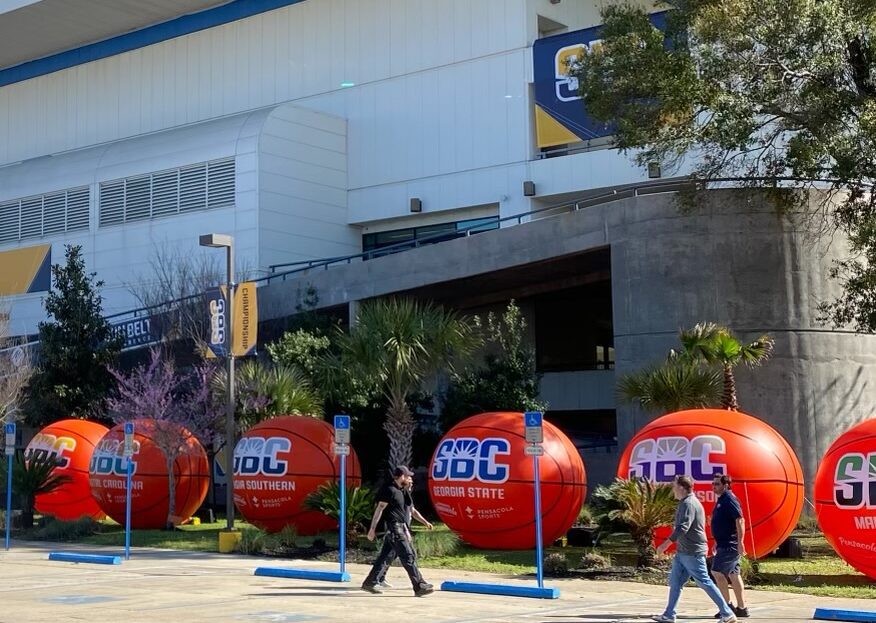 Previous Story
Next Story