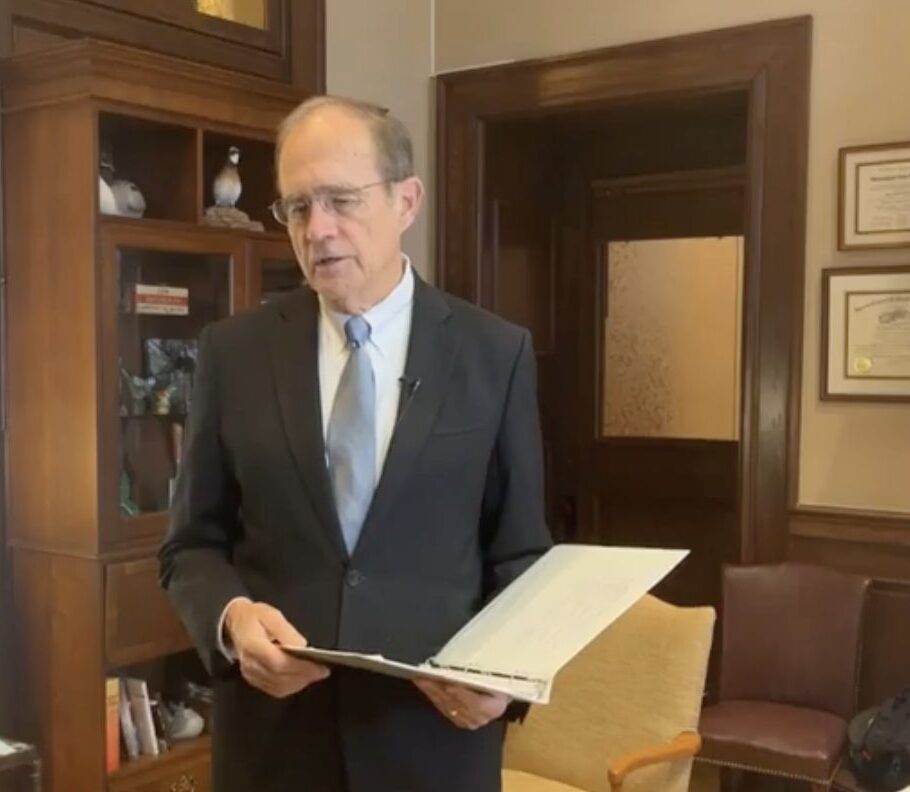 Lt. Governor Delbert Hosemann
The Lt. Governor discussed modified school calendars, postpartum care for women on Medicaid, and more.
The 2023 session of the Mississippi Legislature is rapidly approaching, gaveling in on January 3rd.
Ahead of the session's start, Lieutenant Governor Delbert Hosemann (R) held a press conference on Wednesday to highlight his legislative agenda and top priorities for this upcoming year.
"As you know, this Legislature has taken on just about everything they possibly could take on," Hosemann said. "And we're going to take on a bunch more this coming year."
Watch the full press conference below:
Among the Lt. Governor's priorities, he voiced his support of modified calendars for school districts.
"We are going to push for a modified calendar in Mississippi," Hosemann said. "We don't always need to do things the way they were always done. And that has handicapped us."
Both traditional and modified school calendars have 180 days of academic instruction. However, a modified calendar allows for additional breaks during the school year to help balance time in and out of school. After each nine weeks there is typically a two-week break for students and staff. Summer break is also shortened by 10 or 12 days.
In November, Dr. Robert Taylor was named Mississippi's new state superintendent of education by the State Board of Education. When asked what his thoughts are on the modified calendar versus the traditional calendar, Dr. Taylor said that it is absolutely beneficial.
Hosemann noted on Wednesday that lawmakers passed the largest tax cut in state history last year. Following the 2022 Mississippi Legislative session, Governor Tate Reeves signed House Bill 531 into law. The bill will return over half a billion dollars to the people of Mississippi, eliminate the current 4% tax bracket, and lower the existing 5% tax bracket to 4%.
"We have an excess of $270 million this year from our estimate of taxes we've collected," Hosemann said.
The Lt. Governor proposes they "send it back" and pay taxpayers a dollar for a dollar. He explained that initial estimates are that refund checks would be stopped around $500.
However, Governor Reeves and Speaker Philip Gunn have expressed their desire to once again pursue the full elimination of the state income tax this session, something that stalled in the Senate during the 2022 session.
Hosemann also addressed the issue of postpartum care for women on Medicaid. The Lt. Governor said Senators plan to push for increased coverage for a longer period of time after a child is born.
Earlier this month, Mississippi Senate Medicaid Committee held a hearing to discuss postpartum care, obesity, autism. Lawmakers heard from the Mississippi Department of Health, the University of Mississippi Medical Center, the Mississippi Division of Medicaid, Metabolic Medicine of Mississippi, and more.
Hosemann said Senators also plan to continue appropriating money into improving the state's infrastructure and lowering the debt burden on taxpayers while providing a conservative, balanced state budget.
About the Author(s)
Anne Summerhays
Anne Summerhays is a recent graduate of Millsaps College where she majored in Political Science, with minors in Sociology and American Studies. In 2021, she joined Y'all Politics as a Capitol Correspondent. Prior to making that move, she interned for a congressional office in Washington, D.C. and a multi-state government relations and public affairs firm in Jackson, Mississippi. While at Millsaps, Summerhays received a Legislative Fellowship with the Women's Foundation of Mississippi where she worked with an active member of the Mississippi Legislature for the length of session. She has quickly established trust in the Capitol as a fair, honest, and hardworking young reporter. Her background in political science helps her cut through the noise to find and explain the truth. Email Anne: anne@magnoliatribune.com
More From This Author