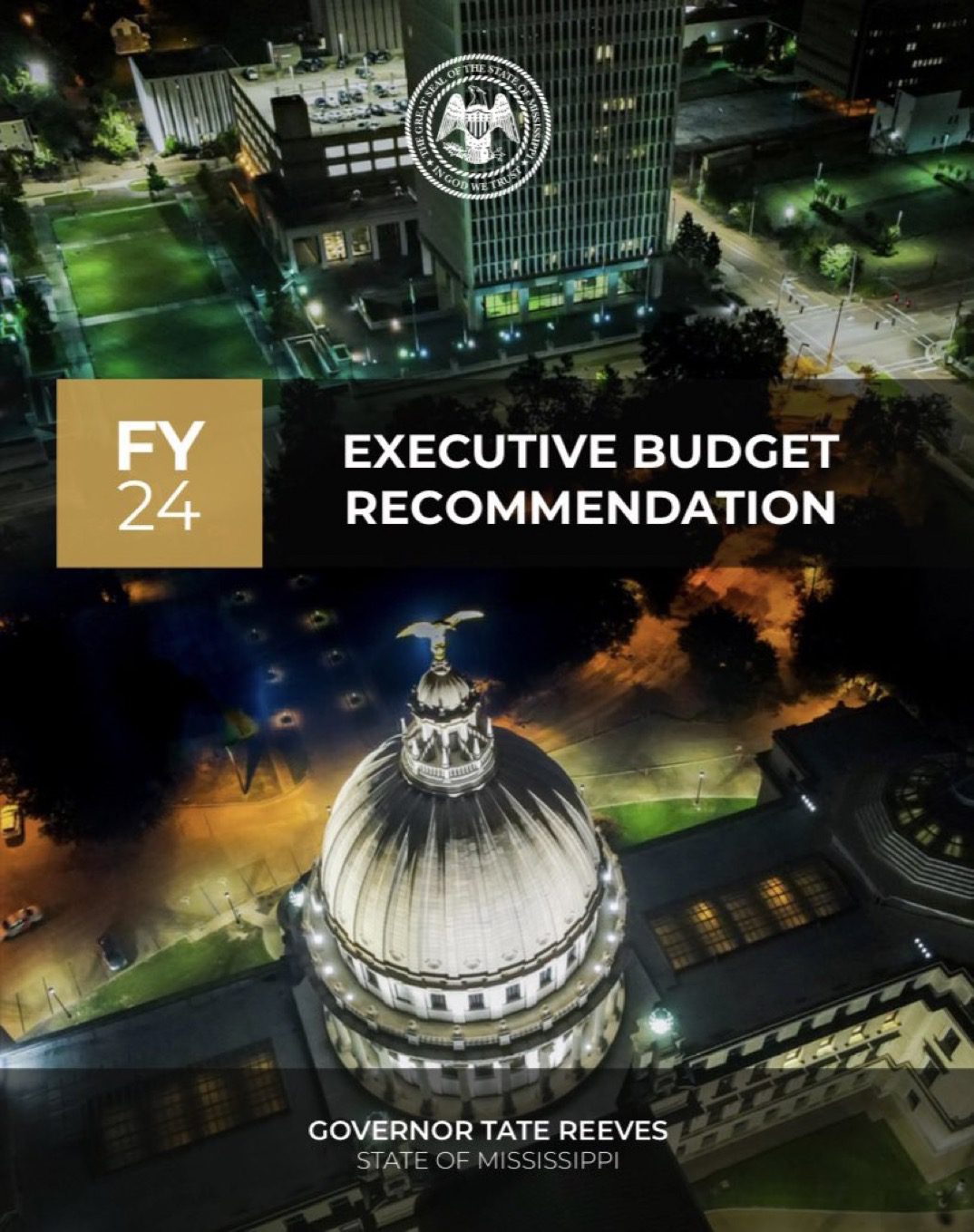 "We will maximize freedom, we will protect your rights and safety, and we will build a future that every Mississippian can be proud of," Reeves said.
On Tuesday, Mississippi Governor Tate Reeves released his Fiscal Year 2024 Executive Budget Recommendation, which notes some of his top priorities. Those include:
Eliminating the income tax
Advancing the New Pro-Life Agenda
Giving Mississippi children a first-rate education
Making it easier to raise a family
Lowering healthcare costs
Building a high-quality workforce
Protecting the safety of Mississippians.
Governor Reeves said Mississippi's economy is booming, unemployment rates are at all-time lows, and the state is on pace to achieve record-shattering capital investment in 2022. 
"We continue to reach new heights as a state, and it's thanks to the hardworking people who live here. Mississippi has no plans to hit the brakes anytime soon," Reeves said. 
The Mississippi Governor said the FY 2024 Executive Budget Recommendation can stimulate discussions not only around this year's budget, but on the central tenets of the agenda that they aim to promote during Fiscal Year 2024. 
"Our ultimate aim is straightforward: to advance responsible policies that lay the foundation of a strong society and allow Mississippians to flourish," Reeves continued. "We will maximize freedom, we will protect your rights and safety, and we will build a future that every Mississippian can be proud of. In other words, my budget continues to put you – the taxpayer – first."
In the FY 2024 Executive Budget Recommendation, Reeves said that thanks to the last session's historic tax cut, Mississippi now has the 5th lowest marginal tax rate in the entire nation.
While the Governor is proud of that, he once again proposes that Mississippi eliminate its income tax by reducing it immediately to 4% on all taxable earned income and by an additional 1% each year over the next four years.
"Mississippi can afford to eliminate its income tax," Reeves said. "My proposal is feasible, practical, and does not require cutting current state expenditures. Last session, the fiscal and financial environment was right. Sadly, the political environment was not. This session, I hope that's not the case."
Reeves also proposes investing $16 million in general funds for education to double the number of career coaches from approximately 80 to 160.
"This will help achieve the goal of placing at least one career coach in every school district across the state," Governor Reeves explained. "These coaches will especially be directed toward low- income areas, helping to inspire young Mississippians with the abundance of pathways available for fulfilling careers."
Additionally, Reeves asks the Legislature to fund $100 million from the Capital Expense Fund to further strengthen efforts to create more project-ready sites across Mississippi.
Reeves proposes allocating $2 million to encourage cross-district coordination and virtual learning.
"The funding will be utilized to create a grant program that would assist schools/districts in upgrading technology and infrastructure and help fund virtual teacher sharing," the EBR states.
The Mississippi Governor proposes allocating $1 million toward computer science initiatives to bolster our students' education in this rapidly evolving field.
There are close to 4,000 children in foster care across the state of Mississippi. Reeves proposes allocating $3 million to expand the Education Scholarship Account to include kids in foster care. Initially, a limited pilot program covering 400 children would be implemented to help ensure program effectiveness.
The Pregnancy Resource Act is a first-of-its-kind piece of legislation which strengthens pregnancy resource centers across the state through tax credits. Reeves proposes increasing the current tax credit from $3.5 million to $7 million and expanding the tax credit's eligibility to individuals.
Governor Reeves proposes allocating an additional $3 million toward increasing the number of full-time attorneys at Child Protective Services (CPS).
"These additional attorneys will allow for CPS to handle all adoption cases start to finish," Reeves said. "No child should be stuck in the foster care system due to a lack of attorneys at CPS. By allocating this $3 million, Mississippi will reduce backlogs and help to ensure that no foster child is left behind."
Reeves further proposed allocating $5 million toward creating a competitive grant program to support crisis pregnancy organizations and non-profit organizations that offer support before, during, and after pregnancy.
"I am also proposing that county health departments and any hospital that receives state funding be required to refer pregnant women to pregnancy help organizations after a positive pregnancy test," Reeves added.
The Mississippi Governor recommends an approximately $15.1 million budget for Capitol Police. This $4.56 million budget increase will fund salaries, patrol cars, and equipment for at least 150 Capitol Police officers in Jackson's Capitol Complex Improvement District.
Today I released my FY2024 Budget Recommendation.
⁰We will maximize freedom, we will protect your rights and safety, & we will build a future that every Mississippian can be proud of. In other words, my budget continues to put you – the taxpayer – first.https://t.co/dvamiKEu78 pic.twitter.com/bG1DSri9tk

— Governor Tate Reeves (@tatereeves) November 15, 2022
Below are some of the Governor's proposals:
Encourages the Mississippi Legislature to establish a Parents' Bill of Rights that recognizes parental authority over their children's lives and education in the upcoming session.
Proposes allocating funds toward a Patriotic Education Fund to be administered by the Mississippi Department of Education.
Recommends an official partnership with Lifeline Children's Services to expand the network of programs offered in Mississippi.
Recommends the Mississippi Legislature to eliminate the requirement that parents apply for child support services as part of the approval process for a childcare certificate.
Propose expanding our existing safe haven laws from 7 days to 12 months.
Proposes a range of reforms to help strengthen our existing child support network.
The EBR is provided to lawmakers for review and consideration. However, the recommendations made by Governors on EBRs past have traditionally not been followed as closely as the executive branch would like when legislative appropriators draft their budget
About the Author(s)
Anne Summerhays
Anne Summerhays is a recent graduate of Millsaps College where she majored in Political Science, with minors in Sociology and American Studies. In 2021, she joined Y'all Politics as a Capitol Correspondent. Prior to making that move, she interned for a congressional office in Washington, D.C. and a multi-state government relations and public affairs firm in Jackson, Mississippi. While at Millsaps, Summerhays received a Legislative Fellowship with the Women's Foundation of Mississippi where she worked with an active member of the Mississippi Legislature for the length of session. She has quickly established trust in the Capitol as a fair, honest, and hardworking young reporter. Her background in political science helps her cut through the noise to find and explain the truth. Email Anne: anne@magnoliatribune.com
More From This Author