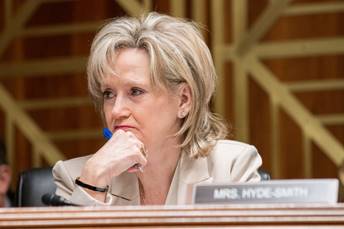 Penalties include suspending, prohibiting U.S.-China viral research efforts
Today, U.S. Senator Cindy Hyde-Smith (R-MS) announced that she has joined around fourteen of her Senate colleagues in cosponsoring the Coronavirus Origin Validation, Investigation, and Determination (COVID) Act of 2022 (S.3463).
This legislation would authorize sanctions on the Chinese Communist Party (CCP) if they continue to obstruct international investigations into the origins of the COVID-19 pandemic. Specifically, S.3463 would sanction the leadership of the Chinese Academy of Sciences (CAS) and its affiliated institutes and laboratories, including the Wuhan Institute of Virology.
"The Chinese Communist Party's inexcusable roadblocks to legitimate scientific investigations of the coronavirus deserve a strong response by the United States and other world leaders," Senator Hyde-Smith said. "The sanctions outlined in this legislation could finally prompt the CCP to help us understand the origins of a health pandemic that started in China and that continues its global rampage today."
The bill would also suspend U.S. federal research funding across all academic fields for studies involving the CAS.
U.S. Senator Marco Rubio (R-FL.), who authored the COVID Act of 2022, says that his bill will "force the CPP to the table" and uncover the origins of COVID-19.
"For two years, the Chinese Communist Party (CCP) has stonewalled all efforts to uncover the true origins of COVID-19," Senator Rubio said. "We know the virus originated in China, however, the CCP's attempts to obfuscate the truth has led to countless deaths and needless suffering worldwide. It is clear that Beijing will only respond to concerted pressure from the United States and the international community. My bill will force the CCP to the table."
This legislation builds on Rubio's COVID Act of 2021 by adding further sanctions on Chinese officials who: were involved in concealing the initial outbreak of COVID-19 in China from the international community, restricting the release of information related to the outbreak, understating the severity of the outbreak, and obstructing an international investigation into the origin of the outbreak.
Read the full text of S.3463 here.
About the Author(s)
Anne Summerhays
Anne Summerhays is a recent graduate of Millsaps College where she majored in Political Science, with minors in Sociology and American Studies. In 2021, she joined Y'all Politics as a Capitol Correspondent. Prior to making that move, she interned for a congressional office in Washington, D.C. and a multi-state government relations and public affairs firm in Jackson, Mississippi. While at Millsaps, Summerhays received a Legislative Fellowship with the Women's Foundation of Mississippi where she worked with an active member of the Mississippi Legislature for the length of session. She has quickly established trust in the Capitol as a fair, honest, and hardworking young reporter. Her background in political science helps her cut through the noise to find and explain the truth. Email Anne: anne@magnoliatribune.com
More From This Author
Previous Story