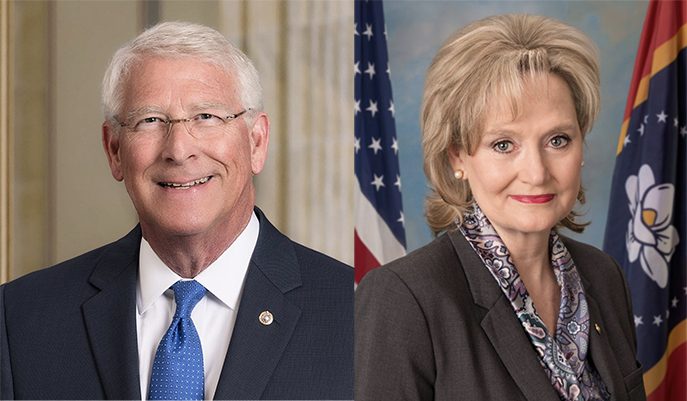 More than $1.8 million is awarded for eight fire safety improvement projects in Mississippi.
The Assistance to Firefighters Grants (AFG) program will be awarded by the Department of Homeland Security's Federal Emergency Management Agency (FEMA) in collaboration with the U.S. Fire Administration.
The AFG program is a fire safety grants fund that provides critically needed resources to equip and train emergency personnel, enhance efficiencies and support community resilience. This program provides hundreds of millions in funding to first responders & organizations that keep our communities safe.
Senator Wicker praised local Mississippi firefighters for remaining on the front lines when it comes to keeping Mississippians safe.
"These AFG grants will enhance their response capabilities and improve safety, enabling firefighters to protect the public more effectively," said Senator Roger Wicker.
Senator Cindy Hyde-Smith serves on the Senate Homeland Security Appropriations Subcommittee and stated, "I am thankful for this substantial round of funding and look forward to additional grants being awarded to more Mississippi fire departments."
Firefighters require proper equipment to keep Mississippians safe. @FEMA sending $1.8M to MS to allow these departments to acquire the equipment & training necessary to improve their public safety responsibilities. Details here:

— U.S. Senator Cindy Hyde-Smith (@SenHydeSmith) August 13, 2021
The $1,837,801.73 in FY 2020 AFG Program funds will support the following projects:
City of Biloxi, Harrison County – $808,518.18 for firefighter mental health and wellness programs and to purchase self-contained breathing apparatuses
Itawamba County – $713,045.45 to purchase self-contained breathing apparatuses for volunteer fire departments in the county
Tri Community Volunteer Fire Dept., Marion County – $111,000.00 to purchase two thermal imaging cameras, self-contained breathing apparatuses, and additional face pieces
Walthall Volunteer Fire Department Inc., Walthall County – $50,476.19 to replace Personal Protective Equipment
City of Iuka, Tishomingo County – $48,619.05 to purchase extrication equipment
Puckett Vol Fire Department, Rankin County – $47,571.43 to purchase jaws of life equipment
City of New Hebron, Lawrence County – $41,428.57 to purchase self-contained breathing apparatuses
Walters Volunteer Fire Department Inc., Rankin County – $17,142.86 to purchase two thermal imaging cameras
About the Author(s)
Anne Summerhays
Anne Summerhays is a recent graduate of Millsaps College where she majored in Political Science, with minors in Sociology and American Studies. In 2021, she joined Y'all Politics as a Capitol Correspondent. Prior to making that move, she interned for a congressional office in Washington, D.C. and a multi-state government relations and public affairs firm in Jackson, Mississippi. While at Millsaps, Summerhays received a Legislative Fellowship with the Women's Foundation of Mississippi where she worked with an active member of the Mississippi Legislature for the length of session. She has quickly established trust in the Capitol as a fair, honest, and hardworking young reporter. Her background in political science helps her cut through the noise to find and explain the truth. Email Anne: anne@magnoliatribune.com
More From This Author